Small-town voters stick with Trump, much-hyped 'blue wave' playing out in slow motion: Key takeaways from America's midterm polls
The Obama voter who flipped to Trump in 2016 did not return to the Democratic party this midterm election season, the much hyped blue wave did not happen, white males who are an overwhelming majority of Republican Congress members are a stark minority in the Democratic House and Senate and partisan divisions are hardening amidst record turnout. Not yet good enough to stop Donald Trump in 2020.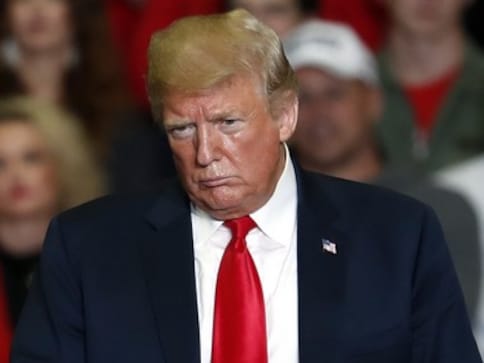 New York: The Obama voter who flipped to Trump in 2016 stayed that way and did not return to the Democratic party this midterm election season, the much hyped blue wave is playing out in slow motion as votes continue to be counted, white males who are an overwhelming majority of Republican Congress members are a stark minority in the Democratic House and Senate, partisan divisions are hardening amidst record turnout and enthusiastic voters betting on Trumpism are tamping down the effect of Republicans who are turning away from Trump's rhetoric on race and immigration - these are some of the top takeaways from a clutch of exit polls after the 2018 US midterms on 6 November.
Small towns stick with Trump
According to AP VoteCast, urban voters went almost 2 to 1 in favor of Democrats, and small-town and rural voters bet on Republicans by a significant, but smaller margin. In suburban areas, voters skewed significantly toward Democrats by an 8-point margin; non-white voters sided with Democrats by a roughly 3-to-1 margin. Trump fared very well on border security among voters in rural areas — 6 in 10 approved. This runs in parallel with white voter approval on Trump's border security - 57 percent approve. Quite typically in Trump country, white voters without a college degree were more likely to say they approved, 64 percent to 49 percent.
Not (yet) good enough to stop Trump in 2020
Overall, despite women being the driving force behind the Democratic House takeover - they voted 59 percent for Dems - the final result itself does not (yet) point to a Democratic wave that could potentially deny Donald Trump a second term. Democrats have to figure a way to stop losses among voters in Republican-leaning regions, which are increasingly turning away from the Democratic party. "In a lot of places right now, it's very foreign to vote for a Democrat. We've got to find a way to broaden the appeal",agree Democrats.
Anti-Kavanaugh Senators lost
All the Democrats who lost Senate seats all voted against the nomination of Brett Kavanaugh to the US Supreme Court. The lone Democratic senator who voted for Kavanaugh - Joe Manchin - kept his West Virginia seat. Tribalism is showing up in many ways. Even though critics balk at Trump's claims that the midterms were a "tremendous success", there's data to support that there's not a single district Trump won by a huge margin (55 percent) that Democrats were able to flip. What went to Trump in 2016 stayed red.
Record turnout in the high 40s, deeper and starker divisions among voters in suburban and rural areas, ~99 Democratic women in the US House and Senate versus ~19 for the Republicans and a gender gap that's being reported in a range of 15-19 percent depending on the data set used - these are that both Trump and his Opposition will be poring over as they plot their 2020 strategy.
38 percent said it was a vote against Trump
Upside for Donald Trump: The optimistic view from midterm results is that he could win the electoral college in 2020 even if he lost the popular vote - exactly what happened in 2016. The downside: The largest class of freshman voters ever in America's history leaned Democratic - that too in a midterm election which is usually low turnout. More people than in the 1990s are saying that the president was a factor in how they voted. Here's the break up this year: Twenty six per cent of those polled said they voted for Donald Trump, 38 percent said their vote was against Donald Trump and a third said Trump was not a factor.
Where Hillary Clinton won, Dems did well
The much hyped "blue wave" did not happen. To be more precise, Democrats won in suburban 'Whole Foods' areas, they won in places where Hillary had won but if there was a distinct red colouring, the blue wave did not extend very far in those battlegrounds. While the Democrats are trying to claw back some sense of a unified blue identity, the red states are only hardening around Trumpism. If reluctant 'Republicans in name only' (RINOs) are voting Democratic, then fired up 'Trump is Great' (TIGRs) voters are helping shore up some of that lost territory for the US President.
Greater turnout among women without college degree
1982 was the last time before 2018 that the American voters delivered a combination of a Republican president and Senate and a Democratic House. Men and women voted differently, just as they have since the 1980s. 59 percent of women voted Democratic, men voted narrowly in favour of the Republicans. In every racial and ethnic group, women were more Democratic than men. White women split evenly for both parties while white men voted 60 percent for Republican House candidates and 39 percent for Democratic. White female college grads were 16 percent of all voters. They voted 59 -39 for Democratic candidates. Females without a college degree were a larger share of voters (21 percent), they voted 41 percent Democratic and 59 percent for Republican candidates.
Youth turnout, as defined by voters between 18 and 29, surged to a number not seen in a midterm election in a quarter century. Overall, 31 percent of eligible young people cast ballots, according to an analysis by the Center for Information and Research on Civic Learning and Engagement at Tufts University. Trump's frightful dystopias on immigration was top-of-mind for about 23 percent of voters, and they broke 78 percent to 20 percent for Republicans. Health care was named the most important issue facing the country by 26 percent of voters, and these voters broke for Democrats by similar margins (74 percent to 23 percent).
Democrats who are seeking the White House in 2020 are now using lessons from the midterms as a blueprint for how to run and win in the industrial Midwest - Trump's final frontier.
Explainers
With the 2024 campaign set to gain steam later this year, the rebellious Republican billionaire is portraying himself as a politician besieged by angry Democrats and prosecutors filing multiple cases against him in a bid to derail his presidential candidacy
World
Donald Trump has claimed that he will be arrested today in New York City over hush money payment to Stormy Daniels, becoming the first former US president to face criminal charges. Will he be handcuffed? And will this hurt his chances in the bid for the 2024 elections?
World
On the eve of a new presidential campaign season, that loyalty is being tested anew as Trump prepares for the possibility that he may soon become the first former US president charged with a crime