Sluggish Hurricane Lorena threatens Mexican beach resorts of Los Cabos with heavy rain
MEXICO CITY (Reuters) - Hurricane Lorena churned slowly towards the south of Mexico's Baja California peninsula on Friday, moving at a sluggish pace that threatened to lash the popular beach resorts of Los Cabos with heavy rain and high winds. Lorena, a Category 1 hurricane on the five-step Saffir-Simpson scale, was about 60 miles east-southeast of Cabo San Lucas with maximum sustained winds of 75 mph (120 kph), the Miami-based National Hurricane Center (NHC) said in a statement. The storm's lateral movement has slowed markedly since early Friday, and by mid-morning Lorena was moving west at just 2 mph (3 kph), the NHC said, increasing the risk that the region, visited by many U.S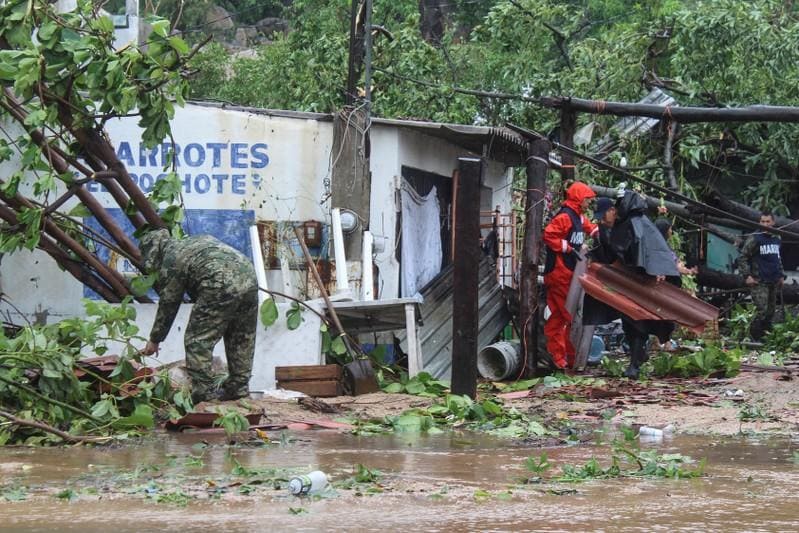 MEXICO CITY (Reuters) - Hurricane Lorena churned slowly towards the south of Mexico's Baja California peninsula on Friday, moving at a sluggish pace that threatened to lash the popular beach resorts of Los Cabos with heavy rain and high winds.
Lorena, a Category 1 hurricane on the five-step Saffir-Simpson scale, was about 60 miles east-southeast of Cabo San Lucas with maximum sustained winds of 75 mph (120 kph), the Miami-based National Hurricane Center (NHC) said in a statement.
The storm's lateral movement has slowed markedly since early Friday, and by mid-morning Lorena was moving west at just 2 mph (3 kph), the NHC said, increasing the risk that the region, visited by many U.S. tourists, could sustain a major downpour.
A few dozen people have entered temporary shelters in Cabo San Lucas, according to local civil protection authorities who were warning residents to move back from coastal areas as rain began falling on Friday morning.
The eye of the hurricane is due to cross over the tip of the peninsula and move up the coast on the western reaches of Baja California Sur state this weekend, NHC projections show.
Lorena could strengthen further on Friday, but is expected to begin weakening by Saturday night, the NHC said.
After that, the weather front should dissipate, but it may be absorbed by tropical storm Mario, which is moving towards the northwest further out in the Pacific, the center said.
Earlier this week, Lorena hit parts of the Pacific coast of Mexico with torrential downpours, forcing schools to suspend classes and disrupting maritime traffic for major ports.
A hurricane warning is in effect for the Baja California peninsula from La Paz to Puerto Cortes, the NHC said. Meanwhile, a hurricane watch has been issued for the east coast of the peninsula north of La Paz to San Evaristo, it added.
Lorena is forecast to produce 3 to 6 inches (8 to 15 cm) of rain in parts of southern Baja California Sur, and as much as 8 inches (20 cm) in some areas, the NHC said.
The storm may cause flash flooding as well as swells that spark life-threatening surf and rip current conditions.
(Reporting by Dave Graham and Miguel Gutierrez; Additional reporting by Lizbeth Diaz; Editing by Chris Reese)
This story has not been edited by Firstpost staff and is generated by auto-feed.
Find latest and upcoming tech gadgets online on Tech2 Gadgets. Get technology news, gadgets reviews & ratings. Popular gadgets including laptop, tablet and mobile specifications, features, prices, comparison.
World
By Anna Koper and Joanna Plucinska WARSAW (Reuters) - Polish presidential challenger Rafal Trzaskowski tried to rally supporters of other opposition candidates to his centrist cause on Monday, vowing to hold the nationalist government to account ahead of what looks set to be a knife-edge run-off vote. Incumbent president Andrzej Duda, an ally of the ruling Law and Justice (PiS) party, led the first round of the presidential election on Sunday, but fell short of the 50% needed for outright victory, setting the stage for a run-off with Trzaskowski on July 12. "I am directing my words to all those who want change," Trzaskowski, the liberal mayor of Warsaw, told supporters in the city of Plock
World
By Tangi Salaün PARIS (Reuters) - A French court on Monday sentenced former Prime Minister Francois Fillon to five years in jail, three of them suspended, for embezzling public funds in a scandal that wrecked his 2017 run for president.
World
By Ben Kellerman NEW YORK (Reuters) - The coronavirus pandemic forced the cancellation of most in-person Pride events this year, but a march in Manhattan on Sunday drew thousands to the streets in solidarity with protesters demanding an end to racial injustice and police brutality. The second annual Queer Liberation March capped a month of Pride events, virtual and live, during which the celebration of LGBTQ lives has merged with the nationwide demonstrations ignited by the death of George Floyd in Minneapolis last month. People chanted "No justice, no peace" as the crowd snaked through Manhattan, while techno music blasted from a pickup truck carrying two DJs, one of whom led marchers in chanting "Black lives matter." Reclaim Pride Coalition, the group that organized the march, staged its first protest last year by walking in the opposite direction to New York City's marquee Pride parade, rejecting that event's large uniformed police presence and the ubiquitous corporate-sponsored floats that normally drift down Manhattan's 5th Avenue each year