'Slavery has no place in 21st century': UN chief condemns physical exploitation of innocent civilians
Terrorists and criminals are exploiting innocent civilians sexually and physically which may constitute war crimes Secretary-General Antonio Guterres has said.
United Nations: Terrorist groups and criminals are capitalising on conflict to exploit innocent civilians sexually and physically which may constitute war crimes and crimes against humanity, Secretary-General Antonio Guterres has said.
The UN chief on Tuesday said the brutality of extremist groups such as the Islamic State, Boko Haram, al-Shabab and the Lord's Resistance Army "knows no bounds" and sexual exploitation, forced labour, slavery, and the removal of organs without consent "are the tools of their trade."
Guterres called for urgent action to combat human trafficking, singling out the recent video of African migrants being sold as slaves in Libya and extremists and criminals forcing women, boys and girls into "de-humanising servitude."
"Slavery and other such egregious abuses of human rights have no place in the 21st century," he said.
Guterres spoke to the UN Security Council shortly before members unanimously adopted a resolution sponsored by Italy, this month's council president, condemning all instances of human trafficking "in the strongest terms." The council resolution recognises that human trafficking during conflicts is a human rights violation and "may constitute war crimes."
It urges all countries to ratify and implement the UN Convention against Transnational Organised Crime and its Protocol to Prevent, Suppress and punish Trafficking in Persons. It also calls on the 193 UN member states "to investigate, disrupt and dismantle networks engaging in trafficking in persons in all areas affected by armed conflict."
Italy's Under Secretary of State for Foreign Relations Vincenzo Amendola, who presided over the council meeting on human trafficking, told members that the resolution "is a concrete step forward in preventing and countering this scourge."
He said it builds on previous UN resolutions by urging all countries "to strengthen identification, registration, protection and assistance for displaced persons falling prey of trafficking."
"Timely detection of routes and victims is key to effectively counter this plight," Amendola said.
Guterres called for urgent action to protect the human rights of migrants by bringing violators to justice and immediately increasing humanitarian aid.
In September, new research showed that more than 40 million people around the world were victims of modern slavery in 2016 — with women and girls accounting for almost 29 million or 71 percent. The research was conducted by the International Labour Organisation and the Walk Free Foundation in partnership with the International Organisation for Migration, the UN's migration agency.
Smail Chergui, the African Union's commissioner for peace and security, told the Security Council by videoconference that according to the ILO "Africa has the highest rate of modern slavery with 7.6 persons per thousand people."
He said the commission is currently dealing with 16 conflict and post-conflict situations on the continent and called stories about human trafficking in Libya, South Sudan, Central African Republic and Somalia — to name a few countries — "harrowing."
Sports
World number eight Berrettini picked up the injury in London where he became the first Italian to reach a Wimbledon singles final, losing in four sets to Novak Djokovic.
World
The United States' travel advisory comes as India recorded just 30,093 new coronavirus infections, its lowest in 125 days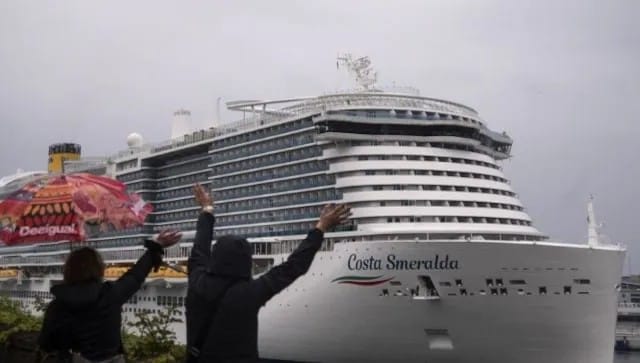 World
This ban will stop ships weighing more than 25,000 tonnes from entering the shallow Giudecca Canal leading past Piazza San Marco, which is the city's most famous landmark