Six more classified documents found in Justice dept search of Biden home
Officials from the US Department of Justice found six more classified documents during a search of Joe Biden's family home in Delaware this week, the president's personal lawyer said in a statement Saturday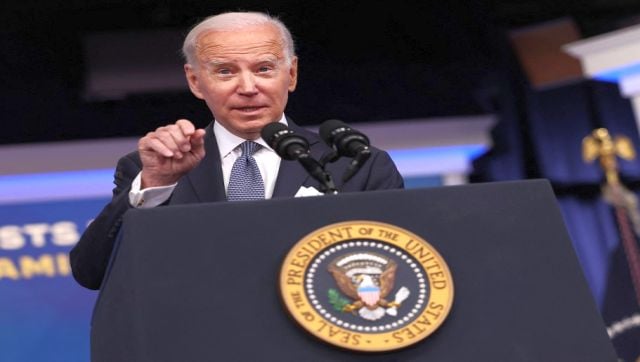 Washington: Officials from the US Department of Justice found six more classified documents during a search of Joe Biden's family home in Delaware this week, the president's personal lawyer said in a statement Saturday.
The new disclosure served up another embarrassing twist for Biden in an affair dogging him just as he gets ready to declare whether he will run for another term in 2024.
Biden insists he has done nothing wrong and has downplayed the situation as an innocent mistake.
Documents from his time as vice president and marked as classified first turned up in an office at a Biden-affiliated think tank in Washington last year, and then again at his home in Delaware. Altogether they are about a dozen documents.
After the second find, the White House offered to let the Department of Justice search the Delaware home — the search was carried out on Friday and is now concluded, Biden attorney Bob Bauer said.
"DOJ took possession of materials it deemed within the scope of its inquiry, including six items consisting of documents with classification markings and surrounding materials," Bauer said.
The search lasted more than 12 hours and covered "all working, living and storage spaces in the home," Bauer said.
"DOJ had full access to the President's home, including personally handwritten notes, files, papers, binders, memorabilia, to-do lists, schedules, and reminders going back decades," he said.
Some of the new papers seized were from Biden's time in the Senate and some were from his tenure as vice president, according to Bauer.
Bauer said Biden's personal lawyers and White House counsel previously arranged with the Justice Department to be present during the inspection, and they agreed to not publicize news of the search in advance "in accordance with its standard procedures."
The White House has said the earlier batches of documents were turned over to the Justice Department and National Archives, which handles presidential records, as soon as they were found.
Two special counsels
On Thursday, Biden dismissed the furor over the discovery of the old classified documents.
Asked by reporters during a trip to California about the issue, he said: "I think you're going to find there's nothing there."
"I have no regrets. I'm following what the lawyers have told me they want me to do. It's exactly what we're doing. There's no there there."
"We found a handful of documents… were filed in the wrong place. We immediately turned them over to the Archives and the Justice Department. We're fully cooperating and looking forward to getting this resolved quickly," he added.
Attorney General Merrick Garland earlier this month appointed a special counsel, former government lawyer Robert Hur, to act as special counsel for the investigation.
Garland said the "extraordinary circumstances" of investigating a sitting president required him to take the extra step of bringing in an outside prosecutor.
The discovery, which first came to light earlier this month, has dented Biden's brand as a return to competency and honesty after the scandal-filled years of Donald Trump's presidency and brought intense scrutiny from the media and Republicans in Congress.
Indeed, the scandal comes as a different special prosecutor investigates the potentially far more serious case of Trump hauling off hundreds of documents from the White House to his Florida residence and his alleged obstruction of government efforts to get them back.
Read all the Latest News, Trending News, Cricket News, Bollywood News,
India News and Entertainment News here. Follow us on Facebook, Twitter and Instagram.
World
The White House budget plan will be a "what if" document, aimed at telling voters what the federal government could do if Democrats were solidly in control of the White House and Congress. Right now, the Republican majority in the House opposes most of Biden's ideas.
World
The announcement comes after TikTok said this week the Biden administration demand its Chinese owners divest their stake in the company or it could face a potential U.S. ban.
World
Biden wants the Federal Deposit Insurance Corporation to be able to force the return of compensation paid to executives at a broader range of banks should they fail, and to lower the threshold for the regulator to impose fines and bar executives from working at another bank.