Sikkim standoff: Sushma Swaraj 'lied in Parliament', says bellicose editorial in Chinese daily
The Global Times came out with a scathing editorial in response to Sushma Swaraj's comments in the Monsoon Session of the Parliament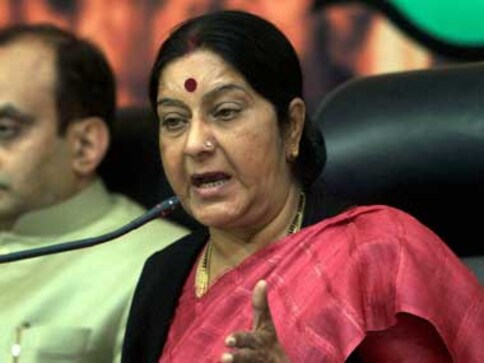 The Global Times came out with a scathing editorial in response to Sushma Swaraj's comments on the fourth day of the Monsoon Session of Parliament. Swaraj's comments referred to the Sikkim border dispute with China in the Doka La region.
In her address to the House, the external affairs minister said that China intends to unilaterally change the status of the tri-junction with Bhutan, which poses a challenge to India's security. She also said that "all countries are in India's support" on the issue as as they realise that China is "getting aggressive with Bhutan". To Sushma's statement during Question Hour, the Chinese daily goes on to say that Swaraj is "lying to the Parliament." They also write that India's 'invasion' of Doka La "is a plain fact" that has stunned the international community.  Asserting that India's military strength is far behind that of China, Global Times says that if the conflict would culminate to military means, India would 'surely lose.'
The editorial also says that China would not agree to the withdrawal of troops from both sides. Conversely, Sushma said that the boundaries between India and China are yet to be finalised and the two nations will do that bilaterally through a mechanism already set up, while the same between China and Bhutan too will be done through talks.
The editorial says that the military deployments and the drills held by the People's Liberation Army in the area were "not for show" and that Beijing would definitely not call back troops unless they recover the Chinese territory. It also states that India underestimated China in 1962 and that it hopes that India won't repeat the mistake.
Another issue that the editorial touched upon was the maritime tensions between the two nations. It said,
If India fancies the idea that it has a strategic card to play in the Indian Ocean, it could not be even more naïve.
In the parliamentary session, Swaraj had said that "To say that India is being surrounded, I would say that India is very alert about its security and that is why nobody can corner it."
The article ends on an ominous note, saying that India would risk "losing face and be totally disgraced" besides losing its political clout.
World
The 21st Amendment is expected to annul the 20A which gave unfettered powers to President Gotabaya Rajapaksa after abolishing the 19th Amendment which had made Parliament powerful over the president
India
Arya had earlier urged the people of Canada and the Canadian government to differentiate between the 'Swastika', an auspicious symbol for Hindus and the 'Hakenkreuz', a 20th century Nazi symbol of hate so that the two are not in the same league
World
PML-N chief Shehbaz Sharif assumed the office of the prime minister on 11 April after Imran Khan was removed from office through a Parliament vote