Siberia shopping mall fire: Authorities denounce 'flagrant violations' of safety norms which caused 64 deaths
Russian authorities on Monday denounced what they called 'flagrant violations' of safety norms that led to the deaths of 64 people, many of them children, in a fire at a busy shopping mall in an industrial city in Siberia.
Moscow: Russian authorities on Monday denounced what they called "flagrant violations" of safety norms that led to the deaths of 64 people, many of them children, in a fire at a busy shopping mall in an industrial city in Siberia.
Investigators and witnesses said emergency exits were locked shut — notably at a multiplex cinema where children were watching cartoons — and alarm systems were not working at the Winter Cherry shopping centre in the Siberian city of Kemerovo.
"Investigators have already obtained proof of the flagrant violations that led to such serious consequences," Russia's Investigative Committee said in a statement. It said a criminal probe has been opened and that five people were arrested including an official of the mall's security firm who is suspected of deactivating the public address system when the fire broke out.
The local office of Russia's emergency services ministry said the fire broke out on the top floor of the four-storey mall, causing floors and the roof to collapse.
Russian television showed images of thick black smoke pouring out of the roof of the mall, which was packed with people on Sunday afternoon when the blaze broke out. "Whole classes of children from nearby villages were there, they were locked in (the cinema)," a witness who gave his name as Konstantin told Business Radio FM.
Alexander Lillevyali, who lost 11-year-old twin daughters and a five-year-old daughter in the fire, told Meduza news site that the girls called him to say they could not open the cinema's door. "My daughter kept calling me. I just shouted to her to try to and get out of the cinema but I couldn't do anything, there were already flames in front of me," he said.
Locals told RBK newspaper that the cinema often locked its doors to stop people going in without tickets because it was understaffed. The Investigative Committee said the roof collapsed in two theatres of the cinema in the blaze, which erupted at around 4 pm on Sunday.
Witnesses told Russian television that some people did not hear alarms or did not take them seriously and that the fire took hold very quickly, leaving many children separated from their parents.
One witness, Anastasia Klepova, told Rossiya 24 television: "The evacuation signal only went off twice. We didn't believe in the evacuation at first." Another witness told Rossia 24 news channel: "There was no announcement. People just started running towards the exit. Then there was a smell of burning and we began to realise that it wasn't a drill."
In CCTV images shown by the Life TV channel, black smoke is seen quickly engulfing a fleeing crowd.
'Children without parents'
"People started running around, it was just awful. There were a lot of children, children without parents," said witness Klepova.
Emergency Services Minister Vladimir Puchkov said the death toll of 64 was final and included six victims still buried under the rubble. The local spokesman of the emergency situations ministry, Boris Dediukhin, told the Ria Novosti news agency that at least nine children were among the dead. Health Minister Veronika Skvortsova said the most seriously injured survivor was an 11-year-old boy who jumped from the top floor to escape the fire, which killed all his family, but there were hopes for his survival.
She said an 18-year-old boy was also seriously injured after jumping from the top floor, while nine other people were suffering from smoke inhalation. Crowds of people came to the scene to lay flowers in tribute to the victims of the deadliest blaze in Russia in recent years.
President Vladimir Putin expressed condolences as well as Pope Francis, German chancellor Angela Merkel, British prime minister Theresa May, EU president Donald Tusk and the US State Department.
Local authorities have announced three days of mourning in the Siberian region starting Tuesday. The prosecutor general's office said that all of the country's shopping malls with entertainment areas will be checked for fire safety.
Find latest and upcoming tech gadgets online on Tech2 Gadgets. Get technology news, gadgets reviews & ratings. Popular gadgets including laptop, tablet and mobile specifications, features, prices, comparison.
India
The blaze broke out at the Shrey Hospital in Ahmedabad's Navrangpura during the early hours of Thursday.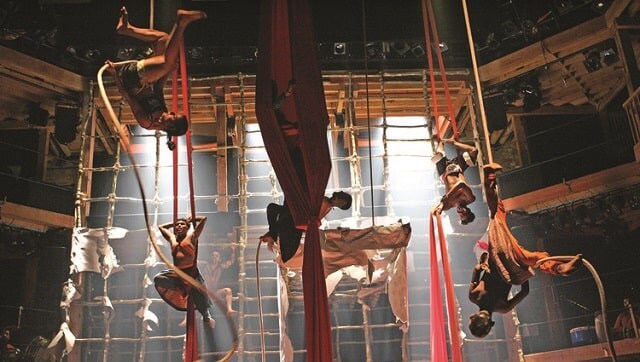 Arts & Culture
Aporup Acharya played Nick Bottom, the Weaver, in the 2008 North America tour of Tim Supple's multi-lingual production of William Shakespeare's A Midsummer Night's Dream
Arts & Culture
Ebrahim Alkazi was the longest-serving director of the National School of Drama. He is credited with revolutionising Indian theatre by combining native folk traditions and international acting techniques.