Sherin Mathews' death may lead US to frame 'Sherin's Law' which prevents parents from leaving children alone
The tragic death of three-year-old Indian girl Sherin Mathews may lead to a new law in the US state of Texas which would make it a felony to leave a child alone at home, a media report quoted activists as saying.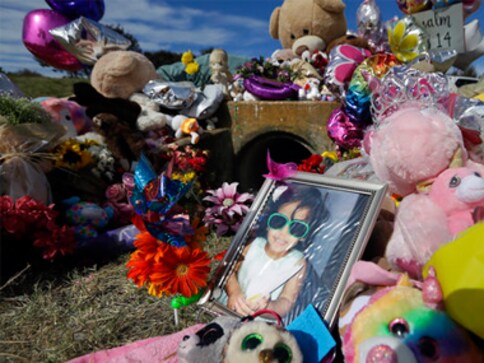 Houston: The tragic death of three-year-old Indian girl Sherin Mathews may lead to a new law in the US state of Texas which would make it a felony to leave a child alone at home, a media report quoted activists as saying.
Sherin was found dead in a culvert in Richardson city in suburban Dallas on 22 October, over two weeks after she was reported missing by her Indian-American foster father, Wesley Mathews.
The proposed 'Sherin's Law' would make it a felony to leave a child at home alone, WFAA television station reported.
Richardson Police has said that Wesley had told investigators that he, his wife Sini and their biological daughter went out for dinner on 6 October, the night prior to Sherin's disappearance, leaving the toddler alone at home.
Wesley first told cops he made Sherin stand next to a tree at 3 am outside their home as punishment for not drinking her milk. After Sherin's body was found, he changed his story to say the girl choked to death while drinking milk.
"With Sherin, we draw the line. It's enough. It's time to make a change," said Reena Bana, an advocate for missing or abused children and domestic issues.
It is a change they would hope to title "Sherin's Law."
"No children under 9 or 10 years old need to be left unaccompanied at home," said Shanna Poteet, an activist and advocate was quoted as telling the channel.
Attorney Bilal Khaleeq, who practices family and criminal law, has been helping Bana and Poteet in their quest to make changes in the Texas state laws.
The group's hope is to also push for reform to Child Protective Services in Texas, where the crime has occurred.
"The Texas books don't have a minimum age for a child to be left alone," Khaleeq was quoted as saying by WFAA.
The attorney said the current law really leaves it to the parent's discretion whether a child is mature enough to be left alone. Ages nine, ten, and even 12, have been mentioned as minimum age requirements for the law.
"We still have some meetings with representatives to find out what the best age for that is," said Poteet.
The proposed Sherin's Law would also make it a felony for not reporting a missing child within a few hours. Bana said there are laws from other states in the US that address this, but not Texas.
According to Richardson police, Wesley reported about his missing daughter hours after he claimed she disappeared on 7 October.
Bana referenced Caylee's Law, which was adopted in states like Florida. The law "makes it a felony for a parent or legal guardian to fail to report a missing child, in cases where the parent knew or should have known that the child was possibly in danger."
Khaleeq said there may be some overlap in laws like with current endangerment and abandonment changes. But the proposed Sherin's Law would make it more black and white, he said.
"That could be a law that requires a parent to take some responsibility, especially if they have something to do with that child being missing," the attorney said.
It is the beginning of what will likely be a long advocacy road, the report said.
The group told WFAA that several representatives locally have already indicated interest in lending help to Sherin's Law and make it a reality.
Wesley, 37, previously was charged with injury to a child, a first-degree felony punishable with a maximum 99 years in prison.
Earlier this month, Sherin's autopsy report showed that she died of "homicidal violence". A grand jury then indicted Wesley for capital murder for which he could face the death penalty.
Authorities have not said what happened to Sherin, and court documents only allege that Mathews caused his daughter's death using a deadly weapon "by a manner and means unknown to the grand jury."
Sherin's adoptive mother, Sini, 35, faces one count of abandoning a child. The punishment for that ranges from two to 20 years in prison with a fine up to $10,000.
World
Richardson police along with an FBI evidence recovery team entered the house of Wesley Mathews on Tuesday to execute a search warrant, police Sergeant Kevin Perlich said
World
The body of 3-year-old Sherin Mathews was found on Sunday in suburban Dallas in a culvert under a road about a half-mile from her parents' home
World
The foster mother of 3-year-old Indian girl Sherin Mathews has denied any involvement in the death of her daughter.