Shaken Austrian government pledges action on asylum after far-right surge | Reuters
VIENNA Austria's centrist government, shaken by a far-right, near-victory in an election for president, pledged on Tuesday to take fresh action on the asylum issue and to boost security in an effort to win back voters. The anti-immigration Freedom Party, whose candidate lost by a whisker to an environmentalist, meanwhile said it would examine what it called numerous reports of irregularities in the election even though it accepted its candidate, Norbert Hofer, had been defeated
VIENNA Austria's centrist government, shaken by a far-right, near-victory in an election for president, pledged on Tuesday to take fresh action on the asylum issue and to boost security in an effort to win back voters.
The anti-immigration Freedom Party, whose candidate lost by a whisker to an environmentalist, meanwhile said it would examine what it called numerous reports of irregularities in the election even though it accepted its candidate, Norbert Hofer, had been defeated.
Europe's political establishment, challenged in many countries by resurgent populist and anti-immigration parties, breathed a sigh of relief on Monday when postal ballots swung the election in favour of Alexander Van der Bellen in a dramatic photo-finish.
Hofer lost to Van der Bellen by less than one percentage point - a record performance for the party and a watershed for its allies across Europe. A win would have made him the first far-right head of state in the European Union.
"An election result is to be respected," Hofer told a news conference, adding that he had congratulated Van der Bellen on his victory in the contest for the largely ceremonial post.
Looking at lessons to be learned, Austrian Chancellor Christian Kern said on Tuesday: "One thing is absolutely clear - the protest that was expressed here is to be taken seriously."
Though he said isolationism and euroscepticism were not options for export-dependent Austria, Kern, who was thrust into the top job after a party rebellion forced Werner Faymann to resign as head of the government, pledged action on five points, including asylum and security.
"Isolationism and the belief that one can magically make the asylum issue disappear ... is an illusion," Kern said.
Austria took in 90,000 asylum seekers last year, more than 1 percent of its population, many of them shortly after it and neighbouring Germany opened their borders last autumn to a wave of migrants including refugees from Syria's civil war.
Kern gave no details of what new measures might be planned. The economy, jobs and cutting through state red tape would also be priorities, he said.
"You will hear from us in the coming weeks," he said, adding that another aim was to hold a closed-door meeting with opposition parties on possible cooperation.
FAR-RIGHT PARTY CRITICAL OF VOTING SYSTEM
Frustration with traditional parties of government has fuelled Europe's rising tide of populism, not least in Austria, where the Social Democrats and their coalition partner, the conservative People's Party, have dominated for decades.
The coalition government must work together until the next parliamentary election in 2018 or face the prospect of a snap vote that polls suggest the Freedom Party would win if it were held now.
Though Hofer conceded defeat, Freedom Party leader Heinz-Christian Strache said the party had received many reports of abuse and he did not rule out challenging some results.
"We have indications that will be verified," he said alongside Hofer at the news conference. "Only after an assessment can one say whether there is something in it, whether there is meat on the bone."
The party says the postal voting system is open to abuse. Before the election it said it was watching for irregularities given the relatively high number of requests for ballots that are mainly used for postal voting.
Of the roughly 750,000 valid postal ballots cast, 61.7 percent were for Van der Bellen.
The examples Strache gave involved suspected discrepancies in counting, including one case the Interior Ministry announced on Tuesday, in which the number of ballots in one town was over-reported by around 6,000.
The ministry added, however, that the error did not significantly affect the candidates' percentages - 50.3 percent to 49.7 percent, or a difference of just over 31,000 votes.
(Reporting by Francois Murphy, Shadia Nasralla and Alexandra Schwarz-Goerlich; Editing by Richard Balmforth)
This story has not been edited by Firstpost staff and is generated by auto-feed.
Sports
The gymnast was named by her father as 18-year-old Kara Eaker who is in Japan as a reserve on the squad led by superstar Simone Biles.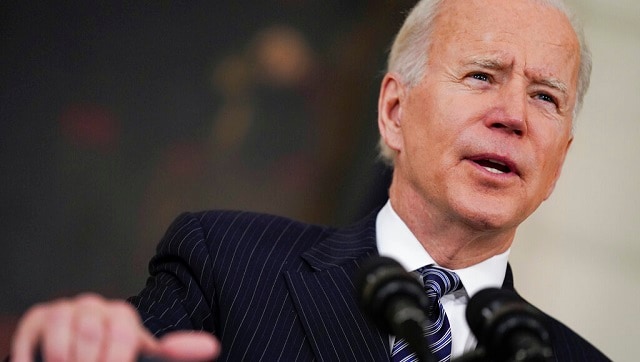 World
Biden said the US military will continue to assist Iraq in its fight against the Islamic State, and the security relationship will be focused on training and intelligence-sharing
World
The two-headed turtle was found during a routine inventory of sea turtle nests and the park's sea turtle patrols eventually released it into the ocean