Shahidul Alam freed: Bangladesh court issues release order after advocates produce HC bail order
A magistrate court in Bangladesh's capital Dhaka, refused to issue the order of release for photographer Shahidul Alam, who has been in jail for at least 100 days.
Bangladeshi lensman Shahidul Alam was freed on Tuesday after his advocate produced a certified copy of the bail order granted by the high court.
Earlier Monday, a magistrate court in Bangladesh's capital Dhaka refused to issue Alam's release order. The photographer was in jail for over 100 days. Alam was released after the high court's  15 November verdict which granted him bail in the case against him.
Alam's lawyers approached a magistrate on Monday, the magistrate refused to issue a release order citing the stay petition filed by the government. But it is not in the mandate of the magistrate to do so as the high court stay petition hasn't been decided upon.
Nevertheless, Alam's lawyers were able to secure a release order on Tuesday from another magistrate. When they approached jail authorities with this order, the jailer refused to release Alam citing errors in the order. Alam's lawyers have gone back to the same magistrate to correct the errors.
Alam was arrested on 5 August under the controversial Information and Communication Technology (ICT) Act, and was accused of making "false" and "provocative" statements on Al Jazeera and on Facebook Live during massive student protests in the capital Dhaka.
According to a report by New Age Bangladesh, the magistrate declined to issue the release order because of the government's appeal against the verdict passed by the High Court Division. The report says, "In the appeal, the government stated that the High Court Division had granted bail to Shahidul Alam without applying its judicial mind."
The court granted permanent bail to Alam considering his age and the time he spent behind bars.
The photojournalist had unsuccessfully applied for bail four times since being arrested in August. Alam, whose work has appeared widely in global media and who founded the renowned Pathshala South Asian Media Institute, faced a maximum 14 years in jail if he had been convicted.
Earlier, rights groups, UN rights experts, Nobel laureates and hundreds of academics had called for the immediate release of the 63-year-old, who said that he had been beaten in custody.
Alam was picked within hours of Al Jazeera broadcasting his interview in which he spoke about schoolchildren's road safety movement.  Lawyers have argued Alam's continued detention was "a clear violation" of his fundamental rights under Bangladesh's constitution.
Alam had told Al Jazeera at the time that the protests were the result of pent-up anger at corruption and an "unelected government... clinging on by brute force". He was arrested the same day, the most high-profile of many protesters held on similar charges as authorities cracked down on demonstrators.
Alam was held under the ICT Act which critics say has been wielded by Prime Minister Sheikh Hasina to stifle dissent and harass journalists.
With inputs from agencies
Sports
Here are all the streaming details about India vs Bangladesh FIFA World Cup Qualifiers 2022 match.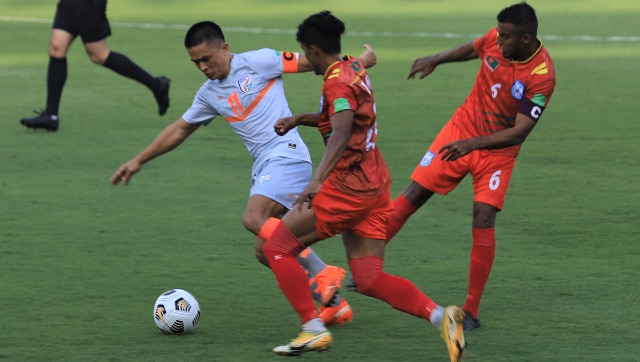 Sports
Chhetri led from the front to power India to a 2-0 win over Bangladesh on Monday night, the latest effort helping him surpass Argentina's global superstar Lionel Messi in international goals
India
Every year, 17 June is observed as World Day to Combat Desertification and Drought to make individuals mindful about community participation at all levels in restoring degraded land