New York: You don't want to miss this !
Fareed Zakaria, host of CNN's flagship foreign affairs program 'Fareed Zakaria GPS' interviews two Indian icons this Sunday, 21 February — India's richest man and Chairman of Reliance Industries Mukesh Ambani and Bollywood superstar Shah Rukh Khan.
'Fareed Zakaria GPS' airs on CNN at 10 am and 1 pm EST Sunday in the United States and five times globally on CNN International.
Zakaria, often described as "the most influential foreign policy adviser of his generation" and certainly one of a kind from Indian roots, speaks to Ambani on his "massive investment" in Reliance Jio and the single biggest "economic opportunity of the moment."
Ambani explains why he is betting big on Jio and why that is crucial for India which is on the threshold of a revolution never seen in a "100 years".
Barely a few weeks ago, it was Shah Rukh Khan's selfie with Mukesh Ambani during the #CelebratingJio launch in Mumbai which smashed records for retweets on Twitter.
"As we saw the year 2012-13, India is 150th in the world in mobile broadband penetration as well as quality. And Jio is really conceived to change this position," says Ambani in the exclusive interview that airs worldwide on CNN. Zakaria speaks at length with Mukesh Ambani on global oil prices too.
Zakaria travelled from New York to Mumbai to meet Ambani at his residence — Antilla, in India's financial capital.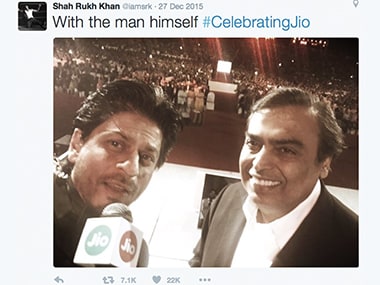 Both these marquee interviews on the GPS show have made it into the "must watch" buzz across American broadsheets.
Los Angeles Times lists the Mukesh Ambani interview in its television highlights for the weekend.
The LA Times also speaks of Shah Rukh Khan as "perhaps the world's biggest movie star."
Zakaria introduces Shah Rukh Khan to his audience this way: "If you don't know him and his work, you should."
Shah Rukh Khan, sporting a beard, talks about how Hollywood is competing to make a mark in India while Bollywood movies stand shoulder to shoulder in the global marketplace.
"If they don't have six songs, they're not competing with us," Shah Rukh Khan begins before getting serious about strategy and stardom in the movies.
"It will be quite a while before international cinema becomes real competition," Shah Rukh tells Zakaria.
Excerpts from the SRK interview:
Zakaria: Tell me what Bollywood today looks like. How do you deal with competition? Hollywood is making movies for a global audience so that many of their movies make a majority of their revenues outside the US...?
SRK: Thankfully if they don't have six songs, then they are not competition (laughs). But you are completely right. I have always had this worry that if we are not able to change our cinema fast enough then we would be kind of overtaken like Hollywood has. India is the only country where local movies do better than international cinema. Quentin Tarantino said at Cannes or somewhere...that the reason for local movies to survive is stardom. So there is still a huge balance of stardom in this country where there is a director or an actor or an actress...something like NBA in the US. That stardom keeps it going...as long as the star system is retained in this country, it will be a while before international cinema becomes actual competition. But once in a year, there is international cinema that takes over...
Zakaria: So the last time we talked, you were still having this extraordinary problem of getting into the United States because there was a namesake on a terror watch list. What happened?
SRK: Now I've been told that that gentleman has been found out. He's off that list so I'm off the list ( smiles). I'm coming in and going very freely in America. I'm looking out for some Universities for my kids. I came on a tour and it was all fine.
Zakaria: What did that whole experience make you feel?
SRK: It just was very uncomfortable. To land up somewhere and getting stuck in an airport for 2-3 hours for no reason at all…I started travelling light. I started keeping less innerwear…( laughs). God forbid if there was a problem in India, I would be the first to say that we have to strengthen our security. One has to see it in a larger context, it's a sign of the times. The world is that kind of place…you cannot hold grudges against people..We have to live with it and and just be prepared for some of this stuff.
Firstpost is now on WhatsApp. For the latest analysis, commentary and news updates, sign up for our WhatsApp services. Just go to Firstpost.com/Whatsapp and hit the Subscribe button.
Updated Date: Feb 21, 2016 02:53:23 IST