Senate committee confirms Russian meddling in US presidential election: What it means for next week's Trump-Putin summit
The Senate committee report on Russian interference in US presidential elections comes barely two weeks before Donald Trump is scheduled to meet with Russian president Vladimir Putin in Helsinki later this month.
A Senate committee said on Tuesday that US intelligence agencies' assessment of Russian activities during the 2016 presidential election was based on "sound analysis", not swayed by politics.
The January 2017 intelligence assessment said Russian activities in the run-up to the presidential election represented a "significant escalation" in a long history of Russian attempts to interfere in US domestic politics, the committee said.
The intelligence agencies found that Russians had engaged in cyber-espionage and distributed messages through Russian-controlled propaganda outlets to undermine public faith in the democratic process, "denigrate" Democratic candidate Hillary Clinton and develop a "clear preference" for Donald Trump.
As reported by CNN, the unclassified summary released on Tuesday provides details on why the Senate committee agreed with intelligence agencies that Russian interference may have helped Trump. It's a conclusion that's been affirmed by Trump's entire national security team, though the president himself has denied the charges.
Just last week, Trump had tweeted, "Russia continues to say they had nothing to do with meddling in our election. Why isn't Hillary/Russia being looked at? So many questions, so much corruption!"
The Senate noticed that the NSA, CIA, and FBI all had varying levels of confidence regarding the extent to which Russia may have helped Trump along, but the committee, headed by a Republican, heard consistently that analysts were under no politically motivated pressure to reach any conclusions.
"All analysts expressed that they were free to debate, object to content and assess confidence levels, as is normal and proper for the analytic process," CNN quoted the committee as writing.
Trump-Putin meeting
Even more significantly, however, the report comes two weeks before Trump is scheduled to meet with Russian president Vladimir Putin in Helsinki later this month.
The presidents of Russia and the US are scheduled to meet in the Finnish capital city on 16 July, and the release of the Senate committee report couldn't come at a worse time for Trump. The Republican had said last month, after the summit with Putin was originally planned, that he will bring up the issue of Russian meddling with his counterpart.
Part of a wide-ranging series of topics Trump plans to discuss with Putin is the issue of Russian meddling in the US presidential elections of 2016.
Trump told reporters aboard Air Force One that he planned to discuss Ukraine, Syria, and Crimea, as well as election interference when he meets with the Russian president in Helsinki, next month in a summit. Trump had said that he could help defuse tensions between Moscow and Washington. "We'll be talking about elections. We don't want anybody tampering with elections," Trump said.
The president has repeatedly minimised the conclusion of the US intelligence community that Russia meddled in the 2016 election to help him win.
Trump has also called the FBI's investigation into potential Russian coordination with his campaign a "witch hunt" designed to delegitimise his presidency. He once retweeted Fox & Friends quoting a contributor saying, "Anything Mueller is doing with his investigation is tainted by the anti-Trump FBI agent."
Trump also took aim at James Comey — whom he fired in May 2017 and whose reputation he has since sought to tarnish in the expectation he could be a witness against him in the encroaching Russia investigation.
"The inspector general report is a total disaster for Comey, his minions and sadly, the FBI. Comey will now officially go down as the worst leader, by far, in the history of the FBI. I did a great service to the people in firing him," Trump had tweeted in June.
The issue of American sanctions against Russia is also expected to feature in the Trump-Putin talks, although Trump was non-committal while discussing the issue with the media. "We'll see what Russia does. We're going to be talking to Russia about a lot of things. We're going to be talking to them about Syria, we're going to be talking to them about Ukraine. We might even be talking about some of the things President Obama lost, like Crimea, that could come up."
With inputs from agencies
Find latest and upcoming tech gadgets online on Tech2 Gadgets. Get technology news, gadgets reviews & ratings. Popular gadgets including laptop, tablet and mobile specifications, features, prices, comparison.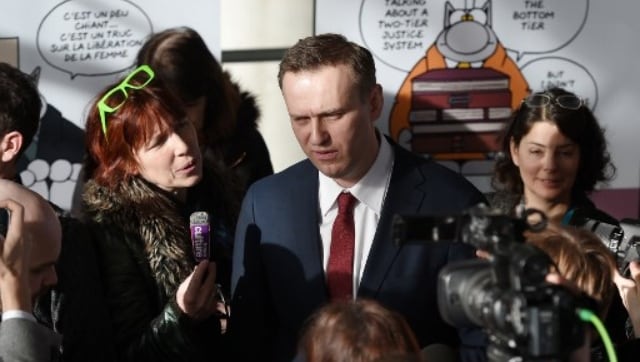 World
'I am not afraid... because I know that I'm in the right, I know that the criminal cases against me are fabricated,' Navalny said, standing in front of a picture of the Kremlin in the terminal
World
When she leaves Washington on Wednesday, Melania risks being remembered as the first lady who showed up to Washington late and left early — in every meaningful sense
World
To Trump, one advisor said, the vice-president had entered 'Sessions territory', referring to Jeff Sessions, the attorney-general who was tortured by the president before being fired