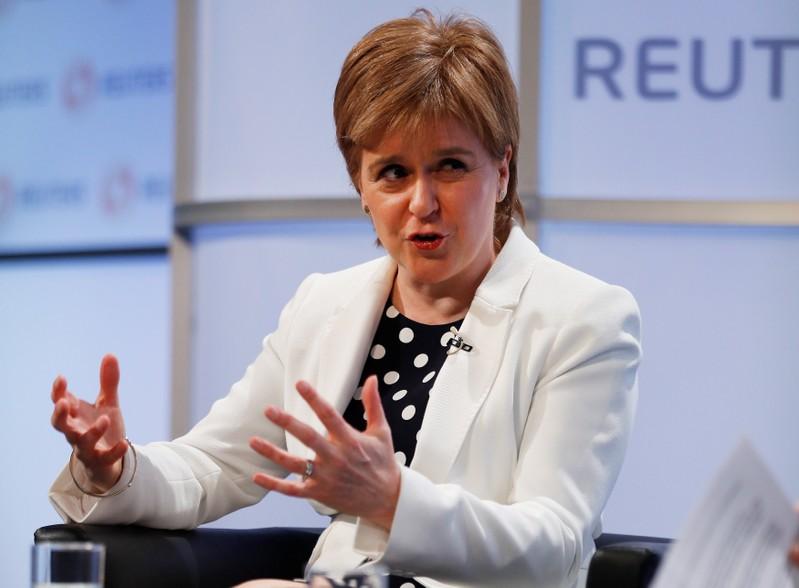 By Alessandra Galloni and Alistair Smout
LONDON (Reuters) - Prime Minister Theresa May's failure to come up with a coherent Brexit stance means the United Kingdom is at greater risk of spiralling towards a "no deal" Brexit with catastrophic consequences, Scotland's leader said.
In a step that will shape the United Kingdom's prosperity and global influence for generations to come, Britain is due to leave the European Union on March 29 next year, though the terms of the separation are still unclear.
Scottish First Minister Nicola Sturgeon said she felt there was no majority for a hard Brexit in the country but that the United Kingdom was at a juncture when momentum could swing either towards a softer Brexit or a "no deal" Brexit.
"At some point that majority for the least damaging Brexit, a softer Brexit, at some point has to assert itself," Sturgeon told a discussion at Thomson Reuters in London.
"The danger, if I am being less optimistic, or pessimistic, is that the whole process crashes before that can emerge because time is running out and the clock is ticking."
Both the EU and the UK need an agreement to keep trade flowing between the world's biggest trading bloc and the sixth largest global economy, though a transition period until the end of 2020 could limit the disruption to global trade.
May is trying to strike a trade deal with the EU by October while at the same time negotiating with her party and senior members of her divided minority government over Brexit.
The other 27 members of the EU combined have about five times the economic might of Britain. They also have a strong incentive to deny the UK a deal so attractive it might encourage others to follow the British example.
"I guess there is a real risk - probably a greater risk today than there was three, six, nine months ago - of the whole process falling apart," Sturgeon said. "There is a real risk of a no deal Brexit and that would be pretty catastrophic."
Sturgeon, who commands 35 Scottish National Party lawmakers in the Westminster parliament, said there was a real chance of parliament forcing the government to remain in the customs union.
"INDEPENDENCE FOR EVER"
Sturgeon, who took the helm of the Scottish National Party after Scots voted to reject independence in a September 2014 referendum, said the idea was far from dead.
"There will be different opinions as to whether we should do that now or in five years or ten years' time, but with that body of opinion, a constitutional option like independence is not going to be off the table," she said.
Scots voted 55-45 to stay in the United Kingdom in a 2014 referendum, while the United Kingdom voted 52-48 to leave the EU in the 2016 Brexit vote.
Sturgeon, 47, said that when there was clarity on the shape of the Brexit deal between the United Kingdom and the EU then she would be ready to give more details about Scotland's attitude towards a new independence vote.
"I'm not sure independence will ever be off the table until it's realised," she said.
Sturgeon said her party had launched a commission to examine the policy options for its stance on the currency of an independent Scotland. It will report within the next few weeks.
"My party does not propose or support using the euro, so the options the commission has been looking at: sterling in a currency union, sterling outwith a currency union, or a process that would lead to a distinctive Scottish currency over time," she said.
When asked about a reported ban at Donald Trump's luxury Scottish golf resort of Irn Bru, the nation's most popular soft drink, Sturgeon chuckled.
The ban on the luminous orange drink at Trump Turnberry, a sprawling estate on the west coast of Scotland with dramatic sea views, caused a furore in Scotland.
"It makes for a great headline: Trump bans Irn Bru from Turnberry," Sturgeon said with a smile. "He is very keen to proclaim his Scottish connections, his mother was born on the Scottish islands, so I'm sure he likes Irn Bru."
(Editing by Guy Faulconbridge and Andrew Roche)
This story has not been edited by Firstpost staff and is generated by auto-feed.
Firstpost is now on WhatsApp. For the latest analysis, commentary and news updates, sign up for our WhatsApp services. Just go to Firstpost.com/Whatsapp and hit the Subscribe button.
Updated Date: May 15, 2018 02:06 AM