Saudi reporter jailed for 5 years for insulting rulers - Amnesty | Reuters
DUBAI Saudi Arabia has sentenced a journalist to five years in jail for insulting the kingdom's rulers and 'inciting public opinion' on Twitter, Amnesty International said. Amnesty described the sentencing of Alaa Brinji on Thursday as 'a clear violation of international law' and said it showed intolerance of the right to peaceful expression. Officials at Saudi Arabia's Justice Ministry could not be reached for comment over the weekend
DUBAI Saudi Arabia has sentenced a journalist to five years in jail for insulting the kingdom's rulers and "inciting public opinion" on Twitter, Amnesty International said.
Amnesty described the sentencing of Alaa Brinji on Thursday as "a clear violation of international law" and said it showed intolerance of the right to peaceful expression.
Officials at Saudi Arabia's Justice Ministry could not be reached for comment over the weekend.
Against the background of regional turmoil, the ultra conservative Sunni Muslim country has issued tougher penalties against all forms of dissent.
The sentencing against Brinji, who worked for Saudi Arabian newspapers al-Bilad, Okaz and al-Sharq, came after a guilty verdict on March 24, Amnesty said.
It said the court had also found Brinji guilty of ridiculing Islamic religious figures and of making accusations against "security officers of killing protestors in Awamiyah" – an area in Saudi Arabia's Eastern Province.
The Eastern Province has been the focal point of unrest among the country's Shi'ites since protests in early 2011 calling for an end to discrimination against the minority sect and for reforms in the Sunni Muslim monarchy.
Amnesty, which said it had information from a source with knowledge of the case, said the court on Thursday also handed Brinji an eight-year travel ban and a fine of 50,000 riyals ($13,300).
Brinji was arrested in May 2014 and has been in detention since, according to Amnesty. He had also been accused of apostasy - abandoning his Muslim faith - a crime which carries the death penalty but was not convicted of this due to a lack of evidence, Amnesty said.
Saudi Arabia's judges are clerics from the kingdom's ultra- conservative Wahhabi school of Sunni Islam. In the Wahhabi interpretation of Sharia, religious crimes, including blasphemy and apostasy, incur the death penalty.
In February a Saudi court commuted the death sentence against a Palestinian poet convicted of apostasy, to eight years' jail and 800 lashes, according to his lawyer.
In 2014, a Saudi court in Riyadh sentenced three lawyers to up to eight years in jail after they criticised the Justice Ministry on Twitter.
(Writng by Sylvia Westall; Editing by Sami Aboudi and Raissa Kasolowsky)
This story has not been edited by Firstpost staff and is generated by auto-feed.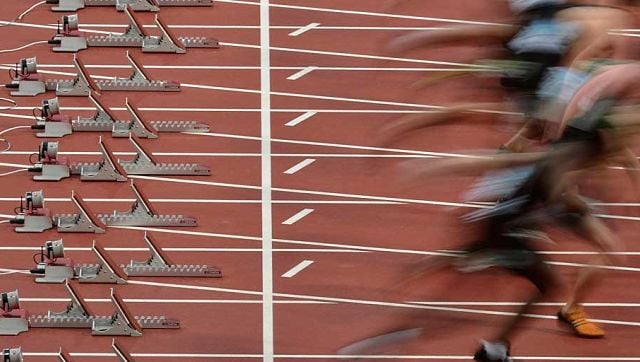 Sports
US athletes were supposed to train in Chiba, outside Tokyo, before the pandemic-postponed Games open on 23 July.
Arts & Culture
Alongside the journey through Dylan's artistic landscape, the new exhibition will include curated immersive and interactive displays of his music and literary works adding context of this multi-faceted talent and his impact on popular culture spanning over half a century.
science
In a preview of the discussions, Blinken said, "We won't trade shots in arms for political favours. This is about saving lives."