Saudi-led coalition condemns U.N. rights report on Yemen
RIYADH (Reuters) - The coalition of Arab states fighting against Yemen's Iran-aligned Houthis on Wednesday denounced as inaccurate and biased a report by U.N.
RIYADH (Reuters) - The coalition of Arab states fighting against Yemen's Iran-aligned Houthis on Wednesday denounced as inaccurate and biased a report by U.N. human rights experts that said some of its air strikes may amount to war crimes.
The experts' report, released a day earlier, said that the bombardment has caused heavy civilian casualties, raising concerns about the coalition's targeting process, while severe restrictions on Red Sea ports and Sanaa airport had deprived Yemenis of vital supplies.
The panel said Houthi fighters may also be guilty of war crimes, accusing them of restricting access for humanitarian aid and conscripting child soldiers.
The Houthis, who control the capital and most of the west of the country, regularly fire missiles on southern Saudi Arabia and occasionally aim for higher-value targets, such as the capital Riyadh or facilities of state oil company Aramco.
"The report had several methodological fallacies and misconstrued the facts of the conflict... ignoring the true reasons for the conflict which are the coup of the Iran-backed Houthi militias against the legitimate government in Yemen," said a statement published by the Saudi state news agency SPA.
Saudi Arabia is leading a Western-backed alliance of Sunni Muslim Arab states trying to restore the internationally recognised government of Yemeni President Abd-Rabbu Mansour Hadi, ousted from the capital Sanaa by the Houthis in 2015.
The report was the first United Nations investigation into possible war crimes in Yemen although international human rights groups have regularly documented abuses. It was released ahead of U.N. peace talks between Hadi's government and the Houthis scheduled for Sept. 6 in Geneva.
The coalition said it would provide a "comprehensive and detailed legal response" at a later time. It rejected the report's assertion that it had not cooperated or provided information to the panel.
The experts said they did not examine the United States and Britain, who supply weapons and intelligence to the alliance, or Iranian support for the Houthis, but other U.N. bodies were doing so. They urged all states to restrict arms sales to help end the war.
The United Nations considers Yemen to be facing the most urgent humanitarian crisis in the world, with millions of people potentially facing starvation if the war disrupts supply lines needed to bring in aid.
The war has so far garnered relatively little public attention in Western countries, but there are signs that is starting to change, particularly because of the role Western governments play supplying arms to the coalition countries.
A New York Times editorial on Wednesday condemned what it called "American complicity" in civilian casualties -- including dozens of children killed earlier this month in an air strike on a bus -- and urged Congress to cut military aid to Saudi Arabia.
"Saudi Arabia and its allies seem to have little compunction about slaughtering children as long as more bombs can be bought, so it's up to the enablers to call a halt," it said.
In Washington on Tuesday, U.S. Secretary of Defence Jim Mattis said U.S. support for the Saudi-led coalition was not unconditional, but suggested the United States would continue to support the alliance as it worked to reduce the impact on civilians.
Amnesty International called on Washington, London and others to "do everything in their power to prevent further violations (including) immediately stopping the flow of arms to the country and end the Coalition's arbitrary restrictions on humanitarian assistance and essential imports."
The Houthi-controlled al-Masirah TV said earlier on Wednesday that the group had fired a ballistic missile at Saudi Arabia's Najran region near the border between the two countries, causing no apparent casualties. Saudi air defences intercepted a missile fired towards the southern city of Najran on Tuesday.
(Reporting by Maher Chmaytelli, Katie Paul and Stephen Kalin; Editing by Angus MacSwan and Peter Graff)
This story has not been edited by Firstpost staff and is generated by auto-feed.
Find latest and upcoming tech gadgets online on Tech2 Gadgets. Get technology news, gadgets reviews & ratings. Popular gadgets including laptop, tablet and mobile specifications, features, prices, comparison.
Business
SHANGHAI (Reuters) - Tesla is planning to export Model 3 vehicles made in China to Asian and European markets, two sources familiar with the matter told Reuters on Friday. The U.S.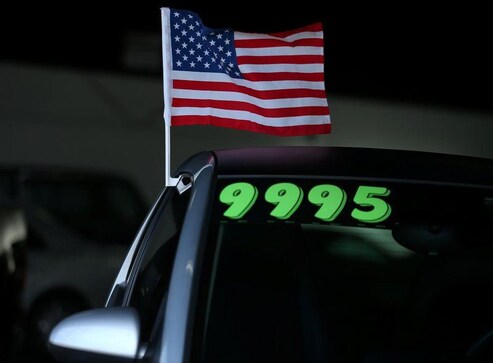 Business
By Lucia Mutikani WASHINGTON (Reuters) - U.S. consumer prices rose solidly in August, with the cost of used cars and trucks accelerating by the most in more than 51 years likely as Americans shunned public transportation because of fears of contracting COVID-19
Business
By Tanishaa Nadkar and Pushkala Aripaka (Reuters) - Life and general insurer Aviva is offloading its Singapore business to a consortium led by Singapore Life, for S$2.7 billion ($1.98 billion), as the London-listed firm sharpens its focus on Britain, Ireland and Canada.