Saudi king names son Mohammed bin Salman as crown prince: A few theories about why nephew was deposed
Saudi Arabia's King Salman on Wednesday appointed his 31-year-old son Mohammed bin Salman as crown prince, replacing his nephew Mohammed bin Nayef as first in line to the throne.
Saudi Arabia's King Salman on Wednesday appointed his 31-year-old son Mohammed bin Salman as crown prince, replacing his nephew Mohammed bin Nayef as first in line to the throne. He was previously the second-in-line to the throne as deputy crown prince and royal watchers had rightly suspected his rise to power under his father's reign might also accelerate his ascension to the throne. He already oversees a vast portfolio as defence minister and head of an economic council tasked with overhauling the country's economy.
The official reason for this change in succession line was given via the royal decree, which stated that "a majority" of senior royal members from the so-called Allegiance Council supported the recasting of the line of succession. The Allegiance Council is a body made up of the sons and prominent grandsons of the founder of the Saudi state, the late King Abdul-Aziz, who vote to pick the king and crown prince from among themselves.
Mohammed bin Nayef has been stripped of his longstanding powers overseeing criminal investigations. He was not believed to have played a significant role in Saudi efforts to isolate Qatar. On the other hand, Prince Salman is a key figure in the current stand-off with Qatar. He also worked closely with Sheikh Mohammed bin Zayed, the crown prince of Abu Dhabi in the United Arab Emirates. They worked in tandem to isolate Qatar, according to The New York Times.
Prince Salman embarked on major overseas visits including a trip to the White House to meet President Donald Trump in March. That visit to Washington helped lay the foundation for Trump's visit to Saudi Arabia in May. The warm ties forged between Riyadh and Washington under the Trump administration may have helped accelerate his ascension as crown prince.
In an interview with The Washington Post, Prince Salman said he was "very optimistic" about Trump. He described Trump as "a president who will bring America back to the right track" after Barack Obama, whom Saudi officials mistrusted. Prince Nayef was considered close to the previous US administration. However, Prince Salman has successfully represented the Kingdom in the US and managed to gain Trump's trust. He might be able to lead the overhaul in US-Saudi ties, which have started to move in a positive direction under the Trump administration.
The Qatar isolation, that Prince Salman spearheaded, might have triggered the decision to promote him as the crown prince.
Prince Salman was also believed to have been close to Russia. "The main objective is not to have Russia place all its cards in the region behind Iran," he had said. He framed the tensions with Iran in sectarian terms, and said it is Iran's goal "to control the Islamic world" and to spread its Shiite doctrine. He also vowed to take "the battle" to Iran and dismissed the possibility of a dialogue with Tehran.
Like his father, Prince Salman visited Russia, France, Egypt, Jordan, the United States and even NATO to represent the Kingdom. Nayef, as Brookings pointed out, has always been a private man like his father. He became famous in the Kingdom for surviving multiple al-Qaeda assassination attempts, not for grand standing. His low profile might not have appealed to King Salman, who preferred a crown prince who is as vocal as he was.
When King Salman was the crown prince, he also traveled extensively to represent the Kingdom.
After assuming the throne in 2015, King Salman announced his first major reshuffle within a few months and appointed Prince Mohammed bin Nayef as crown prince and Prince Mohammed bin Salman as deputy crown prince. The move has also been seen as imminent by some experts. Colin Foreman wrote for Middle East Business Intelligence that the events in Saudi Arabia in the last two years confirmed his view. Prince Salman has led many of Saudi Arabia's key policies — as defence minister, he led the campaign in Yemen and as deputy crown prince, he led Vision 2030
However, the recent promotion is being seen as a sign that things are changing, according to this BBC article. The king's decision might also be aimed at setting the line of succession clearly to avoid a power struggle between his son and Mohammed bin Nayef, Reuters quoted Bernard Haykel, professor of Near Eastern Studies at Princeton as saying.
The change might also empower Mohammed bin Salman to move faster with his plan to reduce the kingdom's reliance on oil, which includes the partial privatisation of state oil company Aramco. Last year, he had announced sweeping changes as part of his campaign to tackle systemic challenges that the kingdom has previously failed to address.
The rise of Prince Salman under King Salman had shattered decades of tradition in the royal family, where respect for seniority and power-sharing among branches are time-honored traditions. Never before in Saudi history has so much power been wielded by the deputy crown prince, who is second in line to the throne, as The New York Times reported. It has long been suspected that he would shove aside Prince Nayef to become the next king.
With inputs from agencies
India
Representatives of the Afghan government and Taliban insurgents met in Doha for talks Saturday as violence raged in their country with foreign forces almost entirely withdrawn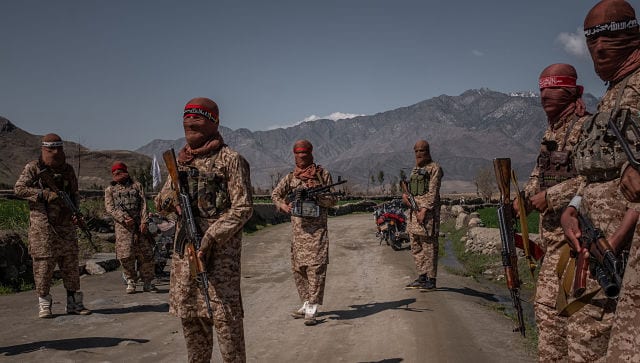 World
While the government in Kabul has brought reforms, including on women's rights and voting, Taliban have reiterated that they want an "Islamic system" in Afghanistan
World
The fact inversion about the siege is the latest in Trump's contorted oeuvre of the 'big lie' compendium, the most specious of which is that the election was stolen from him, when it was not