Saudi Arabian king, crown prince don't know whether Jamal Khashoggi was killed in Turkey consulate, Donald Trump tells AP
Donald Trump told AP that Saudi Arabia was carrying out a 'major investigation' with Turkey into Jamal Kashoggi's killing.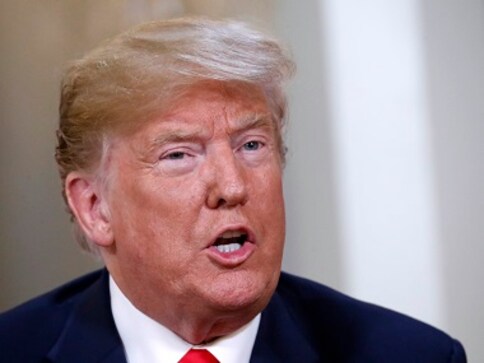 A transcript of an Oval Office interview on Tuesday with President of the United States Donald Trump by AP White House reporters Catherine Lucey, Zeke Miller and Jonathan Lemire.
___
We're hoping to cover a lot of topics, but before we get started on some other things, we want to talk news of the day first. Obviously, the Saudis and the missing writer. AP is reporting that police searching the consulate found evidence that Jamal Khashoggi was killed there. What did the crown prince tell you today (on Tuesday), exactly, and what is your intelligence telling you?
Well, I just put this out, I guess you saw it. I just have it here. I spoke to the crown prince, so you have that. He said he and his father knew nothing about it. And that was very important. And I spoke to him with Mike Pompeo there. And the crown prince. I spoke to the king yesterday (on Monday), the crown prince, today wanting to know what was going on, what was happening, and he said very strongly that he and his father knew nothing about it but they are starting a major, they've already started a major investigation to find out. And so the answers will be forthcoming.
Did they raise this idea of rogue killers in any of those conversations?
Well, the concept of it, I guess. Yesterday, when I spoke with the father, not so much today, but when I spoke to the father, it just sounded to me like he felt like he did not do it. He did not know about it and it sounded like, you know, the concept of rogue killers. But I don't know. I think the investigation will lead to an answer. And they're going to do a very thorough investigation. I believe they're working with Turkey.
But he didn't bring up that? That was something you came up with after the conversation?
Just the concept of it. No, that was just from my feeling of the conversation with the king, not with the crown prince but with the king.
Do you believe, sir, do you believe the king and the crown prince? I mean do you find them ... do you find them sort of trustworthy here? And there's been a lot of talk, including from Senator (Lindsey) Graham, who I know is an ally of yours in many ways, that this is the moment that perhaps the US relationship with Saudi Arabia should be re-evaluated, that things should be done differently going forward. What do you think of that?
Well, I think we have to find out what happened first. You know, here we go again with, you know, you're guilty until proven innocent. I don't like that. We just went through that with Justice (Brett) Kavanaugh. And he was innocent all the way. So I was unconcerned. So we have to find out what happened, and they are doing a very major investigation. So is Turkey. Plus, they're putting themselves together and doing it. And, hopefully, they'll get to an answer as to what happened. But I will say they were very strong in their denial about themselves knowing.
Did they give you any sense of the timetable?
I would say within a week. That's my impression. He said two weeks. But they're going to try and do it in less than a week.
So moving to the midterms, you're hitting the road for Republicans, obviously.
A little bit.
And the White House political office has said, and you have said, that Republicans face headwinds this fall, it's a tough year for Republicans historically. If Republicans were to lose control of the House ...
It's a tough year ... The midterms are very tough for anybody the opposite of president, for whatever reason, nobody has been able to say.
So my question is, if Republicans were to lose control of the House on 6 November — or a couple of days later, depending on how long it takes to count the votes — do you believe you bear some responsibility for that?
No, I think I'm helping people. Look, I'm 48 and 1 in the primaries, and actually it's much higher than that because I endorsed a lot of people that were successful that people don't even talk about. But many of those 48, as you know, were people that had no chance, in some cases. We look at Florida, you look at Donovan in Staten Island. He was losing by 10 points, I endorsed him and he won. I could give you a long list of names. Look at Georgia governor of Georgia. And many, many races. And I will say that we have a very big impact. I don't believe anybody's ever had this kind of an impact. They would say that in the old days that if you got the support of a president or if you've got the support of somebody it would be nice to have, but it meant nothing, zero. Like literally zero. Some of the people I've endorsed have gone up 40 and 50 points just on the endorsement.
Eight years ago, Barack Obama said he got shellacked, so you know, taking the outcome of the election as a referendum on himself.
So I think we're going to do well. Look, it feels to me very much like '16. I was going out and making speeches and I was getting tens of thousands of people. And I was getting literally tens of thousands of people, also, more than Hillary in the same location. And I said, 'Why am I going to lose?' I mean, I go out, I make a speech like I have, you know, 25 times more people than she gets. And I didn't need Beyonce to get them. I didn't have to have, you know, entertainment and entertainers to get them. And then they'd all leave before she made the speech after the entertainer was finished. Honestly, it feels very much like it did in '16.
Now, I'm not sure that that's right. And I'm not running. I mean, there are many people that have said to me, 'Sir, I will never ever,' you on the trail when I'm talking to people backstage etcetera, 'I will never ever go and vote in the midterms because you're not running and I don't think you like Congress.' Well, I do like Congress because I think, and when I say Congress I like the Republicans that support me in Congress. We've had tremendous support. I mean, we've got the taxes with 100 percent Republican votes and we don't really have much of a majority. You know when you say majority, I always say, 'If somebody has a cold, we have to delay the vote.' So I get along, you know, very ... people have no idea how low how well I get along with Republicans in Congress. I get along well with a lot of the Democrats in Congress, but I'll never get their vote.
You just mentioned Justice Kavanaugh. And I know, we've all been to your rallies, and you've suggested that fight was as hard as ...
I will say, that fight because he was treated so viciously and violently by the Democrats. That fight has had an impact on energy, and it's had an impact on the Republican Party, a very positive one in terms of getting out and voting. I think, but I'll let you know in three weeks.
Along those lines, in the days before the actual vote was held, former President George W. Bush made a number of calls of senators also sort of lobbying on Kavanaugh's behalf. Does he deserve any of the credit here? Have you spoken to him, have you given him a thank you for that?
I did speak with him, I did. No, I didn't say thank you, per se. But I did speak to him before it and we had a great conversation about Kavanaugh, what an outstanding person he is, which is what he told me. And we had a very pleasant conversation, a very good conversation.
also read
World
Saudi Arabia has now restored bilateral ties with Syria and increased its peace efforts in Yemen, where it leads a military coalition fighting the Iran-backed Huthi rebels
World
Prigozhin called the allegations "nonsense", and suggested that unnamed residents of Moscow's Rublyovka suburb, home to many of the business and political elite, were orchestrating an attack on him, according to a report
World
Scott, 57, delivered a speech in his hometown of North Charleston in South Carolina where he relied heavily on his personal story of growing up as a black to a single mom and how America is still a country of hope and promise