Saudi Arabia-Canada dispute over activists' release escalates: As Ottawa issues defiant statement, a look at bilateral ties
The Saudi government expelled Canada's ambassador, giving him 24 hours to leave the country, and recalled its own envoy to Ottawa, while freezing all new trade.
Saudi Arabia and Canada have engaged in a bitter war and show no signs of backing down after Riyadh abruptly cut ties over Ottawa's vigorous calls for the release of activists jailed in the kingdom.
The Saudi government expelled Canada's ambassador, giving him 24 hours to leave the country, and recalled its own envoy to Ottawa, while freezing all new trade over what it slammed as "interference" in its internal affairs. Saudi Arabia's state airliner has also suspended its direct flights to Toronto and Riyadh has said it will relocate thousands of Saudi students studying in Canada to other countries.
Canada last week said it was "gravely concerned" over a new wave of arrests of women and human rights campaigners in the kingdom, including award-winning gender rights activist Samar Badawi and called on Riyadh to "immediately release them".
Saudi foreign minister Adel al-Jubeir on Monday criticised Canada's calls to free arrested civil society activists as a position built on "misleading" information, and said his country would not tolerate any interference in its own affairs. The ministry called Canada's statement "a blatant interference in the Kingdom's domestic affairs, against basic international norms and all international protocols."
Calling the Canadian position as an "affront," the Saudi foreign ministry said it requires a sharp response to prevent any party from attempting to meddle with Saudi sovereignty. Jubeir also said that those held in Saudi Arabia were "subject to Saudi legal laws that guarantees their rights".
Canada, in its response, has refused to back down and said that it will continue to stand up for human rights.
Canada will 'continue to advocate for human rights'
Canadian foreign minister Chrystia Freeland said in a statement, "We are deeply concerned that Saudi Arabia has expelled Canada's ambassador in response to Canadian statements in defence of human rights activists detained in the kingdom.
"Canada will always stand up for the protection of human rights, including women's rights and freedom of expression around the world. We will never hesitate to promote these values and we believe that this dialogue is critical to international diplomacy.
"The Embassy of Canada to Saudi Arabia, in Riyadh, continues its regular operations, including consular services. Canada will continue to advocate for human rights and for the brave women and men who push for these fundamental rights around the world."
'Canada not one of Saudi Arabia's most important allies'
Thomas Juneau, an assistant professor at the University of Ottawa's Graduate School of Public and International Affairs, told The Atlantic that picking on Canada, which is not one of Saudi Arabia's most important allies, is a relatively low-cost way for Riyadh to send a message to the West as a whole. The message being that the Kingdom does not tolerate criticism of its domestic affairs, Juneau added.
The Kingdom is an important source of foreign students for Canada, with over 15,000 Saudi students in Canada, including 800 resident physicians and specialists who provide care to the Canadian population.
Juneau also told The Globe and Mail that "For Canadian universities, this is a significant hit," was referring to Riyadh's decision to relocate its students from Canada. "Saudi Arabia is the fourth largest contingent of foreign students in this country."
Regarding trade, Saudi Arabia is currently Canada's second largest export market in the region. However, Riyadh's freeze on trade is not expected to affect the Canadian economy. According to The Wall Street Journal, the two-way trade between the countries was relatively small, totaling roughly $3.08 billion in 2017. Saudi Arabia accounts for just 0.24 percent of Canadian exports in 2016, according to the World Bank data.
Further, the controversial arms deal between Canada and Saudi Arabia was presented by Riyadh as an "act of friendship" between the two countries. The $15 billion agreement includes sale of more than 900 armoured vehicles — including "heavy assault" armoured vehicles and equipped with cannons — to Saudi Arabia. Riyadh officials, according to The Globe and Mail, said that the deal should be seen as a goodwill gesture by the Kingdom to cement its friendship with Canada.
"This contract has been given to Canada to improve the relations and enhance the relations," Saudi Arabia's chief envoy Naif Bin Bandar al-Sudairi was quoted as saying. The future of the deal remains in question after the acrimony between Canada and Saudi Arabia.
With inputs from agencies
Find latest and upcoming tech gadgets online on Tech2 Gadgets. Get technology news, gadgets reviews & ratings. Popular gadgets including laptop, tablet and mobile specifications, features, prices, comparison.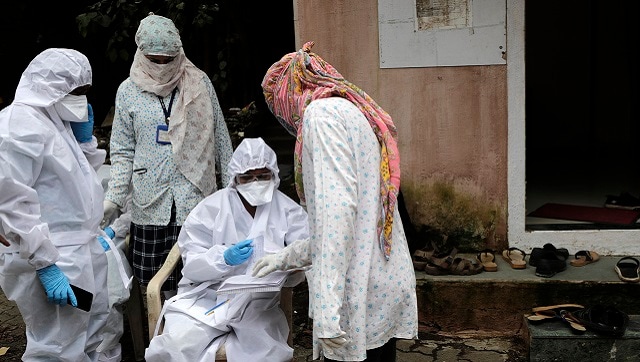 World
On Wednesday, the World Bank approved the extension of health emergency programmes to up to $12 billion for vaccines and therapeutics in developing countries
India
UN High Commissioner for Human Rights Michelle Bachelet specifically cited as "worrying" the use of FCRA, which prohibits the receipt of foreign funds "for any activities prejudicial to the public interest."
India
The minority affairs minister said the pilgrimage is scheduled for June-July 2021 and the application process will be announced after the Saudi Arabian government takes a final call