Sarkozy set to enter election race on Wednesday
The conservative leader is expected to declare his candidacy on prime time television on Wednesday evening and hold his first campaign rally on Thursday in the Alpine town of Annecy.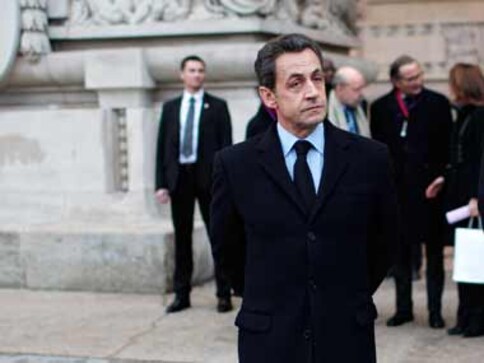 Paris: Nicolas Sarkozy is set to formally enter France's 2012 presidential race on Wednesday, kicking off a rapid-fire re-election campaign with the odds stacked in favor of Socialist challenger Francois Hollande.
The conservative leader is expected to declare his candidacy on prime time television on Wednesday evening and hold his first campaign rally on Thursday in the Alpine town of Annecy, where his ruling UMP party expects a deluge of supporters.
Sarkozy, who gave nothing away as he addressed workers at a solar power company on Tuesday, is set to flesh out his campaign platform in a keynote speech to an audience of several thousand in the Mediterranean port city of Marseille on Sunday.
While opinion polls show Hollande 15 points ahead of Sarkozy in the May 6 runoff, the president's camp is betting that he can narrow the gap before the April 22 first round.
"Sarkozy is taking off his presidential robes and entering the ring," a government official said, asking not to be named. "When the president becomes a candidate, that changes the polls."
The election comes at a critical time for Europe, with France battling alongside Germany to overcome a euro zone debt crisis that has stifled growth in much of the region.
Credit rating agency Moody's warned late on Monday that it could follow Standard & Poor's in removing France's AAA rating, as it downgraded six other European nations and cited growing risks from the debt crisis. Finance Minister Francois Baroin promised to stick to growth measures and deficit-cutting plans.
Sarkozy, who came to power in 2007 pledging a return to full employment, is being punished for a rise in the jobless rate to a 12-year high of 9.3 percent.
Since the global financial crisis pushed France into recession on his watch in 2009, the recovery has sputtered, and growth dwindled to zero in the last quarter of 2011.
STEALING HOLLANDE'S THUNDER
Sarkozy's office would not comment on the timing of the launch, but TF1 television has the president as a provisional guest on its 8 p.m. (1900 GMT) news show. Le Figaro daily, which backs Sarkozy, said he would make the announcement then.
Hollande will be giving his second major campaign speech on Wednesday evening in an address to some 7,000 people in his home city of Rouen. The Socialist candidate played down the timing clash, saying Sarkozy had been in campaign mode for weeks.
Stuck with a 68 percent disapproval rating and trailing Hollande in opinion polls, Sarkozy has been working for weeks on a campaign based around reforms to boost flagging industrial competitiveness and cut labor costs.
In a flurry of last-minute measures, he is seeking to raise the VAT sales tax rate to fund a cut in payroll charges and is introducing a 0.1 percent tax on financial transactions to make the financial sector contribute to deficit-cutting.
The lower house of parliament is expected to approve the VAT measure on Wednesday, despite left-wing opposition.
Sarkozy, a barnstorming campaigner, is expected to sound remorse for pledges derailed by the 2008 economic crisis but try to paint himself as an experienced helmsman who can lead France out of the latest round of economic turmoil.
He has also indicated he will take a firm conservative line on immigration and values, opposing gay marriage and euthanasia.
"The game is far from over. The polls, the comments, all this will be wiped away in the three weeks before the election," Prime Minister Francois Fillon told Le Monde on Monday.
An Ifop poll published on Tuesday gave Hollande a 5-point lead in the April 22 first round with 30 percent support to Sarkozy's 25 percent. It showed him easily defeating Sarkozy in a May 6 runoff with 57.5 percent to 42.5 percent.
The survey gave far-right leader Marine Le Pen 17.5 percent in the first round and centrist Francois Bayrou 12.5 percent.
Hollande kicked off his campaign in late January with an economic program that would raise taxes on banks, big firms and the wealthy to help him reduce the public deficit while pumping more funds into education and state-aided job creation.
Sarkozy has opted to wait until closer to a March 16 deadline to use the benefits of incumbency. But has been on the warpath since a New Year address to the nation, in which he laid the way for a rash of measures to cut labor costs and shift the tax burden to consumption, aimed at reigniting economic growth.
The Socialist Party complained to France's election watchdog on Monday that Sarkozy had used taxpayer money to pay for official trips that were thinly veiled election campaign stops.
Reuters
World
The new prime minister's first mission will be to make sure that Macron's centrist party and its allies do well in France's parliamentary election in June
World
Borne has served as Labour Minister in Macron's previous government since 2020. Before that, she was transport minister and then minister of ecological Transition, also under Macron
World
Western countries have supplied Ukraine with weapons, including artillery, anti-aircraft missiles, anti-tank weapons and other powerful materials, but Kyiv has been pushing allies for more support