S-Korea ferry Live: 146 dead, search for missing continues
More than 100 people were still unaccounted Wednesday several hours after a ferry carrying 476, most of them high school students, sank in South Korea.
10.50 am: Over 146 bodies recovered 
According to an AP report, the official death toll has reached 146, though a government official said divers must now rip through cabin walls to retrieve more victims.
The victims are mostly students of a single high school in Ansan, near Seoul. More than three-quarters of the 323 students are dead or missing, while nearly two-thirds of the other 153 people on board the ferry Sewol when it sank one week ago survived.
End of updates for 22 April
10.00 am: Death toll at 108, over 200 still missing
The death count has shot up in the South Korea ferry disaster. Officials said on Tuesday that confirmed fatalities had reached 108, with nearly 200 people still missing.
The South Korean President has declared the actions of crew as 'murderous.'
End of updates for 21 April
9.10 am: Prosecutors say 4 crew members detained 
A South Korean prosecutor says four more crew members from a sunken ferry have been detained on allegations of failing to protect passengers. Two first mates, one second mate and a chief engineer are also accused of abandoning the ship, says the report from Associated Press.
8.45 am: Death toll could exceed 300, 64 bodies recovered
According to an Associated Press report, the death toll in the South Korean ferry could eventually exceed 300. Over 64 bodies have been recovered and close to 240 people are still missing.
The report adds that many people followed the captain's initial order to stay below deck, where it is feared they remain trapped. The ferry sank with 476 people on board, many of them students from a single high school.
According to the transcript released by South Korea's coast guard, about 30 minutes after the Sewol began tilting a crew member asked a marine traffic controller whether passengers would be rescued if they abandoned ship off South Korea's southern coast. The crew member posed the question three times in succession.
End of updates for 19 April
11.50 am: Captain and two crew members arrested, 29 bodies recovered so far 
The captain of the ferry that sank off South Korea was arrested on early Saturday on suspicion of negligence and abandoning people in need, reports Associated Press.
Rescuers planned 40 dives Saturday in an attempt to enter the ferry and retrieve at least some of the more than 270 people missing.
A civilian diver saw the three bodies inside the ship through windows but was unable to break the windows, said Kwon Yong-deok, a coast guard official.
Strong currents and rain made it difficult to get inside the ferry, where most of the passengers are believed to have been trapped, coast guard spokesman Kim Jae-in said.
So far 29 bodies have been recovered since Wednesday's disaster off the southern South Korea coast.
End of updates for 18 April
4.26 pm: Prosecutors request arrest warrant against captain and two crew members 
Prosecutors say they've asked a court to issue an arrest warrant for the captain of the South Korean ferry that sank two days ago, leaving hundreds missing and feared dead.
Prosecutors said on Friday that they have also requested arrest warrants for two other crew members.
2.33 pm: Vice principal saved from Korea ferry found hanged 
Police say a high school vice principal who had been rescued from a sinking South Korean ferry has been found hanging from a tree.
The news of the death came Friday as rescuers scrambled to find hundreds of people still missing from the ferry and feared dead. The passengers included 325 second-year students from Danwon High School heading to a southern island on a four-day trip.
A police officer says the vice principal, identified only by his surname Kang, was found dead on the island of Jindo where rescued passengers have taken shelter. The officer spoke on condition of anonymity citing department rules. He didn't elaborate.
10.10 am: Transcript shows that evacuation was delayed 
According to Associated Press report, "a transcript of a ship-to-shore exchange and interviews showed the captain delayed evacuation for half an hour after a South Korean transportation official ordered preparations to abandon ship."
The report says that the order at 9 am by an unidentified official at the Jeju Vessel Traffic Services Center to put on lifejackets and prepare for evacuation came just five minutes after a Wednesday morning distress call by the Sewol ferry.
08.30 am:  Death toll at 25, 271 people still missing
The death toll from a capsized South Korean passenger ferry rose to 25, with 271 people still missing. Parents of missing schoolchildren blamed the ship's captain for the tragedy after he and shipping company officials made emotional apologies for the loss of life.
Of 475 passengers and crew on the Sewol ferry, which capsized in calm seas on Wednesday, 179 people are listed as safe.
End of updates for 17 April
3.30 pm: Captain of ferry faces criminal probe 
 The captain of the South Korean ferry that capsized off the southwest coast was facing a criminal investigation on Thursday, an official said, according to Reuters.
The captain, identified as Lee Joon-seok, 69, is being questioned by the coastguard and is the subject of a criminal investigation, a coastguard official said.
Several agencies have also reported that he was one of the first to jump off, but these remain unconfirmed.  The Sewol ferry was carrying 475 passengers and crew when it capsized on Wednesday. The government has said nine people were found dead and 179 had been rescued, leaving about 290 people, most of them teenaged school children, missing and possibly trapped in the vessel.
13.40 pm: The Evacuation order was delayed, say news reports
Even as the hunt for rescue operations continue in the case of the South Korean ferry that sank, the evacuation process has come under scrutiny.
According to AFP, "Multiple survivor testimony highlighted the fact that passengers were repeatedly told to stay in their seats or cabins when the ferry first ran into trouble on Wednesday morning. Those who obeyed found their possible escape route severely compromised after the vessel suddenly listed sharply to the port side, triggering total panic."
One survivor named Kim Sung-Mook said he had struggled to rescue around 30 high school students unable to escape from a large, open hall on the fourth level of the ship.
9.00 am: Death toll rises to 9, over 179 rescued 
Nine people, including five students and two teachers, were confirmed dead, but many expect a sharp jump in that number, reports Associated Press.
This is due to long period of time the missing have now spent either trapped in the ferry or in the cold seawater. There was also fury among families waiting for word of passengers who were mostly high school students.
There were 475 people aboard, and some of the frantic parents of the 325 student passengers who had been heading to Jeju island for a four-day trip gathered at Danwon High School in Ansan, which is near Seoul, and on Jindo, an island near where the ferry slipped beneath the surface until only the blue-tipped, forward edge of the keel was visible.
07.30 am : Death toll confirmed at 7, fears rise for fate of 289 missing
Fears rose on Thursday for the fate of 289 passengers still missing more than 24 hours after their ferry flipped onto its side and filled with water off the southern coast of South Korea.
According to an Associated Press report, a coast guard official said the death toll was now confirmed at seven, but that is expected to rise sharply because the missing have now spent more than a day either trapped in the ferry or in the cold seawater.
End of updates for 16 April
3.45 pm: Death toll rises to 3
At least three people were confirmed dead and 55 injured in South Korea's ferry disaster, according to latest reports from Associated Press.
The high number of people unaccounted for — likely trapped in the ship or floating in the ocean — raised fears that the death toll could rise drastically, making it one of South Korea's biggest ferry disasters since 1993 when 292 people died.
3.00 pm: Rescued student recounts his story 
One student, Lim Hyung-min, told broadcaster YTN after being rescued that he and other students jumped into the ocean wearing life jackets and then swam to a nearby rescue boat, reports Associated Press.
"As the ferry was shaking and tilting, we all tripped and bumped into each another," Lim said. Once he jumped, the ocean "was so cold. ... I was hurrying, thinking that I wanted to live."
Divers have been deployed to look for people inside the ship's wreckage, a few kilometers (miles) from the shore of Byeongpung Island, which is not too far from the mainland. The area is about 470 kilometers (290 miles) from Seoul.
Those rescued — wet and many without shoes — were brought to the nearby Jindo Island, where medical teams wrapped them in pink blankets and checked them for injuries.
2.40 pm : Rescue operation continues, US Navy also joins the search 
Korean Herald reports, that the South Korean navy has sent out vessels along with two helicopters. Navy and Coast Guard commandos have began searching inside the vessel, according to the report.
The Air Force and the Army have also sent air crafts to the scene. Divers have swung into action as well to try and locate people, according to news  reports.
United States has sent out their Navy ship Bonhomme Richard for support as well.
1.30 pm : Number of missing raised to 300, 2 people killed
The government says 295 people are still missing several hours after a ferry carrying 477, most of them high school students, sank in cold waters off South Korea's southern coast, reports Reuters. 
Korean Herald reports that, "As of 3:50 pm, about 290 people remain unaccounted for. The passengers included 324 students and 14 staff from Danwon High School who were traveling to Jejudo Island on a school trip."
Officials say at least two died and seven were injured. A government official earlier said that more than 100 people were still unaccounted for Wednesday, but officials later changed the number to 295.
11.00: Ferry sinks, South Korea puts number of missing at 100
More than 100 people were still unaccounted Wednesday several hours after a ferry carrying 476, most of them high school students, sank in cold waters off South Korea's southern coast.
There were fears of a big jump in the number of deaths, as dozens of boats, helicopters and divers scrambled to rescue passengers who had been on the ferry travelling to the southern island of Jeju.
One rescued passenger said he believed that many people had been trapped inside the ferry when it sank, according to Associated Press reports.
9.00 am: Ferry start carrying over 470 people sinking off the southern coast of South Korea
A passenger ferry carrying about 470 people was listing badly off South Korea's southwest coast and had sent a distress signal, a Korean coast guard official said on Wednesday, and a rescue mission was underway.
Korean television news reports said the ferry was sinking and that many of the passengers on board were students on the way to Jeju island, about 100 km (60 miles) off the coast, on school trips.
The coast guard official, speaking from Mokpo city on the southwest coast, said a rescue operation had been launched but could provide no further details. YTN television said 100 passengers had already been rescued.
According to Korean paper, KoreanHerald the ferry, the 6,325-ton Sewol, began to sink at about 8:55 am according to South Korea time. The report said that "a woman identified as 22-year-old Park Ji-young, a staff worker for the ferry company, and Jung Cha-woong, a student at Danwon High School in Ansan, Gyeonggi Province, were confirmed dead."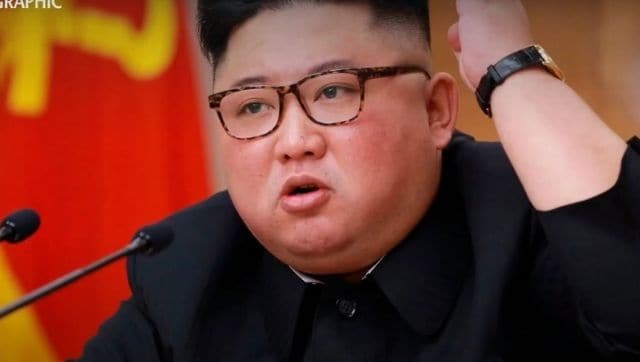 Entertainment
In its fairly detailed exploration of the key events in Kim Jung-un's regime, the documentary does manage to circle around the mind of the dictator, if not crawling "inside" it as the title claims.
News & Analysis
A key component of the Autopilot system "was not available" on the road where the crash happened.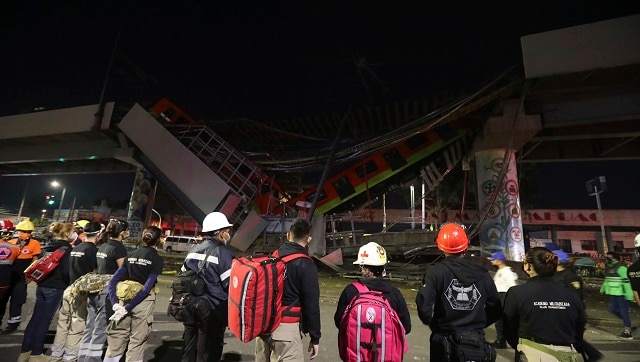 World
As emergency workers continued their search for trapped passengers, mayor Claudia Sheinbaum said seven of the injured were in a serious condition