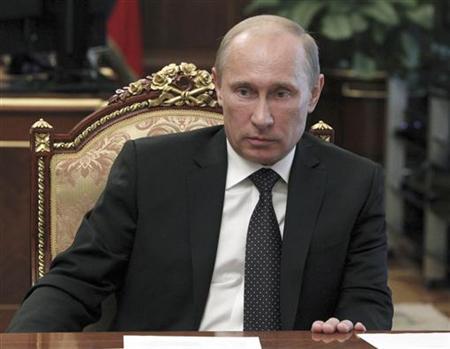 MOSCOW (Reuters) - Russian President Vladimir Putin will meet U.N. special envoy Kofi Annan in Moscow on Tuesday to discuss the crisis in Syria, the Kremlin said on Sunday.
Annan is expected to increase international pressure on Russia to do more to help end the bloodshed in Syria following accusations by the Syrian opposition that Moscow is prolonging the conflict by propping up President Bashar al-Assad.
The Kremlin said Putin would underline Russia's support for Annan's peace plan, which calls for both the government and opposition in Syria to work together to end the crisis.
"During the course of the upcoming meeting, the plan is to ensure Russia's support for Annan's peace plan for the political, democratic regulation of the crisis in Syria," Putin's press service said in a statement.
"It is the Russian side's understanding that this plan is the only viable platform for the solution of Syria's internal problems."
Russia has repeatedly defended Assad at the U.N. Security Council since the start of the uprising in Syria 16 months ago and vetoed several Western resolutions calling for foreign intervention in Syria.
Annan is expected on Monday to meet Russian Foreign Minister Lavrov on Monday. An aide to Annan had said on Friday that the envoy also expected to see Putin during his visit.
A deputy to Lavrov said on Friday that Russia would urge Annan to work more with the Syrian opposition, but Moscow failed to find common ground with opposition leaders at talks in Moscow last week.
(Reporting By Nastassia Astrasheusskaya, Editing by Timothy Heritage)
Updated Date: Jul 15, 2012 18:00 PM