Russia's Putin tells Trump: 'Be my guest in Moscow'
By Denis Pinchuk JOHANNESBURG (Reuters) - Russian President Vladimir Putin said on Friday he had invited Donald Trump to Moscow and that both he and the U.S. president want further summits, despite the uproar in Washington after the two leaders met in Helsinki last week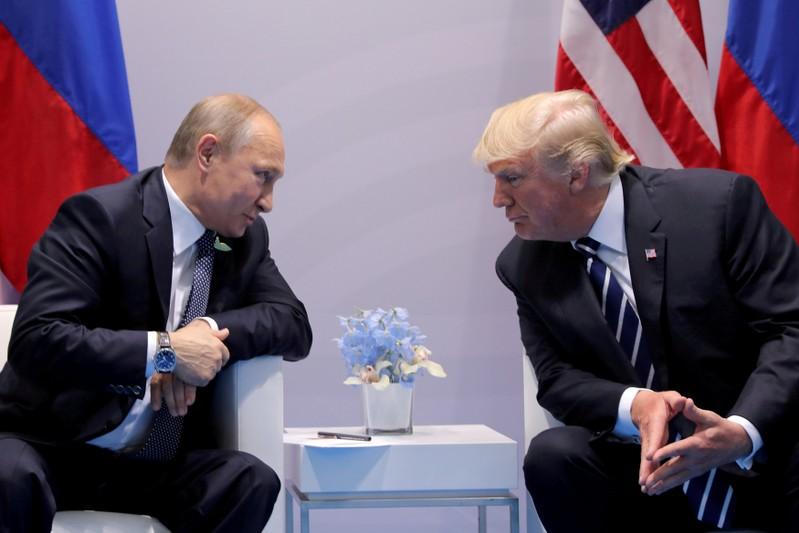 By Denis Pinchuk
JOHANNESBURG (Reuters) - Russian President Vladimir Putin said on Friday he had invited Donald Trump to Moscow and that both he and the U.S. president want further summits, despite the uproar in Washington after the two leaders met in Helsinki last week.
Following the backlash in the United States over Trump's cordial public tone with Putin at the Helsinki summit, U.S. and Russian officials backed away from a proposal to schedule a follow-up summit in Washington.
But speaking to reporters in South Africa, where he was attending a summit of BRICS nations, Putin said another meeting with Trump was still on the agenda.
"Regarding our meetings, I understand very well what President Trump said. He has a desire to have further meetings," Putin said.
"I am ready for that. We need for the appropriate conditions to exist, to be created, including in our countries," Putin told a news conference.
"We are ready for such meetings. We are ready to invite President Trump to Moscow. Be my guest. He has such an invitation, I told him that."
Putin did not say how Trump had reacted to the invitation to travel to Moscow. The last time Trump was in the Russian capital was in 2013, to attend a Miss Universe beauty pageant.
Referring to the proposal for a meeting in the United States, Putin said: "I am ready to go to Washington. I repeat once again, if the right conditions for work are created."
Putin said that, in the meantime, it was possible that he and Trump would meet on the sidelines of the Group of 20 summit in Argentina in November, or at another international event.
In an apparent reference to the backlash inside the United States after Trump's performance at the Helsinki summit, Putin said: "Despite the difficulties, in this particular case difficulties linked to the internal political situation in the United States, life goes on and our contacts continue."
TRUMP CRITICISED
After the Helsinki summit, Trump was criticised at home for failing to publicly confront Putin over Moscow's meddling in the 2016 presidential election, and for seeming to contradict his own intelligence agencies on the threat from Russia.
Relations between Russia and the United States have been fraught because of rows over Russia's annexation of Crimea, and allegations -- denied by Moscow -- that the Kremlin meddled in the 2016 presidential election to help Trump win.
Both Trump and Putin have said they are determined to improve relations. However, efforts to achieve a detente have been fiercely resisted by the U.S. lawmakers, including some in Trump's own Republican Party, who accuse him of being too friendly towards Putin.
Speaking in Johannesburg on Friday, Putin made a case for better ties, saying that the world was a safer place when Moscow and Washington were talking to each other.
"In Helsinki, we talked about the issues in which our states have a real stake. In 2021, the New Start treaty expires," he said, referring to a nuclear arms control treaty.
"Are we going to extend it or not? Russia and the United States have a stake in that, the whole word has a stake in that, in not starting an arms race. If we don't start talks in 2021, the treaty will cease to exist."
"Yes, we have contacts on a working level, but sometimes that's not enough, we need contacts at the highest political level," Putin said.
Turning to efforts to resolve conflicts in the Middle East, Putin said: "Will we talk about these issues at the highest political level, or do we think it's a secondary issue? I don't think so - it's not a secondary issue."
He said the international deal on Iran's nuclear programme, from which Trump has withdrawn, was also an area that needed U.S.-Russian dialogue.
"It's a subject for debate and negotiations. How can you have these if they don't exist? There are some things you can't do over the phone."
(Writing by Tom Balmforth and Christian Lowe; Editing by Kevin Liffey)
This story has not been edited by Firstpost staff and is generated by auto-feed.
Find latest and upcoming tech gadgets online on Tech2 Gadgets. Get technology news, gadgets reviews & ratings. Popular gadgets including laptop, tablet and mobile specifications, features, prices, comparison.
World
By Guy Faulconbridge and Kate Holton LONDON (Reuters) - Rich countries could be back to close to normal by late 2021 if a COVID-19 vaccine works, is ready soon and distributed properly at scale, Microsoft founder Bill Gates said on Tuesday. "By late next year you can have things going back pretty close to normal - that's the best case," Gates, 64, told The Wall Street Journal CEO Council. "We still don't know whether these vaccines will succeed," Gates said.
World
By Rupam Jain (Reuters) - Taliban and Afghan government-backed negotiators have agreed on a broad code of conduct to advance the intra-Afghan peace talks in Qatar, even as key differences between the two warring sides remain, three official sources told Reuters on Tuesday.
World
MOSCOW (Reuters) - Russian rights groups on Tuesday called on the authorities to stop using home searches as a tactic to intimidate opponents after a journalist set herself on fire following a police raid of her apartment last week. Irina Slavina, editor-in-chief at a small news outlet in the city of Nizhny Novgorod, self-immolated in front of the local branch of the interior ministry in Nizhny Novgorod last Friday after blaming Russian authorities for her death in a Facebook post