Russia's forces advancing in Bakhmut, says Moscow-backed official
A separatist official said Wednesday that Russian forces, including units of the Wagner mercenary group, had advanced in Bakhmut, a town in eastern Ukraine that Russia has been trying to capture for months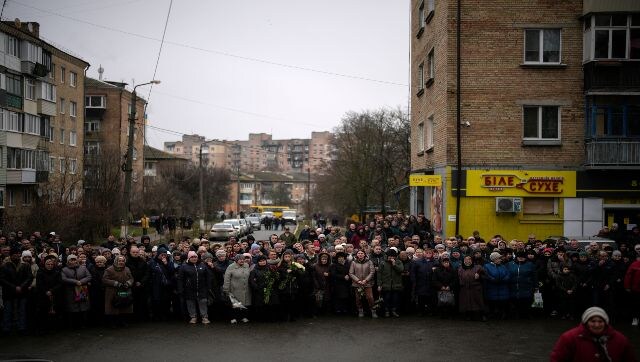 Moscow: A separatist official said Wednesday that Russian forces, including units of the Wagner mercenary group, had advanced in Bakhmut, a town in eastern Ukraine that Russia has been trying to capture for months.
"Fairly tough fighting continues in Artemovsk," Denis Pushilin, Moscow's top official responsible for Donetsk, was quoted as saying by Russian news agencies, using the Russian name for Bakhmut.
"But units, in particular Wagner, are advancing in Artemovsk itself."
Fighting was already taking place "somewhere on the outskirts and somewhere in those neighbourhoods that were until recently controlled" Ukraine's forces, he added.
Russian forces have been trying to wrest control of Bakhmut for months in what Kyiv has described as some of the bloodiest battles since the start of Russia's offensive.
The town, which used to have a population of around 70,000 people, has been largely destroyed by the fighting and its strategic importance is debated by experts.
Earlier this month, Russia claimed control of the nearby salt-mining town of Soledar, to the northeast of Bakhmut.
According to Pushilin, the town's seizure "played a key role" in the current advances towards Bakhmut.
Its capture "has now made it possible to block the enemy's supply routes and, in part, take under operational control areas" from which Ukrainians struck Russian positions.
The leader of the Wagner fighting group, Yevgeny Prigozhin, said Tuesday that "the purpose of capturing Bakhmut is to destroy the Ukrainian army in the outskirts of the city and to prevent any offensive action in any direction of the front.
"All combat-ready units of Ukraine's Armed Forces are sent to Bakhmut and the Wagner group is destroying them, opening up operation opportunities in other areas," he said as quoted by his press service.
In its daily report on Wednesday, the Ukrainian General Staff confirmed Russian assaults on Bakhmut.
The US-based Institute for the Study of War said Wednesday that Russian forces have made "marginal territorial gains" near Bakhmut.
Read all the Latest News, Trending News, Cricket News, Bollywood News,
India News and Entertainment News here. Follow us on Facebook, Twitter and Instagram.
World
Serhiy Popko, head of Kyiv city administration said that the new curfew will begin at 12 am instead of 11 pm which would in turn increase the operational hours of public transport
World
Vladimir Putin has announced that Moscow would be stationing tactical nuclear weapons in Belarus by 1 July. Is the Russian president's move an escalation of the ongoing Ukrainian war or an attempt to intimidate the West?
World
An investigation has revealed that Russian troops are coercing women medics into becoming 'field wives' and physically and sexually abusing them. The forces have been accused of sexual violence against Ukrainian civilians during the ongoing Ukrainian war in the past