Russia's first sea-borne nuclear power plant arrives to its base
MOSCOW (Reuters) - Russia's first-floating nuclear power plant has arrived to its permanent base near an isolated Russian town across the Bering Strait from Alaska, Russian state nuclear energy company Rosatom said on Saturday. Developed by Rosatom, the plant, known as 'Akademik Lomonosov', set off on a 5,000 km (3,100 mile) journey on Aug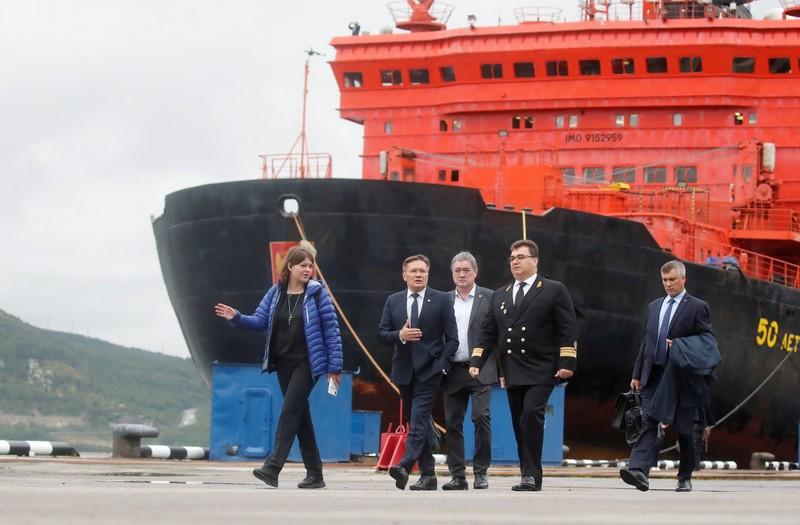 MOSCOW (Reuters) - Russia's first-floating nuclear power plant has arrived to its permanent base near an isolated Russian town across the Bering Strait from Alaska, Russian state nuclear energy company Rosatom said on Saturday.
Developed by Rosatom, the plant, known as "Akademik Lomonosov", set off on a 5,000 km (3,100 mile) journey on Aug. 23 through Arctic waters to reach the Chukotka region.
Rosatom said it aims to make the floating station operational by the year-end. It would become the world's northernmost nuclear power station.
The plant will replace a coal-fired power plant and an aging nuclear power plant supplying more than 50,000 people with electricity in Chukotka.
Rosatom has long planned to launch the sea-borne power units, which, with their mobile, small capacity plants, are best suited to remote regions. It has said they can help the environment by reducing greenhouse gas emissions blamed for global warming.
The small plants were designed to make it possible to supply electricity to hard-to-reach areas of Russia. They can operate non-stop without the need for refuelling for 3-5 years.
Environmental protection groups, including Greenpeace, have expressed their concerns over potential safety issues.
(Reporting by Vladimir Soldatkin, editing by Louise Heavens)
This story has not been edited by Firstpost staff and is generated by auto-feed.
World
ATHENS (Reuters) - Greek police used teargas and water cannon to disperse people who had gathered in central Athens on Saturday to protest against mandatory COVID-19 vaccinations. More than 4,000 people rallied outside the Greek parliament for a third time this month to oppose mandatory inoculations for some workers, such as healthcare and nursing staff.
World
ISTANBUL (Reuters) - Two Turkish soldiers were killed and two were wounded in an attack on their armoured vehicle in northern Syria, and Turkish forces immediately launched retaliatory fire, Turkey's defence ministry said on Saturday. "Our punitive fire against terrorist positions is continuing," the statement on Twitter on said. It did not specify where the attack occurred, but media reports said it was in the al-Bab area.
World
By Marcelo Rochabrun SAO PAULO (Reuters) - Protesters took to the streets in several Brazilian cities on Saturday to demand the impeachment of far-right President Jair Bolsonaro, whose popularity has fallen in recent weeks amid corruption scandals against the backdrop of the pandemic. This week, news broke that Brazil's defense ministry told congressional leadership that next year's elections would not take place without amending the country's electronic voting system to include a paper trail of each vote. Bolsonaro has suggested several times without evidence that the current system is prone to fraud, allegations that Brazil's government has denied