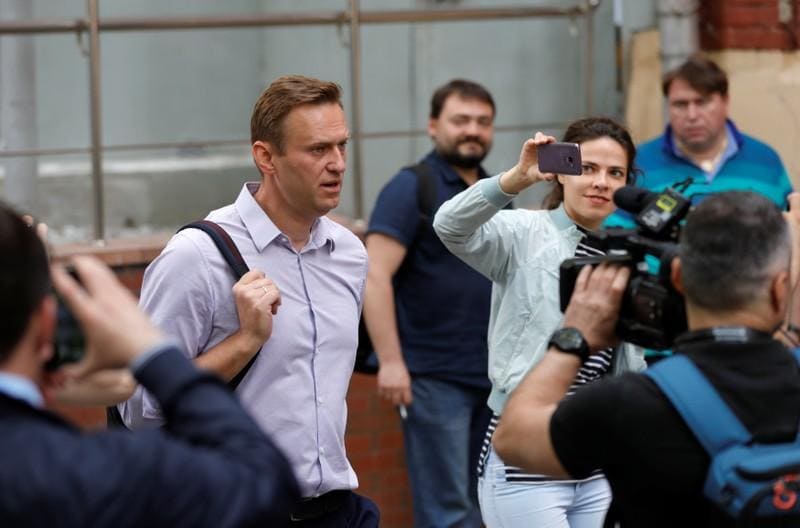 By Polina Ivanova
MOSCOW (Reuters) - Russian opposition leader Alexei Navalny was sentenced to 30 days in jail by a Moscow court on Tuesday for his role in organising nation-wide protests against President Vladimir Putin on May 5.
Some 1,600 anti-Kremlin activists, including Navalny, were detained during protests held ahead of Putin's inauguration for a fourth term as president.
Navalny had called for demonstrations in more than 90 towns and cities under the slogan "Putin is not our tsar" to protest what he says is Putin's autocratic rule.
Putin, 65, won re-election overwhelmingly in March, extending his grip over Russia for six more years - a tenure of 24 years that would make him Moscow's longest-serving leader since Soviet dictator Josef Stalin.
Navalny, who has been detained and jailed several times for organising similar protests, was barred from running in Russia's presidential election for what he says was a false pretext.
"30 days of arrest for the right to go out on the street of your city and tell the authorities: 'I am not your slave and will never be one. I do not need a new tsar'," Navalny said via his Twitter account after the decision.
He was also sentenced to 15 days in detention on a separate charge of refusing to comply with a police order. This will run concurrently with the first sentence and he should not be in jail for any longer than 30 days.
(Reporting by Polina Ivanova; writing by Maria Kiselyova, Gabrielle Tétrault-Farber and Polina Devitt; Editing by Richard Balmforth)
This story has not been edited by Firstpost staff and is generated by auto-feed.
Firstpost is now on WhatsApp. For the latest analysis, commentary and news updates, sign up for our WhatsApp services. Just go to Firstpost.com/Whatsapp and hit the Subscribe button.
Updated Date: May 16, 2018 00:06:27 IST