Russian meddling in U.S. elections had negligible effect, Bolton says
MOSCOW (Reuters) - U.S. National Security Advisor John Bolton said on Monday that Russian meddling in U.S.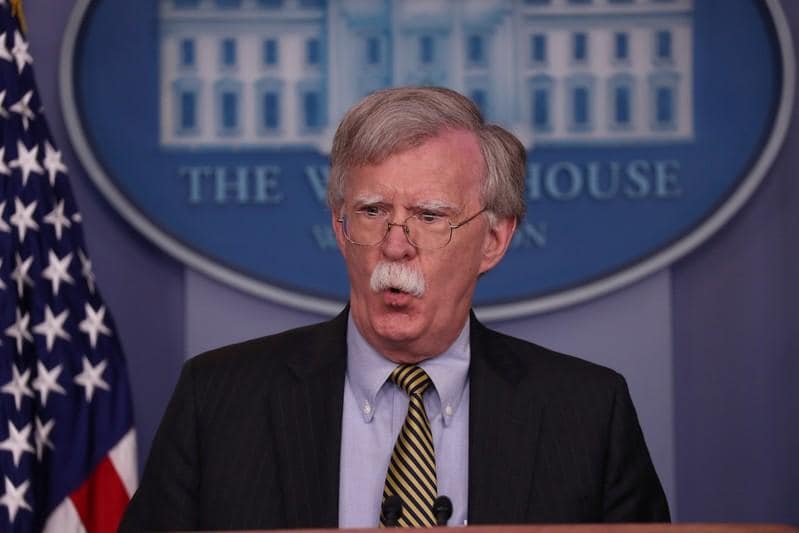 MOSCOW (Reuters) - U.S. National Security Advisor John Bolton said on Monday that Russian meddling in U.S. elections had achieved negligible results, but insisted such behaviour should not be tolerated.
A federal special counsel is leading a criminal investigation into allegations of Russian interference in the 2016 U.S. presidential election, and any possible cooperation with Donald Trump's campaign.
Moscow has denied the allegations while Trump has said there was no collusion between his campaign and Russia.
Bolton played down the consequences of the alleged interference. "Today I told our Russian colleagues that their meddling in our election process had hardly had any real effect," radio station Ekho Moskvy quoted him as saying on a visit to Moscow.
"But the important thing is the desire for interfering in our affairs itself arouses distrust in Russian people, in Russia. And I think it should not be tolerated, it should not be acceptable," he said.
The U.S. government charged a Russian national on Friday with playing a financial role in a Kremlin-backed plan to conduct "information warfare" against the United States, including attempts to influence next month's congressional elections.
(Reporting by Maxim Rodionov; Editing by Alison Williams and David Stamp)
This story has not been edited by Firstpost staff and is generated by auto-feed.
World
BAGHDAD (Reuters) - Rockets hit near U.S. forces and contractors in Iraq on Wednesday, including an air base north of Baghdad and a military base at Baghdad International Airport, the Iraqi army and security officials said. The army reported at least three rockets hit Balad air base, where U.S
World
By Silvia Ognibene and Silvia Aloisi FLORENCE, Italy (Reuters) -Italian police have arrested a Chinese couple accused of running a leather goods business which exploited immigrant workers it employed to make handbags for a Burberry supplier, according to an arrest warrant seen by Reuters. Tax police in Florence said in a statement that the two Chinese nationals were arrested on Wednesday as part of an investigation into alleged labour exploitation and tax fraud and that restrictive measures had been imposed on two other family members, including a ban on them leaving Italy
World
WASHINGTON (Reuters) - The United States on Wednesday blacklisted four Nicaraguans, including a daughter of President Daniel Ortega, as Washington warned it would continue to use diplomatic and economic tools against members of the leftist government engaged in repression. The U.S. State Department called on Ortega to release detained presidential candidates as well as other civil society and opposition leaders arrested over the past week in what Washington called "an increasing wave of repression." "There are costs for those who are complicit in the regime's repression.