Russia unleashes dozens of missiles, drones at Ukraine
Ukrainian military spokesman Yuriy Ignat told local media that several Russian Tu-95 bombers had launched the missile attack from northern region of Murmansk
Kyiv: Russian forces fired more than 30 missiles at targets across Ukraine early on Thursday, hours after two dozen Iran-made attack drones were shot down by air defences, the Ukrainian military said.
Ukrainian military spokesman Yuriy Ignat told local media that several Russian Tu-95 bombers had launched the missile attack from northern region of Murmansk.
"We expect more than 30 missiles, which have already started to appear in various territories. Air defence systems are working," Ignat said. At least 15 were shot down.
Earlier, Ukraine's air force said it had shot down a cluster of Iranian-made attack drones launched by Russian forces from the Sea of Azov in the south of the country.
"Attack UAVs (unmanned aerial vehicle) were launched from the eastern coast of the Sea of Azov. According to preliminary information, the enemy used 24 Shaheds. All 24 were destroyed," the Ukrainian air force said in a statement online.
Since October, Russia has launched regular waves of aerial attacks against Ukraine, mainly targeting energy infrastructure.
Those assaults have crippled the electricity grid and spurred Ukraine to boost its air defence systems with support from Kyiv's Western allies.
The latest assault early on Thursday comes one day after Ukraine's Western allies, including Germany and the United States promised to provide Kyiv with modern tanks.
Read all the Latest News, Trending News, Cricket News, Bollywood News,
India News and Entertainment News here. Follow us on Facebook, Twitter and Instagram.
World
At the first summit between France and the UK since 2018, Sunak and French President Emmanuel Macron both confirmed that Friday's meeting marks "a new beginning."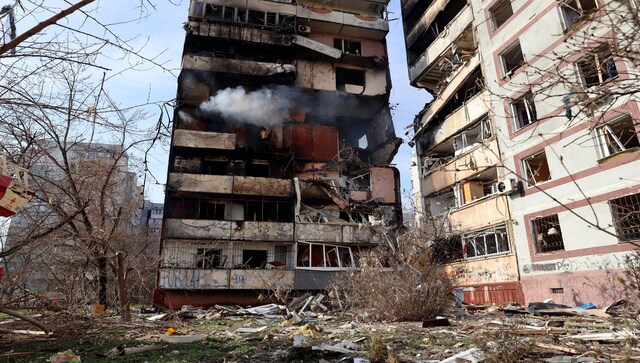 World
Russia has denied targeting residential areas even though artillery and rocket strikes hit apartment buildings and civilian infrastructure daily
World
AeroDrone, which made crop-dusting drones prior to the war and now supplies Ukraine's armed forces, makes unmanned aircraft that can carry up to 300 kilograms or fly up to several thousand kilometres in certain configurations.