Russia-Ukraine war: Why tanks are tripping up the West
Providing the sophisticated battle tanks — one of the most powerful symbols of war — was long seen as a red line by the United States and its closest European allies who feared Russian retaliation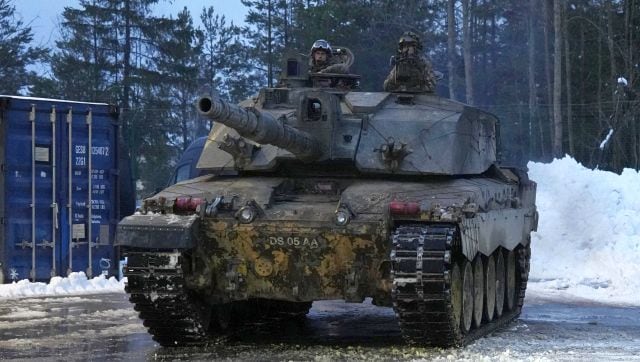 Canada is sending 200 personnel carriers. Britain will donate 600 missiles. Sweden is giving artillery systems and armoured vehicles. And in one of its single largest security commitments since the start of the war, the United States said Thursday it will ship about 100 additional fighting vehicles to help Ukraine repel Russian advances.
But so far missing from a new weapons package that officials from NATO states will reaffirm at the Ramstein Air Base in Germany on Friday are US- and German-made tanks that Ukraine's leaders say are desperately needed — an issue that is expected to be center stage in the talks.
The debate over whether either country will allow their tanks onto Ukraine's battlefields has been brewing for months. But after British officials gave word last week that they would send a platoon of Challenger 2 tanks to Ukraine, demands have amped up for Berlin and Washington to quickly follow suit.
Ben Barry, a ground warfare expert at the International Institute for Strategic Studies in London, said the pressure campaign by Ukraine and its immediate neighbours in Eastern Europe harkened back to a lesson from World War II, when the United States supplied the British army with Sherman tanks to beat back enemy forces in Europe and North Africa.
Now, Barry said, President Volodymyr Zelenskyy of Ukraine is banking on a similar appeal.
"It's the same message: 'Give us the tools and we will finish the job,'" Barry said.
Here is a look at the debate over sending tanks to Ukraine.
Also read: Defence chiefs meeting at US air base fail to resolve dispute on tanks for Ukraine
Why are tanks so important for Ukraine?
Following pitched battles for control of territory over the past year, officials said it was clear that tanks would be crucial in pushing back Russian forces. That has taken on increased importance this winter, given a limited window for Ukraine to seize an advantage before Russia deploys hundreds of thousands of newly conscripted soldiers in an anticipated spring offensive.
Ukraine's most senior military commander, Gen. Valery Zaluzhny, has said his forces need about 300 Western tanks to make a difference in battles for fiercely contested cities and towns in the eastern provinces that border Russia.
Over the past year, NATO allies in Eastern Europe supplied Ukraine with Soviet-era and Russian-made tanks that have been ground down or destroyed in constant fighting.
Providing the sophisticated battle tanks — one of the most powerful symbols of war — was long seen as a red line by the United States and its closest European allies who feared Russian retaliation.
But the debate shifted this month, with France, Germany and the United States announcing plans to send, for the first time, armoured fighting vehicles to Ukraine to help in the grinding ground war. Days later, Britain said it would send a platoon of Challenger 2 battle tanks to Ukraine, some arriving within weeks.
That fuelled pressure on other allies — namely Germany and the United States — to step up.
Also read: UN sends first humanitarian convoy to war-hit Soledar in Ukraine
Why is Germany so reluctant to send tanks?
Germany has long refused to send its most potent weapons to countries in conflict, a by-product of its legacy of starting World War II. That has included prohibiting the export of its Leopard 2 tanks to Ukraine — even those that have been sold to other armies.
The reluctance also reflects a sharp division among Germans — as indicated in recent polling — over sending battle tanks to Ukraine despite widespread support for providing other weapons.
Chancellor Olaf Scholz of Germany has repeatedly said he would not "go it alone" when it comes to sending weapons into Ukraine, and would only act in concert with allies.
In practice, that has more narrowly meant that he will not act without Washington. This week, German officials said Scholz has insisted that Berlin will not send any of its own Leopard tanks unless the United States sends its M1 Abrams tanks as well.
What is not yet clear is whether Scholz would allow other nations to send their Leopards without sending any itself. Poland and Finland have already said they would donate the tanks from their own stockpiles if Berlin issues licenses to re-export them.
Experts believe there are an estimated 2,000 German-made Leopard 2 tanks in use by at least 13 European militaries.
One German lawmaker familiar with the weapons delivery debate said that, so far, no European nation has formally asked Berlin to permit their Leopard tanks to be sent to Ukraine. The German lawmaker also described allies as hesitant to send the tanks unless Berlin joined them in a show of unity against Russia.
Johann Wadephul, the deputy chair of the Christian Democrats, Germany's largest Opposition party, said Scholz's resistance to sending Leopards undermined his argument of seeking solidarity. "The chancellor's refusal, and Germany's non-deliveries, are in fact 'going it alone'," he said in Parliament on Thursday.
Another lawmaker, Marie-Agnes Strack-Zimmerman, head of the Defense Committee in the German Parliament, said that Scholz was likely to have offered at least some Leopards in conversations with Washington this week.
"I think he's ready to approve the export of the tanks, and to make Leopards available himself — but he wants the Americans to provide their main battle tanks as well," said Strack-Zimmerman, a member of the liberal Free Democrats, one of the three parties in the government coalition with Scholz and his Social Democrats.
She said the chancellor was wrong to insist on American tank deliveries.
"There are enough tanks in Europe, and the war is on our doorstep," Strack-Zimmerman said.
Also read: Stryker combat vehicles, Patriot missiles, Challenger 2 tanks and more: A breakdown of military aid promised to Ukraine
Will Washington send US-made tanks to Ukraine?
That is not expected any time soon, according to two US defence officials, if ever.
On Thursday, US officials said they would send about 100 additional fighting vehicles — known as Strykers and Bradleys — to Ukraine. That is on top of 50 Bradley Fighting Vehicles the United States pledged earlier this month.
A senior administration official said the new vehicles were not meant to assuage Ukraine's demands for tanks but, rather, to provide other equipment that would prove useful on the battlefield.
The Biden administration has long asserted that US-made M1 Abrams tanks — with their needs for specific fuel, frequent maintenance and spare parts, transport and training — are ill-suited to battle in eastern Ukraine, where supply lines could easily be cut off.
A Pentagon spokesperson, Sabrina Singh, told reporters on Thursday that "it just doesn't make sense" to provide Ukraine with Abrams tanks "at this moment" because they use jet fuel and are difficult to maintain. She said the Germans must make up their own minds about the Leopard 2s.
More broadly, officials worry that American tanks would be seen as a sign of escalation by the United States — a risky step for a global superpower that is trying to avoid a broader conflict. But Max Bergmann, a former US diplomat and expert on European and Russian security at the Center for Strategic and International Studies in Washington, said Washington had already crossed that line with its shipments of precision-guided missiles and other advanced weaponry.
"This is sort of a boiling frog," Bergmann said Thursday.
"They've already escalated — they've raised the escalatory roof."
US officials also insist they have not pressured Germany to allow Leopard tanks to go to Ukraine, and on Thursday, Defense Secretary Lloyd Austin praised the government in Berlin for "being a staunch defender of our allies and values."
His comments, in Berlin, came before Friday's meeting of nations that are sending weapons and other military support to Ukraine. With Germany's new defence minister, Boris Pistorius, by his side, Austin gave no hint of whether Germany would ultimately allow the tanks to move ahead — or whether the debate would continue to stall.
"We'll continue to support Ukraine and their people as they resist Russian aggression and defend their sovereign territory," Austin said.
Lara Jakes and Erika Solomon c.2023 The New York Times Company
With inputs from agencies
Read all the Latest News, Trending News, Cricket News, Bollywood News,
India News and Entertainment News here. Follow us on Facebook, Twitter and Instagram.
World
Ukraine has reached an agreement with the IMF staff for funding worth $15.6 billion, the first for a nation at war. This comes after Kyiv's allies, especially the US, have been pressuring the global lender for months to quickly release financial aid
World
In the statement, released by the White House, National Security Advisor Jake Sullivan said, 'The United States welcomes President Erdogan's announcement that he will send Finland's NATO accession protocols to the Turkish Parliament and looks forward to the prompt conclusion of that process'
Explainers
Officials say incidents of foreigners misbehaving, overstaying and illegally working on their tourist visas as hairdressers, tour guides and taxi drivers are on the rise. But some Ukrainians are objecting to being lumped in with Russians