Russia Ukraine Conflict Updates: PM Modi speaks to Putin, reviews situation in Kharkiv
Russia-Ukraine Conflict Updates: Prime Minister Narendra Modi spoke with Russian President Vladimir Putin and reviewed the situation in Ukraine, especially in Kharkiv, according to the prime minister's office on Wednesday
Russia-Ukraine Conflict Updates: Prime Minister Narendra Modi spoke with Russian President Vladimir Putin and reviewed the situation in Ukraine, especially in Kharkiv, according to the prime minister's office on Wednesday
US Secretary of State Antony Blinken talked by telephone with Ukrainian Foreign Minister Dmytro Kuleba and reiterated the United States' commitment to providing security, financial and other support to Ukraine, State Department spokesperson Ned Price said in a readout of the conversation on Wednesday
Prime Minister Narendra Modi is set to chair 5th high-level key meeting on the ongoing Ukraine crisis at 8.30 pm.
Indian Embassy in Kyiv issued an 'urgent advisory' for its nationals stranded in Ukraine asking them to leave Kharkiv immediately and to proceed to settlements at Pesochyn, Babai and Bezlyudivka by 1800 hrs (Ukrainian Time) on foot if they are unable to find vehicles
Indian Embassy in Ukraine moved out of Kyiv to Lviv.
Now Ukraine at risk of "wiper" cyberattack, say experts. The warning from ESET research labs, a Slovakia-based cyber-security firm, comes after it flagged an initial salvo on 23 February, which it had dubbed HermeticWiper, The Guardian said citng reports from Dan Milmo.
Wiper attacks disable computers, the most notorious example being the 2017 NotPetya attack, attributed to Russia, which wreaked havoc across Ukraine and elsewhere by irretrievably encrypting computers.
ESET said in a report on Tuesday that it had detected a second wiper attack against a Ukrainian governmental network, discovered on the day the offensive began on 24 February, that it has named IsaacWiper. It described it as "way less sophisticated" than HermeticWiper.
Nearly 875,000 people have now fled Ukraine since Russia launched its invasion, according to the United Nations refugee agency (UNHCR). Many have fled into neighbouring Poland, which has received more than 450,000 people so far.
A second round of talks between Ukraine and Russia will take place later today, Russian state news agency Tass has reported, citing an aide to the Ukrainian presidential office.
Earlier today, Kremlin spokesperson Dmitry Peskov told reporters a Russian delegation will be "in place" on Wednesday for a new round of talks with Ukraine but Peskov refrained from announcing the place ahead of time.
A 22-year-old Indian student named Chandan Jindal, who was studying at Vinnytsia National Pyrogov Memorial Medical University in Vinnytsia in Ukraine, passed away today due to illness. He was under treatment in Emergency Hospital Vinnitsya and was admitted to ICU. His father was also present in the hospital and is now trying to reach the Siret border of Romania along with the dead body of his son.
A Reuters report said that Pope Francis asked people around the world to remember Ukrainians in underground shelters seeking protection from bombardments and thanked Poland for taking in the bulk of refugees from the war.
He was speaking at the weekly general audience on Ash Wednesday, which he declared a day of prayer and fasting for peace in Ukraine.
China won't join the United States and European governments in imposing financial sanctions on Russia, the country's bank regulator has announced.
China is a major buyer of Russian oil and gas and the only major government that has refrained from criticising Moscow's attack on Ukraine, the Associated Press reported.
Beijing opposes the sanctions, said Guo Shuqing, the chairman of the China Banking and Insurance Regulatory Commission.
Despite the Russian invasion, Ukraine has enough funds to cover all current spending, the country's finance minister has said.
"We have huge international support… We carry out all social payments, pensions, salaries and financial support for the army," Sergiy Marchenko told Ukrainian TV in an interview, adding the ministry would continue issuing domestic war bonds.
While the Kremlin said Russian officials were ready to hold a second round of talks with Ukraine on Wednesday but it was unclear if Ukrainian officials would turn up.
Kremlin spokesperson Dmitry Peskov said there was contradictory information regarding the talks. Peskov also said that Moscow needed to formulate a harsh, thought-out and clear response against measures imposed on Western countries to undermine the Russian economy.
Ukrainian President Volodymyr Zelenskiy said on Tuesday that Russia must stop the bombing of Ukrainian cities before talks could take place.
Jailed Kremlin critic Alexei Navalny has called upon Russians to stage daily protests against Russia's military campaign in Ukraine, his spokesperson tweeted on Wednesday.
"Alexei Navalny has called for people to go out and protest against the war every day at 19:00 and on weekends at 14:00. The main squares of your towns, wherever you are," spokesperson Kira Yarmysh wrote.
Ukraine's key southeastern port city of Mariupol is under constant shelling from Russian forces, the city mayor says.
"We are fighting, we are not ceasing to defend our motherland," Vadym Boichenko said live on Ukrainian TV as per Al Jazeera.
The intensity of the attacks meant it was proving impossible to evacuate those who had been wounded, he said.
"We're making all efforts to evacuate people stuck in Ukraine under Operation Ganga. Thousands of citizens brought back to India. To accelerate this mission, India has sent its four ministers there, will leave no stone unturned for the safe passage of Indians," Prime Minister Narendra Modi said in UP's Robertsganj.
The European Commission has proposed to grant temporary protection to people fleeing war in Ukraine including residence permit and access to employment and social welfare, The Guardian reported.
Designed to deal with mass arrivals of displaced persons in the EU, the new legislation will provide the same level of protection in all member states.
The proposal will be discussed by EU interior ministers on Thursday.
Russian residents are no longer allowed to leave the country with more than the equivalent of $10,000 as the Kremlin tries to keep capital inside the country, Al Jazeera reported.
The rule affects movement of foreign currency as well and seems designed to make sure that people attempting to leave Russia – as sanctions are imposed on the country – don't take all of their hard currency with them.
The hashtag recorded 660 tweets in the last hour.
Ukrainian authorities say a Russian missile strike at about 8.10 am hit a police building and a university in Kharkiv this morning.
The State Service for Emergencies uploaded a series of photos showing firefighters and rescue teams battling a blaze billowing from the top of a large building, The Guardian reported.
At least 21 people have been killed and 112 wounded in shelling in Ukraine's second most populous city, Kharkiv, the city's mayor said.
Overnight, Ukrainian defence positions were were "constantly under the influence of enemy fire, aviation, jet artillery, and firearms," Oleh Sinehubov said in an update on his official Facebook page this morning.
Poland's Deputy Interior Minister Pawel Szefernaker said that more than 450,000 people have entered Poland from Ukraine since the Russian invasion started while in conversation with private Radio Zet.
The minister said the number of people entering Poland fell slightly on Tuesday to 98,000 from a record number of over 100,000 on Monday.
Minister of Foreign Affairs of Ukraine said that Russian missiles hit kindergartens and orphanages.
Russia's largest lender Sberbank has said it is quitting the European market due to Western sanctions levelled against the bank.
"In the current environment, Sberbank has decided to withdraw from the European market," the lender said in a statement carried by Russian news agencies.
The bank's European subsidiaries were facing "abnormal cash outflows and threats to the safety of employees and branches", the statement said.
Google has blocked mobile apps connected to RT and Sputnik from its Play store, in line with an earlier move to remove the Russian state publishers from its news-related features.
A C-17 Globemaster aircraft of the Indian Air Force left for Romania on Wednesday morning carrying humanitarian aid to Ukraine. The aircraft is expected to bring back Indians from Romania, who exited war-hit Ukraine through its border crossings. Officials said the aircraft left for Romania early morning. India on Tuesday sent the first tranche of humanitarian assistance comprising medicines and other relief materials to Ukraine via Poland.
Moscow stock market will stay closed for the third consecutive day on Wednesday, the Moscow Times reports. The Russian brokers have been ordered to reject sell orders from foreign investors when the market eventually reopens.
Twitter will comply with the European Union's sanctions on Russian state-affiliated media RT and Sputnik when the EU order takes effect, the social network said on Tuesday.
"The European Union (EU) sanctions will likely legally require us to withhold certain content in EU member states," a Twitter spokesperson said in an emailed statement to Reuters. "We intend to comply with the order when it goes into effect."
The 193-member General Assembly scheduled a vote on the resolution for Wednesday afternoon after hearing 120 speeches. Unlike Security Council resolutions, General Assembly resolutions are not legally binding but they do have clout in reflecting international opinion, report
The Indian embassy in Polish capital Warsaw on Wednesday advised Indians stuck in Lviv and Ternopil and other places in western Ukraine to travel at the earliest to the Budomierz border check-point for a relatively quick entry into Poland.
Russian airborne troops landed in the eastern Ukrainian city of Kharkiv on Wednesday, the Ukrainian army said, adding that there were immediate clashes, reports AFP.
The United States will contribute half of the 60 million barrels of oil International Energy Agency (IEA) countries agreed to release Tuesday to stabilize global markets after Russia's invasion of Ukraine, President Joe Biden said.
US credit card giants Visa, Mastercard and American Express said they were blocking Russian banks from their payment networks following international sanctions in response to Moscow's invasion of Ukraine.
President Biden announced a ban on Russian aircraft from US airspace during his State of the Union address. "Tonight I'm announcing that we will join our allies in closing off American air space to all Russian flights, further isolating Russia and adding additional squeeze on their economy," the President said.
President Biden opened his State of the Union address by directly calling out Russian President Vladimir Putin.
Deadly Russian air strikes hit a residential block in Ukraine's second city of Kharkiv and the main TV tower in the nation's capital, Kyiv said Tuesday, with Ukraine's president accusing the Kremlin of a "war crime" as the civilian toll of the invasion mounted.
Despite sanctions and warnings of a humanitarian crisis, the fresh assaults on day six of Russia's invasion came as a massive military convoy was closing on the capital, and Moscow warned terrified residents living near security infrastructure to leave their homes.
"This is state terrorism on the part of Russia," charged Ukrainian President Volodymyr Zelensky, accusing Moscow of committing a "war crime" in Kharkiv.
Russian forces stepped up their attacks on populated urban areas Tuesday, bombarding the central square in Ukraine's second-largest city and Kyiv's main TV tower. Ukraine's president accused Moscow of a blatant campaign of terror and vowed: "Nobody will forgive. Nobody will forget."
Ukrainian authorities said five people were killed and five wounded in the attack on the TV tower, which is a couple miles from central Kyiv and a short walk from numerous apartment buildings. Officials said a TV control room and a power substation were hit, and Ukrainian TV channels stopped broadcasting.
At the same time, a 40-mile (64-kilometer) convoy of hundreds of Russian tanks and other vehicles advanced on Kyiv in what the West feared was a bid by Russian President Vladimir Putin to topple Ukraine's government and install a Kremlin-friendly regime.
And Russian forces pressed their attack on other towns and cities across the country, including at or near the strategic ports of Odesa and Mariupol in the south.
Day 6 of the biggest ground war in Europe since World War II found Russia increasingly isolated, beset by tough sanctions that have thrown its economy into turmoil and left the country practically friendless, apart from a few countries like China, Belarus and North Korea.
Overall tolls from the fighting remained unclear, but a senior Western intelligence official, who had been briefed by multiple intelligence agencies, estimated Tuesday that more than 5,000 Russian soldiers had been captured or killed so far.
also read
World
Freedom of Russian Legion and Russian Volunteer Corps claimed to have liberated at least two villages — Kozinka, and Gora-Podol — in Belgorod region
World
Russia has banned high-ranking officials from resigning with threats of criminal prosecution, saying that "if everyone leaves, control will be lost" as the war in Ukraine rages on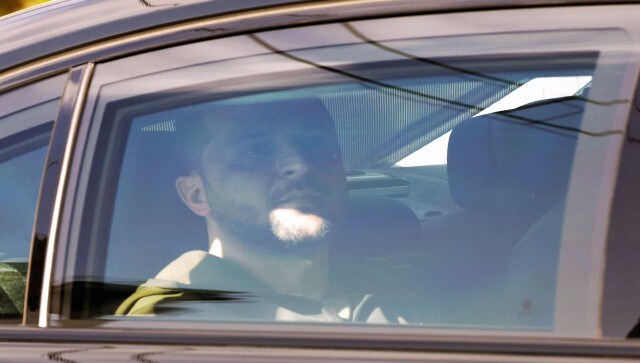 Opinion
Volodymyr Zelenskyy's supporters want him to fight for every inch of territory — and so his 'peace plan' is to fight. Vladimir Putin, if he blinks first, may not survive — so he will continue to fight