Russia shopping mall fire: 53 dead, 16 still missing in Siberia's Kemerovo city; criminal probe launched, say officials
A previous toll put the number of dead at 37 with nearly 70 missing, including 40 children.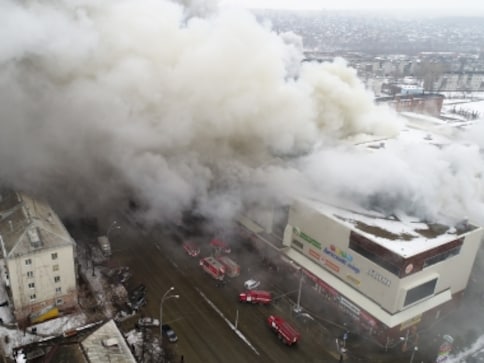 Moscow: At least 53 people, including 11 children, were killed and 16 people were reported missing in a massive blaze that broke out at a shopping mall in Siberia's Kemerovo city, according to authorities. A previous toll put the number of dead at 37 with nearly 70 missing, including 40 children.
The bodies were recovered early on Monday morning, Russian Investigative Committee spokesperson Svetlana Petrenko told Sputnik news.
Twenty people have been rescued and about 100 others evacuated.
The fire at the Winter Cherry (Zimnyaya Vishnya) shopping mall erupted on Sunday afternoon on the top floor of the four-storey building engulfing an area of some 1,500 square metres, reports TASS news agency.
There has been no official information on the cause of the fire.
Amid conflicting reports, some have described the source of the fire as the children's playground, suggesting that the trampoline there caught fire after a child allegedly misused a lighter, reports RT News.
Another version suggests that electrical wiring at the playground had short-circuited.
The fire has been contained and a criminal investigation has been launched.
Russian deputy emergencies minister Vladlen Aksyonov said: "Two out of three cinema halls caved in from the fourth to the third floor of the building."
A group of children from a school in Terescevsky were at a movie theatre near the centre of the blaze.
According to local KP News, some of the trapped children called their families from inside the theatre.
"Tell mom that I loved her. Tell everyone that I loved them," a 12-year-old girl told her aunt before her phone switched off.
The mall with an overall area of 23,000 square metres was opened in 2013. It has a parking lot for 250 cars, shops, a bowling alley, a children's centre, cinemas, food courts and a petting zoo.
With inputs from AFP and IANS
also read
World
The six Kinzhal ballistic missiles, which can fly up to 10 times faster than sound, were launched into Ukraine by Russia in a barrage of 18 missiles over the course of one night. The rockets' blasts lit up Kyiv in flashes and dumped debris as they fell from the sky
World
Video footage showed a devastated building with smoke pouring out of it and rescue workers looking on. Much of the upper floor of what appeared to be a three-story building had been badly damaged. A covered corpse lay in the road nearby
World
Last Thursday the US ambassador to Pretoria Reuben Brigety said that the United States believed weapons and ammunition had been laden onto a Russian freighter that docked at a Cape Town naval base in December