Russia releases secret footage of 1961 'Tsar Bomba' hydrogen blast
MOSCOW (Reuters) - Russia has released previously classified footage of the world's largest nuclear explosion, caused when the Soviet Union detonated the so-called Tsar Bomba almost 60 years ago. The hydrogen bomb, which carried the force of 50 million tons of conventional explosives, was detonated in a test in October 1961, 4,000 metres over the remote Novaya Zemlya archipelago above the Arctic Circle. The footage shows an immense fireball and a 60-km high mushroom cloud rising after the explosion lit up the sky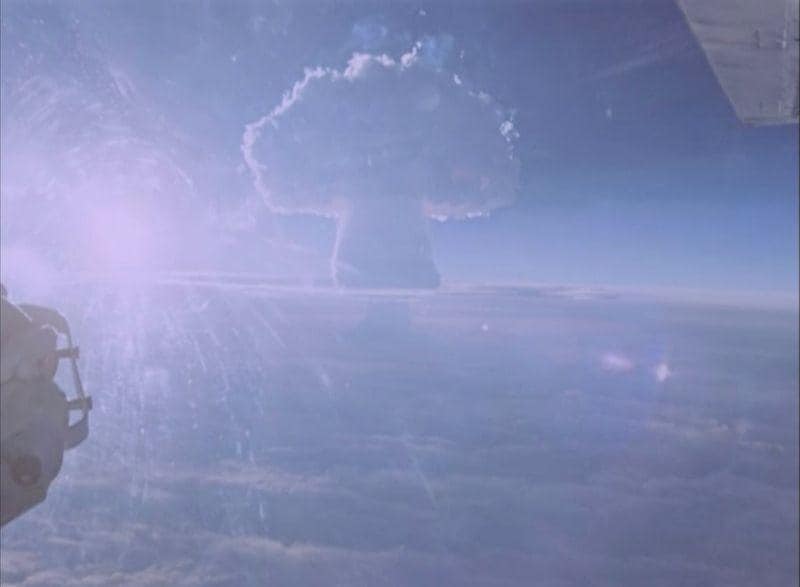 MOSCOW (Reuters) - Russia has released previously classified footage of the world's largest nuclear explosion, caused when the Soviet Union detonated the so-called Tsar Bomba almost 60 years ago.
The hydrogen bomb, which carried the force of 50 million tons of conventional explosives, was detonated in a test in October 1961, 4,000 metres over the remote Novaya Zemlya archipelago above the Arctic Circle.
The footage shows an immense fireball and a 60-km high mushroom cloud rising after the explosion lit up the sky. The views were captured from several angles by cameras installed on the ground and on board two Soviet aircraft.
"The testing of an exceptionally powerful hydrogen load ... confirmed that the Soviet Union is in possession of a thermo-nuclear weapon with power of 50 megatons, 100 megatons and more," a narrator tells the audience.
The documentary was published online for the first time by Russian state nuclear agency Rosatom last week as part of events to mark 75th anniversary of Russia's atomic industry.
Developed between 1956 and 1961 as the Soviet Union engaged in a nuclear arms race with the United States, the Tsar Bomba - the King of Bombs - was the largest hydrogen bomb ever and was claimed to be 3,300 times as destructive as the weapon that levelled Hiroshima.
The 30-minute film, which opens with a 'Top secret' title, features all the test stages - from transportation of a 26-ton weapon in an aviation bomb casing by railway, to post-explosion measurements of the radioactive fallout.
The Tsar Bomba far surpassed the largest explosion the United States has ever conducted - a 15-megaton "Castle Bravo" hydrogen bomb detonated on Bikini Atoll in 1954.
(Reporting by Maria Vasilyeva; Editing by Sujata Rao and Giles Elgood)
This story has not been edited by Firstpost staff and is generated by auto-feed.
World
BAGHDAD (Reuters) - Rockets hit near U.S. forces and contractors in Iraq on Wednesday, including an air base north of Baghdad and a military base at Baghdad International Airport, the Iraqi army and security officials said. The army reported at least three rockets hit Balad air base, where U.S
World
By Silvia Ognibene and Silvia Aloisi FLORENCE, Italy (Reuters) -Italian police have arrested a Chinese couple accused of running a leather goods business which exploited immigrant workers it employed to make handbags for a Burberry supplier, according to an arrest warrant seen by Reuters. Tax police in Florence said in a statement that the two Chinese nationals were arrested on Wednesday as part of an investigation into alleged labour exploitation and tax fraud and that restrictive measures had been imposed on two other family members, including a ban on them leaving Italy
World
WASHINGTON (Reuters) - The United States on Wednesday blacklisted four Nicaraguans, including a daughter of President Daniel Ortega, as Washington warned it would continue to use diplomatic and economic tools against members of the leftist government engaged in repression. The U.S. State Department called on Ortega to release detained presidential candidates as well as other civil society and opposition leaders arrested over the past week in what Washington called "an increasing wave of repression." "There are costs for those who are complicit in the regime's repression.