Russia, China delay U.S. push for halt to refined petroleum to N.Korea
By Michelle Nichols UNITED NATIONS (Reuters) - Russia and China on Thursday delayed a U.S. push for a U.N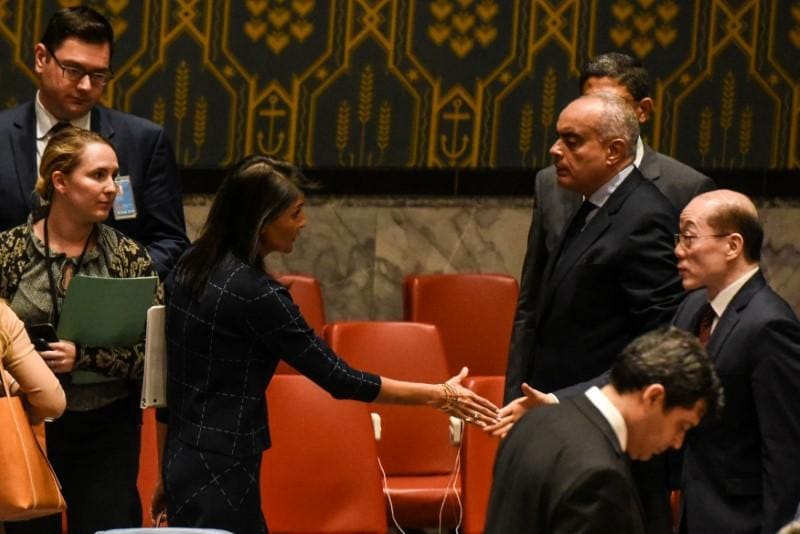 By Michelle Nichols
UNITED NATIONS (Reuters) - Russia and China on Thursday delayed a U.S. push for a U.N. Security Council committee to order a halt to refined petroleum exports to North Korea, asking for more detail on a U.S. accusation that Pyongyang breached sanctions, diplomats said.
The United States last week complained to the 15-member Security Council North Korea sanctions committee that as of May 30, there had been 89 illicit ship-to-ship transfers of refined petroleum products this year by Pyongyang.
It asked the committee to notify all U.N. member states that North Korea has breached a refined petroleum cap of 500,000 barrels a year - imposed by the council in December - and order an immediate halt to all transfers.
But Russia's U.N. mission put a "hold" on the U.S. request on Thursday, telling the committee it is "seeking additional information on every single case of 'illegal' transfer of petroleum," diplomats said.
China backed the Russian request and asked the United States "to provide additional factual information to facilitate all states to study and make judgment," diplomats said.
The move comes a day after U.S. President Donald Trump said he elicited a promise from Russian President Vladimir Putin to help negotiate with North Korea but did not say how. He also said: "There is no rush, the sanctions remain!"
U.S. Secretary of State Mike Pompeo is due to informally brief U.N. Security Council envoys along with South Korea and Japan on Friday on North Korea. Diplomats say they expect Pompeo to stress the need to maintain pressure on Pyongyang.
Russia's envoy to North Korea also said on Wednesday it would be logical to raise the question of easing sanctions on North Korea with the U.N. Security Council.
According to the Security Council North Korea sanctions committee website, only Russia and China have reported legitimate sales of some 14,000 tons of refined petroleum to North Korea in 2018.
But Washington says North Korea has also illicitly obtained more refined petroleum through ship-to-ship transfers at sea. It did not broadly say which countries it believed were illicitly providing North Korea with refined petroleum. However, it does mention a case of a transfer involving a Russian-flagged ship.
Reuters in December reported that Russian tankers had supplied fuel to North Korea by transferring cargoes at sea.
Russia's U.N. mission said it was "seeking the explanation of methodology used in making calculation of 'illegally' exported petroleum," according to diplomats.
The United States provided a list to the Security Council committee last week of 89 illicit North Korean transactions and a few select photos, seen by Reuters.
"If fully loaded at around 90 percent laden, DPRK tankers have delivered nearly triple the 2018 quota at 1,367,628 barrels," the United States said in the document submitted to the committee, using the acronym for North Korea's official name, the Democratic People's Republic of Korea.
The U.N. Security Council has unanimously boosted sanctions on North Korea since 2006 in a bid to choke off funding for Pyongyang's nuclear and ballistic missile programs, banning exports including coal, iron, lead, textiles and seafood, and capping imports of crude oil and refined petroleum products.
In March the council blacklisted dozens of ships and shipping companies over oil and coal smuggling by North Korea.
(Reporting by Michelle Nichols at the United Nations; Editing by James Dalgleish)
This story has not been edited by Firstpost staff and is generated by auto-feed.
Find latest and upcoming tech gadgets online on Tech2 Gadgets. Get technology news, gadgets reviews & ratings. Popular gadgets including laptop, tablet and mobile specifications, features, prices, comparison.
World
MOSCOW (Reuters) - Russian President Vladimir Putin said on Wednesday he had noted what he called "sharp anti-Russian rhetoric" from U.S. Democratic presidential candidate Joe Biden, but that he had been encouraged by Biden's comments on arms control. Putin, in comments on state television ahead of the U.S.
World
By John Irish and Robin Emmott PARIS/BRUSSELS (Reuters) - France and Germany said on Wednesday they would propose European Union sanctions against Russian individuals after receiving no credible answers from Moscow over the poisoning of Kremlin critic Alexei Navalny with a nerve agent. Several Western governments have said Russia, which has denied accusations by Navalny that it was involved in the poisoning, must help in investigations or face consequences. The decision and speed with which Europe's two main powers agreed to push ahead with sanctions suggests a hardening of the bloc's diplomacy towards Moscow.
World
By Steve Holland WASHINGTON (Reuters) - U.S. President Donald Trump, under coronavirus quarantine in the White House and restricted from traveling, is seeking ways to put a spark back in his struggling re-election bid and get behind his desk in the Oval Office with four weeks left until Election Day.