Watching the 81-year-old media emperor give evidence to the never ending Leveson inquiry into media practices over the past 30 years, it's hard to figure out what Murdoch is.
Is he your doting granddad who can't remember what he did last week or who he met with at that dinner party eight years ago? Or is he a calculating and manipulative genius who can send everyone into a tizzy, all while pretending to be innocent?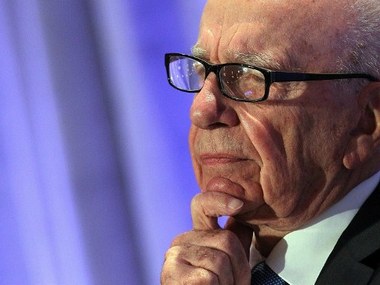 Murdoch's testimony for the judicial inquiry is less doting than his appearance before MPs last year. Then, he was the "humble" old man, diminutive and completely ignorant of any wrongdoing, allegedly. That style unnerved MPs who were expecting the mad genius to such an extent that they really were quite timid and ineffectual. Plus, Murdoch got hit with a foam cream pie so that's all anyone remembered.
In that one respect, Murdoch and his son this past week, achieved the same thing: misdirection. All anyone remembers from James Murdoch's testimony is the revelations about culture secretary Jeremy Hunt.
Murdoch Sr, in two days, was a gatling gun of headlines that sent the media in so many directions they lost focus on the witness himself.
Rupert Murdoch might sound doting at times, but expecting him to remember every meeting he's ever had, as accounted in various biographies over the decades, is probably unrealistic. It implied he read or knew of every accusation lobbed against him - and let's be honest, Murdoch is far too big a figure to care.
With true skill, he didn't recognise most of the tales of politicians and former editors, then threw in his own comments on each. They didn't notice that former Sun editor David Yelland was "drunk all his time" at the paper.
He mused why didn't their lawyers tell us something was wrong?
He regretted that he and Gordon Brown were not friends anymore. . . oh and Brown was "unbalanced" and said he would go to war with Murdoch.
See? Right there, that's madly genius. The media immediately went to the ex-British PM and got an angry refutation from the increasingly bitter Brown, and Murdoch walked away.
Murdoch accepted that there had been a "cover-up" at the News of the World re phone hacking, but that it had been hidden from him. So the man at the top admits the wrong doing was so wrong he didn't know what was doing. Geniusly mad.
The Leveson Inquiry and David Cameron as its instigator really dug their own grave on this one. With an almost unlimited remit, they turned phone hacking into a broad attempt to find any wrongdoing or grievance dating back into the 1970s and 1980s. What did you really expect was going to happen when you ask about relationships with long-gone politicians or reporters, or even technology?
The "culture and practice" of the media is changing every few minutes and, as has been rightly pointed out, even if new press regulations emerged from this process, it could hardly stop what goes on across social media.
Both Murdochs can be rightly concerned with criminal convictions - if they ever happen - over phone hacking, bribing and more. That will damage their commercial interests even more than they already have been.
But the inquiry? They've effectively shown it up as a shambles of "he said/she said" biographies and tattle - pretty much exactly what the press is being slammed for peddling.
Whichever version you believe of Rupert Murdoch, he has certainly been one of the most powerful and influential media figures in Britain's 20th and now 21st centuries. But for those hoping him might somehow be brought down by the Leveson process, they might have more luck quizzing their own doting granddads. They're more likely to find some degree of accountability there.
Updated Date: Apr 28, 2012 15:24 PM