Rohingya crisis: Britain suspends Myanmar military training; Amnesty slams Aung Suu Kyi
Britain has suspended its training courses for the Myanmar military in light of violence against Rohingya while Amnesty criticised Aung San Suu Kyi for failing to criticise its army
Britain said Tuesday it had suspended its training courses for the Myanmar military in light of the violence in Rakhine state.
"We have decided to suspend the educational courses provided to the Burmese military until there is an acceptable resolution to the current situation," a government spokesman said in a statement, according to AFP.
Earlier on Monday, Britain led world powers warning Myanmar of potential action if leader Aung San Suu Kyi does not move to end a campaign against the Rohingya minority.
Hours before Suu Kyi delivered a national address on Tuesday, British Foreign Secretary Boris Johnson had called a meeting on the crisis on the sidelines of the UN General Assembly in New York.
Johnson, at the meeting attended by US Ambassador to the United Nations Nikki Haley and Myanmar's deputy foreign minister, warned that the violence in Rakhine state was "a stain on the country's reputation" so soon after its transition to democratic rule.
"For this reason, Burma should not be surprised to find itself under international scrutiny and on the Security Council's agenda," Johnson said, using the former British colony's earlier name.
"As I have repeatedly said, no one wants to see a return to military rule, so it is vital that Suu Kyi and the civilian government make clear these abuses must stop," he had said in a statement.
Suu Kyi, who broke her silence on the Rohingya crisis Tuesday, in a speech expressed concern for the "suffering of all people" swept up in the latest violence, her most compassionate words yet for the more than 410,000 Rohingya who have fled Rakhine state for Bangladesh.
"We feel deeply for the suffering of all the people who have been caught up in the conflict. Those who have had to flee their homes are many. Not just Muslims and (ethnic) Rakhines, but also small minority groups," she said.
Suu Kyi, however, refused to blame any specific group for the violence in Rakhine state. Rohingya refugees, rights groups, and the UN have accused the military and Buddhist mobs of using bullets and arson to drive out the Rohingya in a systematic ethnic cleansing campaign.
"I understand that many of our friends throughout the world are concerned about reports of villages being burned and hordes of refugees fleeing," Suu Kyi said.
"We too are concerned. We want to find out what the real problems are. There have been allegations and counter-allegations, and we have to listen to all of them. We have to make sure that these allegations are based on the solid evidence before we take action," she added.
The Amnesty International, however, criticised Myanmar's leader for failing to condemn the army's alleged abuses.
"Aung San Suu Kyi today demonstrated that she and her government are still burying their heads in the sand over the horrors unfolding in Rakhine State. At times, her speech amounted to little more than a mix of untruths and victim blaming," Amnesty said.
The rights group blasted Suu Kyi for remaining "silent about the role of the security forces", whom they have accused of being "engaged in a campaign of ethnic cleansing".
With inputs from AFP
Subscribe to Moneycontrol Pro at ₹499 for the first year. Use code PRO499. Limited period offer. *T&C apply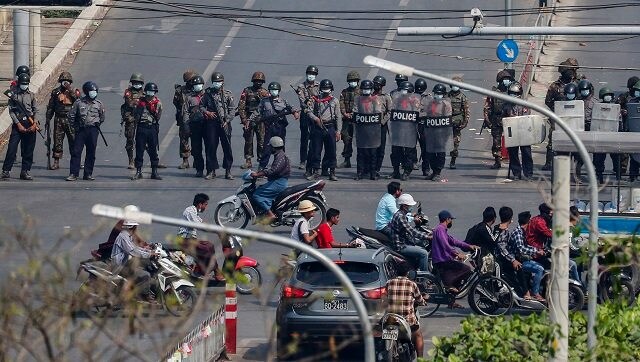 World
Security forces opened fire on anti-coup protesters across Myanmar, day after neighbouring countries called for restraint and offered to help resolve the crisis
Sports
The competition was postponed last year as a result of the coronavirus pandemic but is due to begin on 11 June.
World
After four weeks of protests, the military in Myanmar opened fire on demonstrators in several cities on 28 February, killing at least 18 people, the United Nations said, in the most vicious effort yet to extinguish the unrest roiling the nation.