Riots in Sweden's Malmo after anti-Muslim Danish leader blocked from 'Quran-burning rally', given two-year ban
Rasmus Paludan, who was arrested near Malmo ahead of the rally, had last year burnt a Quran wrapped in bacon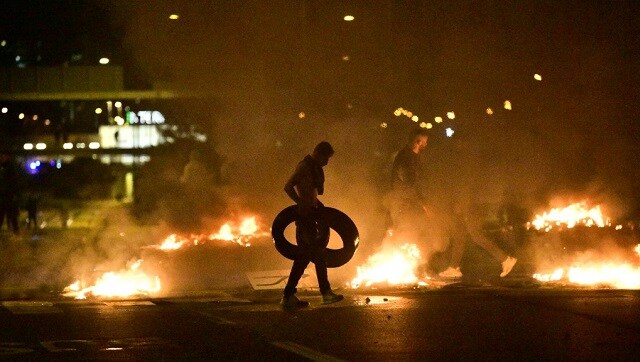 Stockholm: Protesters threw stones at police and burned tyres in southern Sweden late on Friday, authorities said, hours after an anti-Muslim Danish politician was blocked from attending a Quran-burning rally nearby.
About 300 people were on the streets of Malmo with violence escalating as the evening wore on, according to police and local media.
The demonstration was connected to an incident earlier in the day in which protesters burned a copy of the Islamic holy book, police spokesman Rickard Lundqvist told Swedish tabloid Expressen.
Rasmus Paludan, who leads the far-right Danish anti-immigration party Hard Line, was due to travel to Malmo to speak at that event, which was being held on the same day as weekly prayers for the Muslim sabbath.
But authorities pre-empted Paludan's arrival by announcing he had been banned from entering Sweden for two years. He was later arrested near Malmo.
"We suspect that he was going to break the law in Sweden," Calle Persson, spokesman for the police in Malmo told AFP.
"There was also a risk that his behaviour would pose a threat to society."
But his supporters went ahead with the rally, and three people were then arrested for inciting racial hatred.
Paludan later put up a scathing message on Facebook. "Sent back and banned from Sweden for two years. However, rapists and murderers are always welcome!" he wrote.
Paludan last year attracted media attention for burning a Quran wrapped in bacon - a meat that is anathema for Muslims.
World
Thunberg, and 600 other young activists in a group called Aurora, sued the Swedish state in November, claiming it had to do more to limit global warming to 1.5 degrees Celsius in order to live up to the European Convention on Human Rights
Health
Researchers from the Karolinska Institutet in Sweden, published in the Lancet Public Health journal today, found that among male footballers playing in the Swedish top division, 9 per cent were diagnosed with neurodegenerative disease, compared with 6 per cent of the control sample
Football
Ibrahimovic, 41, last featured for his country 12 months ago and will beat Zoff's Euro qualifier milestone of 40 years and 90 days set in 1983 if he features in games against Belgium on 24 March or Azerbaijan on 27 March.