Right-wing victory in Canada's Alberta may spell trouble for Trudeau
By Nia Williams Calgary, Alberta (Reuters) - A right-wing, pro-energy party won a landslide victory in Canada's main oil-producing province of Alberta late on Tuesday, signaling momentum may be building against Prime Minister Justin Trudeau months ahead of a federal election in October. The United Conservative Party (UCP) trounced the left-leaning New Democratic Party (NDP) government by tapping into frustration over the economy and a struggling oil and gas industry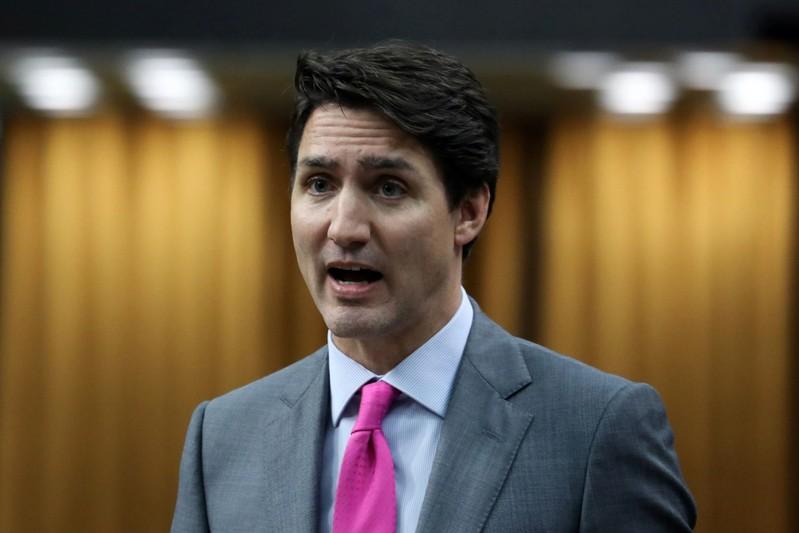 By Nia Williams
Calgary, Alberta (Reuters) - A right-wing, pro-energy party won a landslide victory in Canada's main oil-producing province of Alberta late on Tuesday, signaling momentum may be building against Prime Minister Justin Trudeau months ahead of a federal election in October.
The United Conservative Party (UCP) trounced the left-leaning New Democratic Party (NDP) government by tapping into frustration over the economy and a struggling oil and gas industry.
"Alberta is open for business!" UCP leader Jason Kenney said in a victory speech in Calgary on Tuesday.
Kenney's supporters, many wearing cowboy hats, roared when he drove directly into the venue in his blue campaign pickup truck emblazoned with the slogan, "Alberta Strong & Free."
Kenney, who had dominated in polls ahead of the vote, promised to defend Albertans against Trudeau and the federal government who, he said, were taking advantage of the province and its oil and gas.
The vote comes at a challenging time for Trudeau, who has been mired in a relentless scandal over alleged interference in a corporate corruption case that has led to the resignations of two Cabinet members and his top advisor.
The scandal has cost the prime minister his lead over rival Conservative Party leader Andrew Scheer, polls show.
Kenney's victory also appeared to signal a conservative shift in the country ahead of the national vote. Alberta is the third major province to have picked a right-leaning premier over the past year, following Ontario and Quebec.
Shares of major energy companies climbed in midday trading, with the Toronto Stock Exchange energy index up 0.9 percent. Suncor Energy was up 1.3 percent at C$44.50, Cenovus Energy surged 2.2 percent to C$13.45, and Canadian Natural was up 2 percent at C$41.35.
Results of the vote, with the count nearly complete, showed the UCP had won 63 out of 87 seats in the provincial legislature.
The Canadian Association of Petroleum Producers welcomed the UCP win and said it would keep pushing for "increasing market access, and reinforcing the economic importance of industry to Alberta."
'CLEAR MANDATE'
"This is a pretty clear mandate for the UCP. Now we have to see if Jason Kenney can live up to his promises, especially in reviving the economy," said Andy Knight, professor of political science at the University of Alberta.
"He's going to face some of the same challenges that (Alberta Premier and NDP leader) Rachel Notley had."
Notley's government introduced a carbon tax to help cut emissions of greenhouse gases in 2015, when Trudeau took power, a measure Kenney has promised to scrap.
However, such a move by Kenney could be countered by federal government measures. Earlier this month, Trudeau imposed a carbon tax in four provinces that do not have plans to tackle global warming, and has made clear he would do the same for Alberta if needed.
Kenney has blamed Trudeau for a lack of progress on new oil export pipelines, including the Trans Mountain expansion that will triple the amount of crude reaching the Pacific Coast from Alberta's oil sands. The federal government bought the project from Kinder Morgan in August 2018 to ensure it gets built.
"The world needs more Canadian energy," Kenney said during his speech as his supporters chanted: "Build that pipe!"
He also backs measures to prop up Alberta's energy industry, which struggled last year with record discounts on Canadian crude because of pipeline congestion.
The University of Alberta's Knight cautioned against reading too much into a provincial election, however, with six months to go before the national vote: "A lot of things can happen between now and October."
(Reporting by Nia Williams; Editing by Steve Scherer and Bernadette Baum)
This story has not been edited by Firstpost staff and is generated by auto-feed.
Business
By Laura Sanicola NEW YORK (Reuters) - Oil prices settled higher on Tuesday, with Brent hitting above $71 and trading at its highest since March, on expectations for growing fuel demand during the summer driving season in the United States as OPEC+ agreed to boost output. Brent crude futures for August settled up 93 cents, or 1.3%, to $70.25 a barrel after hitting $71 earlier in the session - its highest intra-day price since March 8. U.S.
Business
By Lewis Krauskopf, Shashank Nayar and Medha Singh (Reuters) - Wall Street's main indexes ended little changed on Tuesday, with gains in energy and financial shares countering declines in healthcare, as investors weighed the latest U.S. economic data for signs of a rebound and rising inflation. The S&P 500 financial sector hit a record high, while expected growth in fuel demand boosted oil prices and helped lift the energy sector
Business
(Reuters) - Zoom Video Communications Inc on Tuesday forecast better-than-expected revenue for the current quarter, after beating quarterly estimates, as the video-conferencing platform expects steady growth from remote work and online learning. Zoom became a household name during the pandemic as businesses and schools switched to its video conferencing platform for virtual classes, office meetings and social catch-ups