Rex Tillerson's speech on ties with India reflects United States' growing impatience with China
Rex Tillerson's allusion to India and the United States being the 'two bookends of stability' was an indirect call out to China.
Analysts can hardly complain of a lack of material from the United States on its South Asia policy. In recent weeks, at least three senior officials have given their take on different aspects of the administration's views. Secretary of Defence James Mattis had earlier expounded on the regional policy that frames the Afghanistan strategy that lies ahead. General Joseph Dunford provided the military and technical aspects of the strategy on the ground. And now, it is Secretary of State Rex W Tillerson, who provided the State Department's views on how the India-United States relationship should shape up in the coming years.
In terms of the general sprinkling of quotable quotes, it was hard to beat. The allusion to India and the United States being the "two bookends of stability" will probably be a point of reference for years to come for scholars studying the bilateral relationship. Second, was the repeated references to the India-Pacific as the most consequential part of the globe in the twenty-first century, and the role of the two nations in defending a "rules-based order", and preventing the ingress of  'predatory economics'.
That's a call out against China in 'font size 72'. The question, of course, is whether India wants to label and package China as a target of India-United States collaboration. New Delhi has been sending out mixed signals, which is a good thing when dealing with a highly complex country. While encouraging Chinese investors to enter India and signing off a raft of deals, India has made no secret of its opposition to the China–Pakistan Economic Corridor (CPEC).
Nor has it made a secret of its strategy in opposing Chinese influence. After all, Prime Minister Narendra Modi made a pointed visit to Vietnam, prior to attending the G-20 summit last year. The offer of "Brahmos", India's first long-range cruise missile to Hanoi, was probably the most significant signal of an increased Indian assertiveness in the region.
The trouble, however, is that Beijing has a far larger purse. China responded by promising Bangladesh with loans worth about $24 billion. That made India's own credit line of $2 billion look downright paltry. Then, of course, was the Doka La incident. If China wanted India to fall into the United States' lap, it made an extremely good job of it. However, now that President Xi Jinping has crossed the high watermark of power set by even Chairman Mao, it is possible that he may be more open to overtures of friendship from New Delhi if South Block so decides.
A third aspect of Tillerson's speech was the bump up given to connectivity in the region. This will fall on willing ears in South Block, even if the wake up was rather late in the day – after all, the China-Pakistan corridor has been around for nearly fifteen years. The United States investment in Nepal for infrastructure projects is certainly a first and bodes well for stopping further Chinese strides into that Himalayan country.
In May, Nepal signed in into the massive One Belt One Road (OBOR) initiative, with deals that included two Special Economic Zones, a new international airport, and hydropower projects. The World Bank has estimated that Nepal needs some $13 billion infrastructural investment to maintain its present economic growth, and clearly this is all to the good for Kathmandu.
What is potentially dangerous for India – and for Kathmandu too –  is the likely link up to the Qinghai Tibet Railway and the Beijing Lhasa Expressway. An opening in a once unassailable Himalayan wall into India will require a seminal shift in Indian strategic thinking, not to mention, a huge shift in the direction of infrastructure and accompanying defence requirements.
That leads directly to the fourth aspect outlined by Tillerson. After outlining the diverse aspects of strategic convergence between the two countries, he emphasised the need to build India's security capacity, to fulfil the diverse roles expected of it. That's the now familiar "buy our weapons" dialogue which is increasingly a common factor in relations with countries, good or bad.
It was only recently that after isolating Qatar with strongarm tactics and a ganging against it, that President Donald Trump authorised sales of nearly $21 billion to the country. First, you make a war. Then you provide the toys for the military. That familiar US policy, backed as it always has been with a strong military-industrial complex, is out to the fore under Trump.
In India however, a business savvy prime minister and his team want a far more substantial slice of "Make in India" and technology transfer than now apparent. This has been a recurring problem in India-US relations, though in all fairness, there is the equally perplexing problem of the ability of Indian Defense establishments to absorb that technology.
New Delhi has already crafted its "Strategic Partnership" model for twinning Indian industry with foreign firms to win defence contracts. While the move is a landmark one, it still has plenty of room for improvement. One is to allow smaller firms to enter a market that is now completely in favour of the big players. The defence technology provisions are to be discussed further at the highest levels. However, this is likely to prove a deal breaker, if both sides don't do their homework.
A fifth aspect was intriguing. While pointing out the importance of the trilateral relationship between the United States, India and Japan, Tillerson also opened the possibility of including Australia as part of an evolving "Security architecture" to keep the India-Pacific Ocean as part of the "global commons". Setting aside the complicated strategic language, what it means is that the United States is not ready to give up the domination of the seas that it has enjoyed for the last several decades. References to protecting the sea as part of a "global commons", means that it is however no longer sure of being able to able to do it alone.
Australia has had a strong and steady relationship with the United States. Not so much with India. It has hesitated in the past at too close a defence relationship, participating only once in the Malabar naval exercises, which began as a United States-India exercise in the early 1990s. It has since expanded with the inclusion of Japan. Australia has now shown a strong interest in joining these, with a specific request prior to the July 2017 exercises.
It seemed, however, that India was equally wary of antagonising China, and agreed to only an observer status. India has begun a Maritime dialogue with China in February 2016, and both have been part of anti-piracy operations as independent navies. In November, both will be part of the International Maritime Search and Rescue Exercise. Given the multiplicity of events where both navies operate, it would seem but a short step into a joint naval exercise. But in strategic terms, it is rather a giant leap forward and would be possible only if China can accept India on its own terms – as a responsible and status quo power in the Indian Ocean. As yet, it shows no signs of doing that. A United States-backed security architecture will then inevitably follow if Beijing chooses to continue its zero-sum games in the Indian Ocean region.
The sixth aspect of considerable interest to Indian policy-makers and analysts alike was the United States policy on Afghanistan. Pakistan was hardly referenced in the speech, apart from a dire warning to countries supporting terrorism. Unlike earlier statements from the Secretary of Defense and General Dunford, Tillerson appeared remarkably even-handed on Pakistan, even going so far as to say that it was an "important partner" to the United States. He restricted himself to only reiterating the essence of the Afghanistan strategy in response to questions.
This relative passing over of the Pakistan question need not be made much of. Though it is true that the State Department has always been a little indulgent on Pakistan, Tillerson was presenting a far larger canvas for consideration of Indian policy-makers.
The challenge for Indian analysts and policy-makers is to explore this enticing if dangerous landscape, and look for opportunities and be fully aware of potential dangers.
An old Chinese saying applies. It is easy to dodge a spear from the front, but really impossible to do the same with an arrow from behind.  Once Non-Alignment provided the solution to this quandary. Today, that luxury is no longer available. Possibly its no longer needed. It's time to stand up and be counted.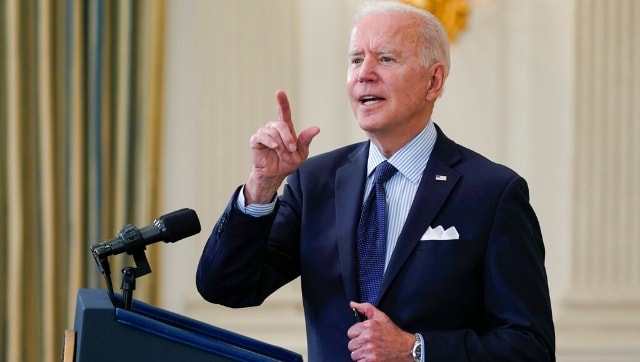 World
Former president Donald Trump had issued a list of 31 Chinese companies that were deemed to be supplying or supporting China's military and security apparatus
World
From elementary school essay competitions to patriotic films to an unending parade of speeches, banners, and news headlines, China is in the midst of celebrating the CCP's 100-year anniversary
World
Kushner, the son-in-law of former President Donald Trump and one of his top advisers during his administration, has also been the subject of numerous controversies, whether for his financial dealings and potential conflicts of interest or for the administration's widely criticised handling of COVID-19.