H-1B visa, Pakistan dominate Rex Tillerson and Sushma Swaraj's talks; India, US agree to strengthen bilateral ties
On his maiden visit to India, US Secretary of State Rex Tillerson discussed a host of issues with Prime Minister Narendra Modi and external affairs minister Sushma Swaraj
On his maiden visit to India, US Secretary of State Rex Tillerson discussed a host of issues with Prime Minister Narendra Modi and External Affairs Minister Sushma Swaraj, including the H-1B visa, terrorism in Pakistan and bilateral engagement between New Delhi and Washington. Tillerson also held a meeting with National Security Advisor Ajit Doval on Wednesday.
India-US bilateral relations
India and US agreed to further accelerate and strengthen their bilateral engagement, when Tillerson called on Prime Minister Narendra Modi on Wednesday.
Welcoming Tillerson on his maiden visit to India as US Secretary of State, Modi noted with appreciation the firm upward trajectory in the bilateral strategic partnership following "positive and far-reaching talks" with US president Donald Trump in Washington in June this year, according to a statement issued by the Prime Minister's Office (PMO).
"The prime minister shared the resolve expressed by secretary Tillerson on taking further steps in the direction of accelerating and strengthening the content, pace and scope of bilateral engagement," the PMO statement said.
"They affirmed that a strengthened India-US partnership is not just of mutual benefit to both countries, but has significant positive impact on the prospects for regional and global stability and prosperity as well," it stated.
In the context of President Trump's new South Asia strategy unveiled in August, Modi noted the commonality of objectives like eradicating terrorist infrastructure, safe havens and support, while bringing peace and stability to Afghanistan.
H-1B visas
India also raised the issue of H-1B visas with the US. "We discussed the significant contributions to the US economy made by skilled Indian professionals holding H-1B and L1 visas," Sushma Swaraj said in a joint address to the media.
"I have also sought cooperation from Tillerson to address the pending issues related to totalisation, and urged him that the US should not do anything that will hurt Indian interests," she said.
Trump had called for stricter norms for issue of H-1B visas, largely availed by Indian IT firms.
A private member's bill was introduced earlier in 2017 in the US Congress by Democrat Zoe Lofgren seeking to increase the minimum salary of an H-1B visa holder to $130,000 from the current minimum of $60,000.
While Trump has spoken of restricting the H-1B visa system as part of his policy of putting 'America first', there have been no changes to it so far. This year, the same levels of 65,000 for general H-1B visas and 20,000 for those with advanced US degrees have been maintained. Indians get most of the H-1B visas, although there are no national quotas for the facility.
Replying to a question, Swaraj said that while there had been no changes made to the H-1B rules yet, if a private member's bill in the US Congress got passed, Indian professionals would be impacted. "H-1B rules can be changed either by an executive order (issued by the US president) or by the US Congress, and we are talking to both sides," she said.
Terror havens
Keeping the heat on Pakistan and with an eye on a rapidly rising China, India and the US said that Islamabad should immediately take steps to finish terror organisations and terrorist safe havens on its soil. The two countries also agreed to work together for security in the India-Pacific region.
Tillerson and Swaraj also agreed that US president Donald Trump's new Afghanistan policy would be effective only if Pakistan takes action against terror groups on its soil. "We discussed the issue of terrorism at length. This is a big threat for the whole world. We also discussed implementing President Trump's new Afghanistan and South Asia policies, so that it can achieve the desired results," Swaraj said.
"We expressed serious concerns over the situation in Afghanistan. It proves that even today there are elements providing safe havens and support to terrorists. We agreed that we need to ensure that no country does this," she said.
She said nations supporting terror should be held accountable. "We also agreed that Pakistan should take immediate steps to finish the safe havens on its soil. We believe President Trump's new policy can be successful only when Pakistan acts against all terror groups," Swaraj said.
Tillerson, who flew in from Pakistan after bluntly telling Islamabad that it must increase its efforts to eradicate militants and terrorists operating within the country, said India "plays an important role" in Trump's new South Asia strategy, which doubles American commitment to peace and stability in the region.
"In the fight against terrorism, the United States will continue to stand shoulder to shoulder with India. Terror safe havens will not be tolerated," he said.
Cooperation in India-Pacific region
Tillerson said his country will continue to contribute to Indian capabilities to provide security throughout the region.
Swaraj confirmed that the India-Pacific region came in for intense discussion in Wednesday's talks. "We discussed the importance of freedom of navigation, overflights and unhindered trade under international rules and norms for a sovereign and developed India-Pacific region," she stated.
Stating that US supports India's emergence as a leading power in South Asia, Tillerson said the two countries will cooperate further to promote rules-based commerce, in remarks apparently targetting China over its growing belligerence in the South China Sea.
"We look forward to furthering cooperation in the broader India-Pacific region as we both promote a rules-based approach to commerce and a transparent and sustainable approach to economic development. We are glad to be joined in this effort by our close mutual partner Japan," he said.
His visit comes a week after he made a speech in Washington on the US wanting to "dramatically deepen" cooperation with India.
North Korea
The issue of North Korea's nuclear and ballistic missile programme also came up, and in reply to a question as to whether India was ready to cut off diplomatic ties with Pyongyang, Sushma Swaraj said that trade relations with that East Asian nation are at a minimum, but it is important to continue having an embassy in North Korea to keep communication channels open.
"As far as the question of embassy goes, our embassy there is very small, but there is in fact an embassy. India and North Korea maintain diplomatic offices in each other's capitals, though New Delhi recently banned trade of most goods with the country, except food and medicine. Trade is minimal," Swaraj said.
With inputs from agencies
India
Lidwina Joseph, a student of Kendriya Vidyalaya at Thrissur, enclosed in her letter a drawing depicting discharge of duties by the apex court where a judge is seen hammering down the coronavirus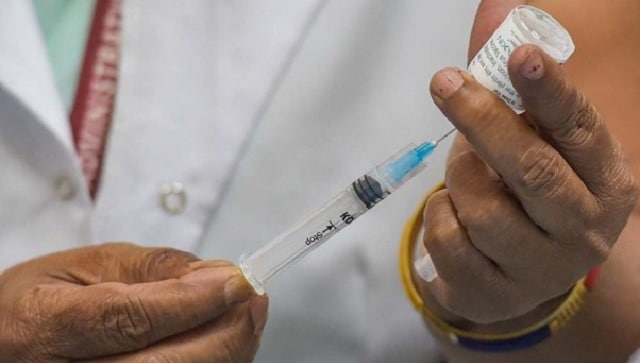 Blogs
While the original plan of 30 crore fully vaccinated individuals by July may extend by a few weeks, the year-end target can be more ambitious
Politics
Prasada's induction will further wear away whatever's left of the Congress and the Gandhis in Uttar Pradesh, even if it does not yield dividends for the BJP