Republican senator: no rules, many options for Trump impeachment trial
WASHINGTON (Reuters) - Republican Senator John Kennedy, a frequent defender of President Donald Trump, said on Sunday there were no real rules for how the U.S. Senate should run its impeachment trial and that the chamber could choose to hear witnesses and evidence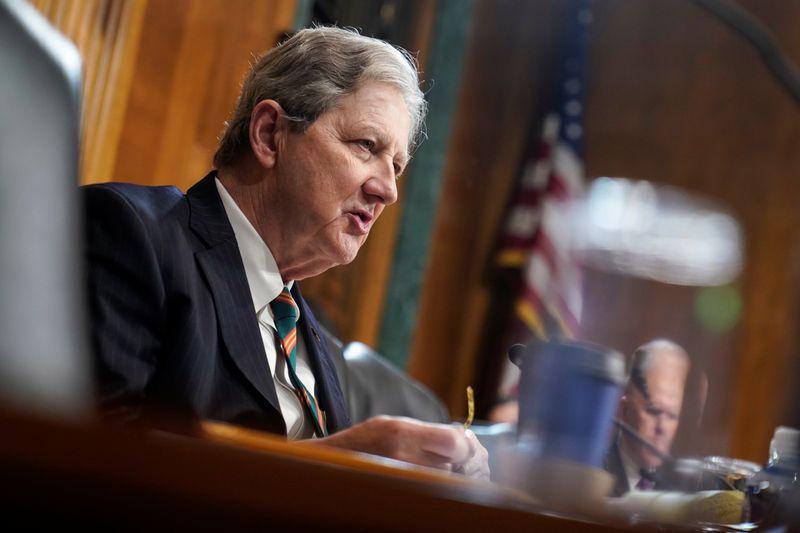 WASHINGTON (Reuters) - Republican Senator John Kennedy, a frequent defender of President Donald Trump, said on Sunday there were no real rules for how the U.S. Senate should run its impeachment trial and that the chamber could choose to hear witnesses and evidence.
"When it comes to impeachment, the rule is that there are virtually no substantive rules," Kennedy told CNN's "State of the Union." As a result, he said, there were plenty of steps the Senate could take, including forming a committee to hear evidence in the case.
The Democratic-led House of Representatives impeached Republican Trump this month for abuse of power and obstruction of Congress charges stemming from his effort to get Ukraine to investigate political rival Joe Biden, a leading contender in the 2020 Democratic presidential race.
The majority-Republican Senate is expected to hold its impeachment trial early next year, once House Speaker Nancy Pelosi delivers the articles of impeachment to the chamber.
The U.S. Constitution has no detailed guidelines on the process, Kennedy said. "It's not a criminal trial," Kennedy said, adding there were "no standards of proof" and "no rules of evidence."
Senators have not been able to agree whether to allow for witnesses. Republicans have a 53-seat majority in the Senate, where 51 votes are needed to pass a set of rules for the Trump trial, so Republicans cannot afford many defectors.
Senate Republican leader Mitch McConnell has said he wanted to hear testimony and submit questions before deciding on whether to admit witnesses. McConnell said this month he was working in "total coordination" with the White House on Trump's impeachment, and has said he is "not an impartial juror."
Kennedy said the Senate had a number of options.
"I'm not recommending it, but it's possible for the Senate, through the presiding officer, the chief justice, to appoint a committee to hear additional evidence, if the Senate thinks it's necessary," he said.
Senators take an oath to "do impartial justice according to the Constitution and laws" ahead of an impeachment trial. Experts say that as a practical matter they can declare their allegiance without repercussions.
Last week, Republican U.S. Senator Lisa Murkowski said she was disturbed by McConnell's approach, saying there should be distance between him and the White House.
(Reporting by Doina Chiacu; Editing by Rosalba O'Brien)
This story has not been edited by Firstpost staff and is generated by auto-feed.
Find latest and upcoming tech gadgets online on Tech2 Gadgets. Get technology news, gadgets reviews & ratings. Popular gadgets including laptop, tablet and mobile specifications, features, prices, comparison.
World
By Cristina Sanchez and Belén Carreño MADRID (Reuters) - Schools in Madrid remained shut, some supermarkets ran out of fresh produce and few cars were on the streets on Monday as officials urged people to stay home after a huge snow storm hit the Spanish capital and several regions over the weekend. However, most flights and trains, including the high-speed link to Barcelona, have resumed operations. While many people enjoyed the rare snowfall by skiing in the centre of Madrid and holding mass snowball fights, a further cold spell was set to turn the snow into ice this week and authorities rushed to clear more streets.
World
By Ludwig Burger FRANKFURT (Reuters) - Pfizer Inc's partner BioNTech SE has boosted the 2021 delivery target for their COVID-19 vaccine to 2 billion doses, up from 1.3 billion previously, as they add new production lines and as more doses can be extracted per vial. Special syringes known as low dead space syringes allow for extraction of six vaccine doses from a standard vial, instead of the usual five, avoiding wasting unused liquid left in a syringe. That would result in 1 billion people getting the designated two-dose regimen, BioNTech said on Monday in a presentation for the annual JP Morgan healthcare conference being held virtually this year due to the coronavirus pandemic.
World
GENEVA (Reuters) - The World Health Organization said on Monday it had been notified by Japan of a new variant of the coronavirus discovered there. Japan's health ministry said on Sunday it had detected a new coronavirus variant in four travellers from Brazil's Amazonas state.