Recovery of U.S. troops' remains in North Korea complicated by cash, politics
By Joyce Lee SEOUL (Reuters) - When North Korean leader Kim Jong Un agreed in June to help return the remains of American troops killed in the 1950-53 Korean War, it was seen as one of the more attainable goals to come out of his summit with U.S.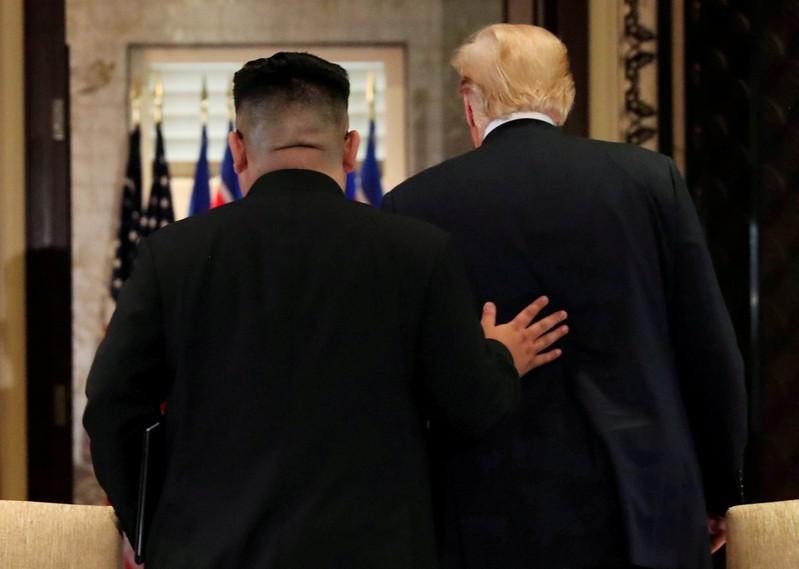 By Joyce Lee
SEOUL (Reuters) - When North Korean leader Kim Jong Un agreed in June to help return the remains of American troops killed in the 1950-53 Korean War, it was seen as one of the more attainable goals to come out of his summit with U.S. President Donald Trump.
American officials expect North Korea to hand over around 50 sets of remains in coming days or weeks, but the drawn-out process of negotiations to get to this point highlights the complications involved in the issue.
At the heart of the difficulty, former officials involved in previous recovery missions say, are likely demands from North Korea for cash compensation, as well as the unsolved tensions over North's nuclear weapons and ballistic missile arsenal.
More than 7,700 U.S. troops who fought in the Korean War remain unaccounted for, with about 5,300 of those lost in what is now North Korea, according to the Defence POW/MIA Accounting Agency (DPAA), the U.S. military agency tasked with tracking down prisoners of war and troops missing in action.
The Korean War ended in a truce, not a peace treaty, leaving the United States and North Korea still technically at war.
Soon after the June summit, Trump announced North Korea had returned the remains of 200 soldiers that had already been found, but this has yet to take place and negotiations over the actual handing over of the remains have dragged on.
Trump told an audience of veterans on Tuesday that he hoped "fallen warriors" would begin to come home "very soon."
Bill Richardson, a former U.S. diplomat with experience negotiating with North Korea, including during the recovery of the remains of seven Americans in 2007, said Pyongyang was using the issue as "a bargaining chip".
"They're stalling," he told Reuters. "I think in the end the North Koreans will turn over the majority of the remains that they have - but it will have a price. Not just a financial price."
REMAINS RETURNED
Between the 1990s and 2005, more than 400 caskets of remains found in North Korea were returned to the United States, and the bodies of some 330 Americans were accounted for, according to the DPAA.
Decades-old remains that North Korea has handed over in the past have not always been identifiable as U.S. troops.
The U.S. and North Korea worked together on so-called joint field activities (JFAs) to recover remains from 1996-2005, until Washington halted operations, expressing concerns about the safety of its personnel.
A Congressional Research Service (CRS) report said the United States paid $28 million to North Korea for assistance in the effort.
"To the best of my knowledge, it was never based on a per body calculation. Payments were made in support of each field mission – each joint recovery operation," said Frank Jannuzi, a former Democratic Senate Foreign Relations Committee staffer focusing on East Asian and Pacific affairs. Payments were to compensate North Korea for direct expenses incurred such as fuel costs, disruption of agricultural planting, or equipment costs, he said.
In 2011, President Barack Obama's administration agreed with Pyongyang to restart recovery missions, offering to pay $5,669,160 in "compensation" for services provided by North Korea.
Those planned missions never happened, however, as Washington called off the deal after North Korea tested a rocket in early 2012, said Paul Cole, author of "POW/MIA Accounting."
"If the past is any indicator, the (North Koreans) are demanding up-front deliveries of food, fuel and at least $5 million in cash," Cole told Reuters. "In the era of 'maximum pressure,' the dilemma for the Trump administration is whether to give the (North Koreans) massive amounts of food, fuel, trucks, SUVs and millions in cash, or cancel the deal."
Former officials say typically North Korea has not asked for compensation when it unilaterally returns remains it recovers, such as the roughly 200 currently being discussed.
But if the United States hopes to send its own teams into North Korea, there will likely be a cost.
Asked whether the cost of future joint field activities would be similar to what was paid in the past, the Pentagon's DPAA Public Affairs Office said: "As of yet, there are no JFAs scheduled in North Korea so we cannot speculate on what such activities may cost."
The U.S. State Department did not have an immediate comment on the negotiations, but Secretary of State Mike Pompeo said last week North Korea had committed to return the first remains "in the next couple of weeks." [nL1N1UE1A3]
According to CRS, the United States also paid for recovery operations in Vietnam. As with North Korea, critics complained the Vietnamese government charged "extraordinarily high fees for providing support ... and that the services received are by no means as lavish as the bills presented indicate".
South Korea's former vice minister of foreign affairs and trade, Kim Sung-han, said Pyongyang would likely want to use the return of remains to improve its relations with Washington, while avoiding addressing more touchy subjects such as denuclearisation.
    "North Korea wants the war declared ended sooner rather than later, so trust can be built and progress on its international standing can be made," he said, adding that any "reimbursements" were likely to violate sanctions.
    Besides being politically sensitive, however, handing the North Korean government stacks of cash offers no guarantee that authenticated U.S. servicemen's remains would be recovered, Jannuzi said.
    "We might spend a million dollars and come up with nothing."
(Additional reporting by Jeongmin Kim and Josh Smith in Seoul, Arshad Mohammed, Daphne Psaledakis, Steve Holland and David Brunnstrom in Washington; Editing by Lincoln Feast and Jonathan Oatis)
This story has not been edited by Firstpost staff and is generated by auto-feed.
also read
World
COPENHAGEN A South Korean woman wanted for questioning in connection with the scandal that brought down president Park Geun-hye has withdrawn her appeal against extradition from Denmark, the Danish state prosecutor said on Wednesday.
World
By Philip Pullella and Steve Holland | VATICAN CITY VATICAN CITY Pope Francis urged U.S.