Record floods engulf U.S. Central states, rivers to rise in days ahead
(Reuters) - Rains that melted a historic snowpack swamped U.S. Central Plains states with record floods on Sunday, breeching river levees and causing two deaths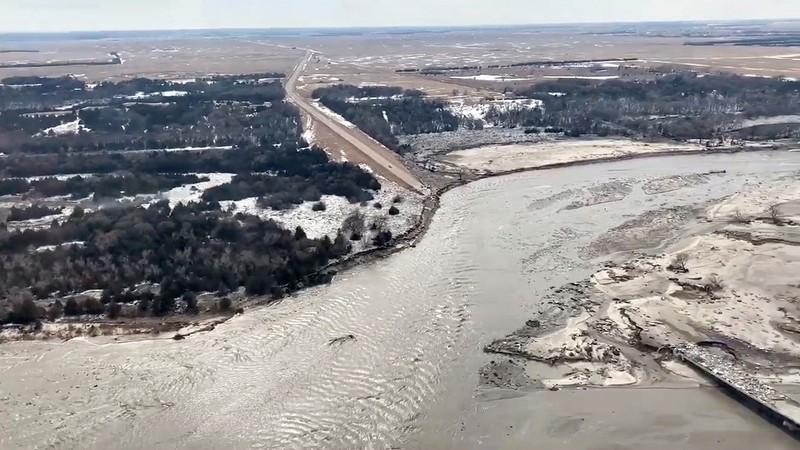 (Reuters) - Rains that melted a historic snowpack swamped U.S. Central Plains states with record floods on Sunday, breeching river levees and causing two deaths.
With water levels expected to rise through the week, evacuations were underway in communities along portions of the Missouri River on the Nebraska and Iowa border, as well as in Nebraska, on the Elkhorn River and Platte River.
"The big ones are at record stages right now," said meteorologist Marc Chenard with the National Weather Service Weather Prediction Center. "There have been some levy breaks so there are towns that are flooded."
The deadly flooding was the aftermath of a late-winter "bomb cyclone" storm that drenched the nation's midsection and kicked into high gear snowmelt after unprecedented winter snowfall.
The weather was blamed for two deaths, including one person who died at home after failing to evacuate, and another swept away while trying to tow a trapped car with his tractor.
"That system brought 1 to 3 inches of rainfall but, on top of that, there was already a deep snowpack over much of the area. So a combination of the rain and snow melt had a large volume of water going pretty quickly into the rivers," Chenard said.
Despite relatively dry weather ahead, flooding was expected to persist through the week in Nebraska, South Dakota, Iowa, Minnesota, Wisconsin and Illinois.
"We're looking at widespread flooding that continues until at least early next week in the Plains and Midwest region," Chenard said.
(Reporting by Barbara Goldberg in New York; Editing by Lisa Shumaker)
This story has not been edited by Firstpost staff and is generated by auto-feed.
Business
By Stephen Nellis (Reuters) -Apple Inc on Monday said it will offer the ability to store state-issued identification cards digitally on iPhones and that it is working with the U.S. Transportation Security Administration to accept the digital IDs at airports, one of several updates to the software that runs on its devices. It also showed updates to its FaceTime video chat app, adding the ability to schedule calls with multiple attendees and making the software compatible with Android and Windows devices.
Business
LONDON (Reuters) - The bosses of all airlines flying passenger services between Britain and the United States called on Monday for the countries' governments to relax COVID-19 restrictions to reopen travel routes between the two countries. After more than a year of restrictions, the CEOs of American Airlines, IAG unit British Airways, Delta Air Lines, United Airlines and JetBlue Airways Corp said high vaccination rates in both countries meant travel could restart safely. The push for reopening trans-Atlantic routes on Monday comes ahead of meetings between U.S.
Business
BRUSSELS (Reuters) - The European Union's patience towards Britain over Brexit arrangements in Northern Ireland is wearing thin and the bloc will consider its options should Britain continue its "confrontational path", an EU official said on Monday.