RCEP deal: Trade ministers from 16 countries including India and China to meet in Vietnam
Trade ministers of 16 countries, including India and China, will meet on 21 and 22 May to discuss progress on the negotiations of the proposed RCEP trade deal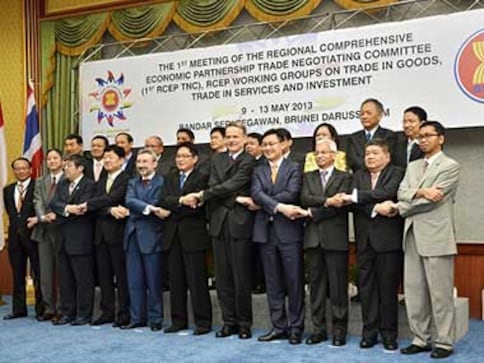 New Delhi: Trade ministers of 16 countries, including India and China, will meet on 21 and 22 May in Vietnam to discuss progress in the ongoing negotiations of proposed mega trade deal RCEP.
So far, negotiators of the Regional Comprehensive Economic Partnership (RCEP) have held 18 rounds of negotiations.
"This will be a crucial meeting in Hanoi. Ministers would deliberate on the single-tier system of duty relaxations, besides issues related to services and investments," an official said.
Under the single-tier system, the RCEP member countries are trying to finalise the maximum number of goods on which duties will either be eliminated or reduced drastically.
Chief negotiators and senior officials of all the countries recently held discussions in the Philippines on this regard.
The 16-member bloc RCEP comprises 10 ASEAN members (Brunei, Cambodia, Indonesia, Malaysia, Myanmar, Singapore, Thailand, the Philippines, Laos and Vietnam) and their six FTA partners — India, China, Japan, South Korea, Australia and New Zealand.
RCEP is a mega trade deal that aims to cover goods, services, investments, economic and technical co-operation, competition and intellectual property rights.
As the domestic industry has apprehensions over a deluge in imports from countries such as China after the duty cut under the agreement, India may take certain deviations for such countries.
India already has implemented a free trade agreement with the ASEAN, Japan and South Korea. On the other hand, the country is negotiating similar pacts with Australia and New Zealand.
The talks for the pact started in Phnom Penh in November 2012. The 16 countries account for over a quarter of the world's economy, estimated to be more than $ 75 trillion.
World
If reports by a leading daily of Israel are to be believed, Pakistan seems to have extended its much maligned begging bowl to its much hated 'foe' as well
World
Cross-border freight train services were suspended in late April, after China's border town of Dandong reported coronavirus outbreaks, reports said at the time. Pyongyang confirmed its own Omicron variant outbreak soon after
World
Myanmar has seen fighting between the military junta and rebels who are trying to overturn the coup that last year ousted Aung San Suu Kyi's elected civilian government