Rain may hamper search for California wildfire victims
By Jonathan Allen and Nick Carey (Reuters) - Emergency services stepped up their efforts on Monday to find remains of victims of California's deadliest ever wildfire as nearly 1,000 people remained unaccounted for, but rain expected this week could make that search harder and raise the risk of dangerous mudslides. The remains of 77 people have been recovered, the Butte County Sheriff's Office said late on Sunday, as it cut the number of missing to 993 from 1,276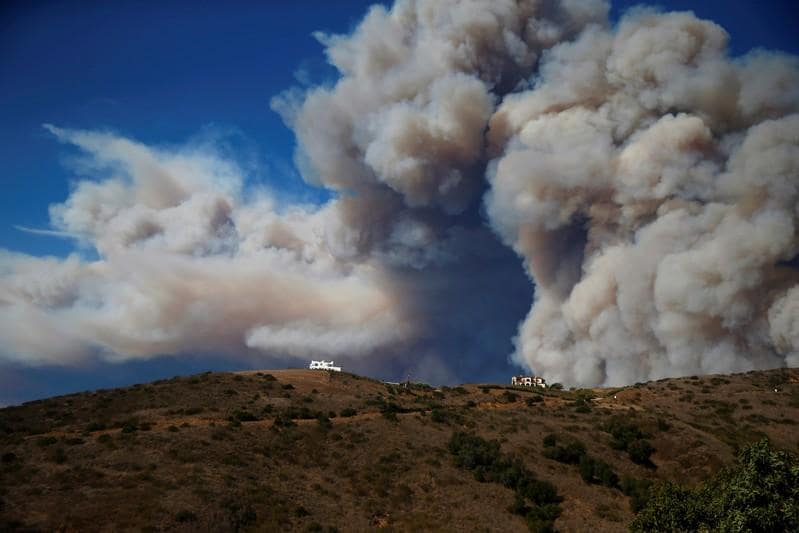 By Jonathan Allen and Nick Carey
(Reuters) - Emergency services stepped up their efforts on Monday to find remains of victims of California's deadliest ever wildfire as nearly 1,000 people remained unaccounted for, but rain expected this week could make that search harder and raise the risk of dangerous mudslides.
The remains of 77 people have been recovered, the Butte County Sheriff's Office said late on Sunday, as it cut the number of missing to 993 from 1,276.
The number of missing has fluctuated dramatically over the last week as reports have come in from rescue teams in the field. The sheriff's office said that the number will continue to move up and down as remains are found, more missing reports come in and people who have been reported missing turn up safe.
Some people appear to have been added to the list more than once under variant spellings of their names, the Los Angeles Times reported.
The Camp Fire broke out in northern California on Nov. 8 and quickly all but obliterated Paradise, a mountain town of nearly 27,000 people around 90 miles (150 km) north of the state's capital, Sacramento.
It has burned about 151,000 acres (61,107 hectares) and was 66 percent contained early on Monday, up from 65 percent late on Sunday, the California Department of Forestry and Fire Protection (Cal Fire) said.
Up to four inches (10 cm) of rain is expected to fall north of San Francisco between late Tuesday and Friday, said Patrick Burke, a forecaster at the National Weather Service's Weather Prediction Center in Maryland.
MUDDY, MUSHY MESS
Heavy rain could aid with containing the fire this week, but may also make it harder for teams sifting through ash and dirt looking for bodies.
Colleen Fitzpatrick, founder of the California-based consulting company Identifinders International, said the expected rain will turn the site into a "muddy, mushy mess," slick with wet ash.
"It's going to coat things and stick to things and it's going to make it a lot harder to find remains," she said. "There's really nothing that can be done about this. The workers looking for remains are going to be stuck with this."
Pathologists from the University of Nevada, Reno, worked through the weekend as firefighters peeled back debris, collecting bits of burned bones and photographing everything that might help identify the victims.
The rain also could increase the risk of mudslides.
Heath Hockenberry, the National Weather Service's fire program leader, said in "high-intensity" fires trees release gas that can form pockets and creates a "very volatile, waxy layer under the soil."
Meanwhile, the vegetation above ground has been burnt and the root system weakened. Overall, this creates a top layer of soil that is "hydrophobic," or extremely resistant to water, Hockenberry said.
"Throw a lot of water on that soil then gravity just takes over," he said.
In a mudslide, the top layer of soil gives way, carrying boulders with it downhill at up to 35 miles per hour (56 kph), he said.
The storm, which is expected to carry moderate winds of about 15 to 20 mph (24-32 kph), could also cause problems for evacuees, hundreds of whom are sheltering in tents and cars.
The number of people in need of shelter is not clear, but as many as 52,000 people had been ordered to evacuate.
Four hundred miles (644 km) south of Sacramento near Malibu, at least two inches of rain are expected to fall on a second fire, the Woolsey. Known to have killed three people, it was 94 percent contained on Monday morning and full containment was expected by Thanksgiving on Thursday.
Malibu's power supply was cut off on Monday to allow for repairs, the Los Angeles County sheriff's office said.
The cause of both fires is under investigation, but electric utilities reported localized equipment problems around the time they broke out.
PG&E Corp has said it could face liability that exceeds its insurance coverage if its equipment were found to have caused the Camp Fire.
(Reporting by Rich McKay, Jonathan Allen and Nick Carey; writing by Nick Carey; editing by John Stonestreet, Steve Orlofsky and Bill Berkrot)
This story has not been edited by Firstpost staff and is generated by auto-feed.
News & Analysis
NEW YORK (Reuters) -The price of cryptocurrencies plunged and crypto trading was delayed on Tuesday, a day in which El Salvador ran into snags as the first country to adopt bitcoin as legal tender. Shares of blockchain-related firms also fell as crypto stocks were hit by trading platform outages. But the major focus was on El Salvador, where the government had to temporarily unplug a digital wallet to cope with demand.
News & Analysis
By Joseph White and Sanjana Shivdas (Reuters) -The head of Apple Inc's car project, Doug Field, is going to work for Ford Motor Co to lead the automaker's advanced technology and embedded systems efforts, a hiring coup for Ford Chief Executive Jim Farley.