Radiation levels rose inside a Finnish nuclear unit: nuclear watchdog
HELSINKI (Reuters) - Finland's nuclear safety authority said on Thursday that radiation levels had risen following an incident at the Olkiluoto 2 nuclear unit in western Finland but there was no radioactivity leakage outside and the situation was under control. 'There are no indications of a fuel leak from the incident and there are no longer any exceptional radiation levels inside the plant,' the authority, STUK, said in a statement. It said it had been informed of elevated radiation levels at the reactor at around 1 p.m
HELSINKI (Reuters) - Finland's nuclear safety authority said on Thursday that radiation levels had risen following an incident at the Olkiluoto 2 nuclear unit in western Finland but there was no radioactivity leakage outside and the situation was under control.
"There are no indications of a fuel leak from the incident and there are no longer any exceptional radiation levels inside the plant," the authority, STUK, said in a statement.
It said it had been informed of elevated radiation levels at the reactor at around 1 p.m. (1100 GMT).
"This is a significant and an exceptional incident and we consider it important to spread correct information about it," Finland's minister of social affairs and health Aino-Kaisa Pekonen told reporters.
The elevated readings stemmed from a room regularly showing higher values during normal operations, and no power company employees had been exposed to radiation or were injured, it added.
Jarmo Tanhua, CEO of the nuclear power plant operator TVO, said the incident was an unparalleled event in the facility's history. TVO is a consortium of power and industrial companies.
The International Atomic Energy Agency said STUK had informed it of the incident and that it would provide public information as it became available.
Olkiluoto 2, which has a capacity of 890 megawatts, shut down and would remain offline until Saturday, according to information posted by TVO via power exchange Nord Pool.
Intraday power prices in Finland spiked as high as 2,000 euros ($2,426) per megawatt hour following the incident, Nord Pool data showed.
(Reporting by Anne Kauranen and Nora Buli in Oslo; Editing by Jane Merriman and Dan Grebler)
This story has not been edited by Firstpost staff and is generated by auto-feed.
Find latest and upcoming tech gadgets online on Tech2 Gadgets. Get technology news, gadgets reviews & ratings. Popular gadgets including laptop, tablet and mobile specifications, features, prices, comparison.
World
By Andy Sullivan and David Shepardson WASHINGTON (Reuters) - Republicans in the U.S. Congress faced growing blowback on Monday from businesses that said they would cut off campaign contributions to those who voted last week to challenge President-elect Joe Biden's victory. The announcements by Dow Inc., AT&T Inc.
World
By Djaffar Al Katanty GOMA, Congo (Reuters) - A line of Congolese park rangers raised their guns in salute on Monday as the coffin bearing their colleague Burhani Abdou Surumwe, a 30-year-old father of four, was buried in the black volcanic soil of a Muslim cemetery outside Goma.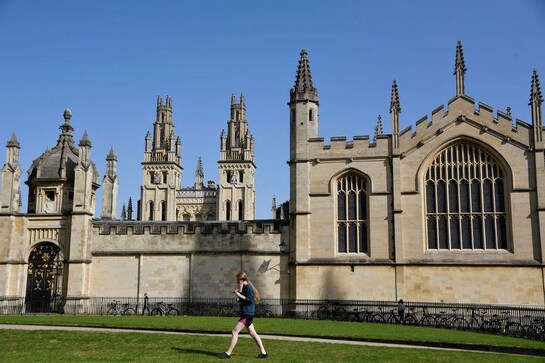 World
TORONTO/NEW YORK (Reuters) - The COVID-19 pandemic deepened inequities in accessing and benefiting from education but the future of learning could be a more equal one, participants told Reuters Next panels on Monday.