Islamabad: The 89 victims of a terror attack targeting Shia Hazaras were on Wednesday buried in Quetta after three days of nationwide protests though the mass funeral was marred by an incident of firing involving security personnel and protesters.
Shia leaders on Tuesday called for the burial of those killed in the bomb attack on 16 February but Shia groups refused to end the protest with the bodies till the security of Quetta city was handed over to the army.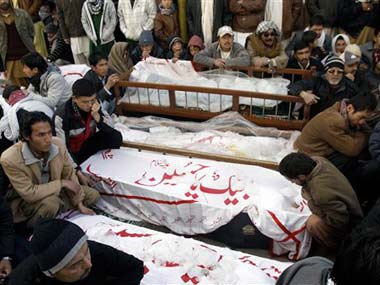 Following talks early this morning, the Shia groups finally agreed to bury the dead.
As some 4,000 mourners gathered to bury the dead, some persons pelted stones at a deputy commissioner's car.
Both security forces and protesters then fired in the air though no one was injured, witnesses said.
Footage on television showed mourners running in panic during the firing at the Hazara graveyard.
The situation was brought under control by the local administration and security forces.
Earlier, several women lay in graves and refused to allow the burial of the dead, saying they wanted to continue a sit-in protest till the army was called out in Quetta.
Groups of Shia youth too staged demonstrations and pressured elders to continue the protest.
Some protesters blocked a nearby highway.
Hundreds of mourners, shouting anti-government slogans and beating their chests, had heated exchanges with Shia leaders who had agreed to end the sit-in protest that began on Sunday.
Abdul Qayyum Changezi, a senior Shia leader and representative of the Quetta Yakjehti Council, said the mass funeral began after the families of the victims gave their permission to bury the dead.
During a dialogue between the government and the Hazara leaders, it was agreed that the army would conduct a 'targeted operation' against banned groups targeting Shias in Quetta, he said.
A large contingent of law enforcement personnel was deployed in and around the Hazara graveyard.
Saturday's bomb attack in the Shia-dominated Hazara Town was the second major attack on the minority community in Quetta in five weeks.
As Shia Hazaras refused to bury their dead, protests erupted across the country and parts of Islamabad, Karachi and Lahore were shut down.
Shia leaders agreed to end the protest in Quetta after meeting a parliamentary delegation led by Information Minister Qamar Zaman Kaira, who said security forces had launched a "targeted operation" and detained 170 suspects.
Officials said four members of the banned Lashkar-e-Jhangvi, which claimed responsibility for the attacks on the Shias, had been gunned down by the security forces.
Shias, who make up 20 percent of Pakistan's population of 180 million, have been repeatedly attacked by the LeJ in Quetta and other parts of Balochistan.
Hundreds have been killed in these attacks.
PTI
Updated Date: Feb 20, 2013 16:10 PM