As Brexit cloud looms over UK, Queen Elizabeth II unveils nation's new agenda
The queen arrived in a golden horse-drawn carriage and donned a crown and ermine to deliver a speech written by officials with plans for the coming year.
London: Prime Minister David Cameron's government looked forward to life after Britain's EU referendum by unveiling on Wednesday a new legislative programme in a speech read out by Queen Elizabeth II in parliament.
On Westminster's grandest day, the queen arrived in a golden horse-drawn carriage and donned a crown and ermine to deliver a speech written by officials with plans for the coming year.
With a row in Cameron's Conservative party over Europe on hold for the day, the Queen's Speech focused on social reforms and contained little likely to be controversial before the tight 23 June vote.
The main announcements included new counter-extremism legislation, measures to tackle corruption, money laundering and tax evasion as well as reforms to how the overcrowded prison system is run.
In a statement released before the speech, Cameron said it "sets out a clear programme of social reform, so we break down the barriers to opportunity and extend life chances to all."
Officials said that a new Counter-Extremism and Safeguarding Bill would include stronger powers to disrupt extremists operating in England and Wales.
This will include new civil orders to control their activities and fresh powers to intervene in unregulated schools teaching children extremist ideologies.
Following an anti-corruption summit in London last week attended by countries including Nigeria and Afghanistan, plans were also announced to fight international corruption.
Cameron's government plans to criminalise corporations who fail to stop staff facilitating tax evasion, while there will also be new rules tightening up Britain's anti-money laundering regime.
Officials claim that prisons will face the biggest shake-up since the 19th century with new plans to give governors more power over the jails they run.
There were also moves to pave the way for Britain's first ever space port for commercial space travel and the increased use of driverless cars.
The white-clad monarch, delivering the 63rd Queen's Speech of her reign, arrived in a gold and black carriage with dozens of horsemen to the sound of the national anthem, "God Save The Queen".
In a bizarre tradition dating back to times of hostility between parliament and the monarchy, an MP was "held hostage" at Buckingham Palace until she returned safely.
Splits and bad temper
With five weeks to go until the referendum, the debate over whether to leave the European Union or stay in is becoming increasingly charged.
Boris Johnson, the Conservative former London mayor effectively leading the "Leave" campaign, sparked fury by saying the EU, like German Nazi dictator Adolf Hitler, wanted to create a European superstate in an interview out Sunday.
Meanwhile, Cameron raised eyebrows among "Leave" campaigners Tuesday by suggesting that the Islamic State group would be "happy" if Britain left the EU.
Underlining the depth of splits in the ruling party, one of its most senior figures, former deputy prime minister Michael Heseltine, said Tuesday that Johnson was behaving "irresponsibly" and "recklessly".
Heseltine, who wants to remain in the EU, said he would be "very surprised" if Johnson ever became Conservative leader, despite him being one of the frontrunners eventually to succeed Cameron.
Analysts say Cameron — who is leading the "Remain" campaign — would probably have to step down if Britain votes to leave the EU. Most of his ministers are also campaigning to stay in the 28-nation bloc.
The race currently stands at 51 percent support for "Remain" and 49 percent for "Leave", according to an average of the last six opinion polls by the What UK Thinks academic project, excluding undecideds.
World
Jens Stoltenberg said he was confident that France, the UK and the US "will find a way forward and not make this disagreement create lasting problems for the alliance"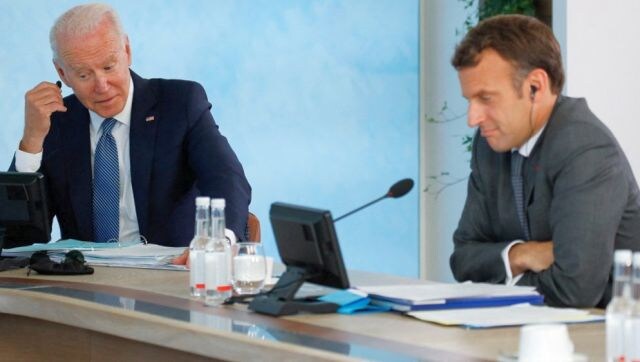 World
Paris is livid with its foreign minister saying the decision by Australia to get nuclear-submarines from America instead felt like a stab in the back
World
Attempts by Western governments and international financial institutions to deprive the Taliban-controlled government of other funding sources until its intentions are clearer has Afghan's most vulnerable citizens hurting