Quake-hit Ecuador announces drastic economic measures
Ecuador announced drastic economic measures late Wednesday, including a hike in some taxes and mandatory wage contributions
Pedernales: Ecuador announced drastic economic measures late Wednesday, including a hike in some taxes and mandatory wage contributions, to deal with the aftermath of the devastating earthquake that killed more than 500 people and injured over 5,000.
Saturday's 7.8-magnitude quake was the worst to hit the South American country in decades, causing hundreds of buildings to collapse and damaging roads and other key infrastructure in tourist areas.
The official death toll currently stands at 525, with 5,733 injured and 163 still missing. But aside from the staggering human cost, the quake comes as a big economic blow to oil-producing Ecuador, which has already taken a huge hit from the drop in global crude prices.
President Rafael Correa, in an evening address to the nation, estimated that rebuilding could come to as much as $3 billion and knock two or three points off the country's GDP. Correa went on to announce a series of measures to help cover the costs, including an increase in the country's value added tax from 12 percent to 14 percent for a year.
He also announced mandatory wage contributions — people earning $1,000 a month will have to pay the equivalent of a day's salary for a month, those earning $2,000, one day's worth for two months, up to those earning more than $5,000 who are being asked to contribute one day's salary for five months.
And anyone whose assets exceed $1 million will have to pay a one-time contribution of 0.9 percent of their wealth, he added. He also said unspecified state assets would be sold.
New quake sows panic
Correa's address ended a day that began before dawn with panic as a new 6.1-magnitude earthquake struck off the coast. The latest quake caused no damage or casualties, but shook the ground forcefully in the dark of night, sending terrified residents running into the streets in the devastated resort town of Pedernales. Meanwhile, the toll from Saturday's quake continued to rise as emergency workers untangled the masses of rubble, often by hand or with basic tools.
"The death toll will continue to rise, unfortunately, but at a slower pace. Many bodies have already been recovered," Correa warned.
At least 11 foreigners were killed in Saturday's quake, which struck a Pacific coast region popular with tourists. They included citizens of Britain, Canada, Ireland and several Latin American countries. Ecuadoran authorities called the latest quake an aftershock — one of more than 500 since Saturday, they said.
Losing hope
Saturday's quake is the worst to hit Latin America and the Caribbean since the 2010 earthquake in Haiti, which killed between 200,000 and 250,000 people.
Hope of finding more victims alive was fading fast. One of the bodies pulled from the ruins was that of six-year-old Jose David Eras, a Colombian-Ecuadoran boy trapped beneath the rubble of a hotel in Pedernales — one of around 800 structures toppled in the quake.
Both countries had been on tenterhooks awaiting news of his fate after rescue workers detected signs of life in the debris using a special scanner. But the Colombian foreign ministry said his lifeless body had been found.
Pope Francis sent Ecuadorans a message of solidarity, his second since Saturday's quake. "I want to express our closeness and our prayers to our Ecuadoran brothers," he said during his general audience on Saint Peter's Square at the Vatican.
Relatives of the missing have voiced frustration with the pace of the rescue operation. "Ecuador is not prepared for such a catastrophe," said 27-year-old Samantha Herrera, who was searching for her missing brother Tuesday near a ruined hotel.
Looting fears
Many businesses up and down the coast have closed their shutters, fearing looters -- which has made it all the more difficult to find food and basic necessities.
Fears rose for thousands of people left homeless, prey to disease-bearing mosquitoes and dirty drinking water.
"We have no water, no food," Andres Mantuano told AFP in the port of Manta. Hundreds of emergency workers from Colombia, Mexico, El Salvador, Spain and other countries were helping overwhelmed Ecuadoran officials.
"There are no tents for people who have been left with no roof over their heads. We need them," said Joffre Gordon, an air force officer leading emergency operations at a base in Manta. Also in Manta, more than 200 volunteers readied food rations and basic supplies such as diapers or toilet paper for desperate residents. A similar scene unfolded in Pedernales.
According to the latest official bulletin, "significant progress" had been made in restoring power, telecommunications and the dispatch of water and fuel to the affected areas. The Inter-American Development Bank announced it would extend Ecuador an emergency loan of up to $300 million.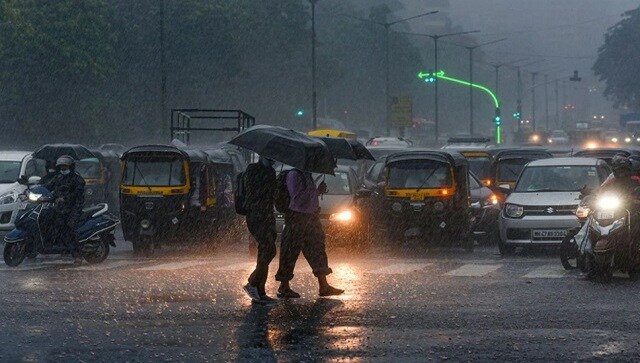 India
The state received an average 155.9 mm rainfall triggering floods in urban and rural areas
World
The metro region of Philippines' capital, Manila, is under level one warning, which means strong winds are expected within the next 36 hours
India
In an order issued on Tuesday, the DDMA said that district magistrates and deputy commissioners of police will ensure that idols of Lord Ganesha are not set up in a tent or pandal.