With Amjad Sabri's death, legacy of qawwali music in Pakistan faces sudden void
The legacy of Pakistan's great tradition of qawwali music seems to come to a sudden void with the death of Amjad Sabri, the son of Ghulam Farid Sabri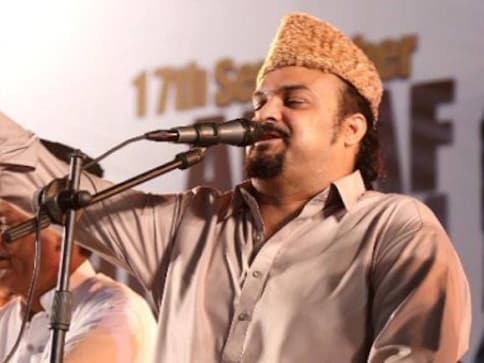 From child prodigies to Carnegie Hall, the Sabri Brothers put Sufi and Qawwali music on the world map, joining the likes of Nusrat Fateh Ali Khan and Abida Parveen in taking this spiritualistic art out of mosques and shrines to the mainstream.
The legacy of Pakistan's great tradition of music seems to come to a sudden void with the death of Amjad Sabri, the son of Ghulam Farid Sabri. Amjad was felled by three bullets in a targeted killing in Karachi yesterday. After his father's passing in 1994 and his uncle Maqbool Ahmed Sabri's death in 2011, Amjad was the last of the Sabri brothers trained in their rebellious and energetic style of Sufi music.
Called the Princes of Qawwals, while his father and uncle were among those who ensured Qawwali music got its day in the sun at major festivals across the world and even in Pakistani and Bollywood films, Amjad — scion of the Sabriyya Sufi order — was tasked with carrying that heritage forward.
Ghulam Sabri began training Amjad at the age of nine, waking him up as early as possible to perform his riyaz in raag Bhairon. He made his stage debut soon after, at the age of 12, developing and honing what became his signature baritone. So attached was he to his father that he said in interviews that he kept all of Ghulam Sabri's belongings and even wore his clothes.
Read: Indian musicians react with sorrow, shock to Amjad Sabri's tragic shooting
Looked upon as a homely artist, as much as he travelled the world, Amjad Sabri was known to regularly revisit his childhood home in Liaquatabad and the father of five hosted training sessions for children in the area. He said in a 2012 TV interview on Dawn News, "There comes a time in our lives where we are searching for people and then, people start searching for us. Right now, I'm very grateful to God that people are looking for us."
Best known for renditions such as 'Bhar Do Jholi', 'Tajdar-E- Haram', 'Khawaja Ki Diwani' and 'Mera Koyi Nahi Teray Siwa' at his live shows, Amjad Sabri also had his share of limelight for the fight he had to take up in the past two years. In 2014, he was among those accused in a blasphemy notice over playing songs over a morning TV show, seeking to ban a qawwali song that was aired. Last year, Amjad Sabri was in the news over 'Bhar Do Jholi' being used in Salman Khan-starrer Bajrangi Bhaijaan, alleging copyright violation over the use of the song. While director Kabir Khan insisted the music was being used to pay tribute to the Sabri Brothers, Amjad demanded compensation and credit. Taking a strong stand, he told a local newspaper, "They have asked me to prove if the qawwali is a property of Sabri Brothers. Even a child can tell them that 'Bhar Do Jholi' belongs to my father, Ghulam Farid Sabri." The artist even went on to say that he had no longer wished to work in India. He knew how to make a sharpened jibe, as well. At a press conference for an Indo-Pak show last year, Sabri said about the Bajrangi Bhaijaan debacle with a smile, "Pakistan and India unite over two things: nuclear technology and music. And India loves our music, so much that it often takes it without asking."
Also on Firstpost: Killing of Amjad Fareed Sabri is indicative of Karachi's fragile peace
The tributes continue to pour in from across the world. Pakistani qawwal and singer Rahat Fateh Ali Khan expressed sadness and marked that it was unfortunate that Sabri passed away in the holy month of Ramzan.
Even while some critics in Pakistan had already claimed that Qawwali music was dead after the Sabri Brothers and Nusrat Fateh Ali Khan and that it could no longer exist in its true form, Amjad Sabri was carrying it forward to the best of his ability. Fans, followers and even music critics and historians must now hope that the tradition of Sufi and Qawwali music endures, even without a renowned figure to keep it alive.
Watch Amjad Sabri perform 'More Haji Piya':
Lifestyle
Farid Sabri and his brother Amin Sabri lent their voices to several popular Hindi film songs, besides gaining prominence through their performances in India and abroad.
World
As reports of Amjad Sabri's death emerged on Wednesday evening, artistes from both sides of the border expressed their sorrow at the tragic incident
World
The reason for the attack on Aqeel has not been ascertained as yet as further investigations are underway.