Qatar, one of the wealthiest nations in West Asia region, on Monday announced that it will withdraw from the Organisation of Petroleum Exporting Countries (OPEC) in January 2019. The country's new energy minister Saad al-Kaabi announced the decision, which comes at a turbulent time in the Gulf's politics, with the on-going boycott against it by former neighbouring allies like Saudi Arabia.
"Qatar has decided to withdraw its membership from OPEC effective January 2019 and this decision was communicated to OPEC this morning," Kaabi said at a Doha press conference. Kaabi, who also heads state-owned Qatar Petroleum, denied the move was linked to the feud with Saudi Arabia and its allies. The decision was "technical and strategic" and had "nothing to do with the blockade," he said.
In a statement, al-Kaabi said Qatar, the world's largest exporter of liquified natural gas, planned to increase its exports from 77 million tons of gas per year to 110 million tons. "We don't have great potential (in oil), we are very realistic," said Kaabi, who described himself as "Mr Gas" during the conference. "Our potential is gas."
Qatar's oil production is around 600,000 barrels per day and it is the world's 17th largest producer of crude oil, according to specialist website, world data.info. It also only holds around two percent of the world's global oil reserves, according to the CIA World Factbook.
OPEC is dominated by oil-rich Saudi Arabia, which along with its allies has had no ties with Qatar since June 2017. Relations between Riyadh and Doha are at an all-time low as a result of the crisis, which has seen Saudi-led countries accuse Qatar of supporting terrorism and being too close to Iran. Qatar refutes the allegations and claims rivals want to overthrow its government.
Founded in in 1960, the organisation's objective was to "coordinate and unify petroleum policies among member countries", along with working to secure fair prices for the producers. The OPEC was also formed with the intention of an "efficient, economic, and regular supply of petroleum to consuming nations", and promised a "fair return on capital" to investors.
OPEC's trajectory over the decades
The exports of the member countries has seen a consistent rise and fall since the 1980s. However, the organisation's export has not dipped under the percentage of 1986 but has not risen to its glory days in the 1970s and early 1980s either.
The 1970s, which was the decade after the organisation's inception, saw it rise to international prominence. Member countries were calling the shots on the price of crude oil at a global level. The official website says, "OPEC broadened its mandate with the first Summit of Heads of State and Government in Algiers in 1975, which addressed the plight of the poorer nations and called for a new era of cooperation in international relations, in the interests of world economic development and stability."
However, the cartel saw a steep decline in its exports from 1980 to 1985. The rate of exports dropped more than 20 percent from 68.21 in 1980 to 45.48 in 1985. The situation in exports continued to be in tumult as the next year saw only a nominal increase to 48.58 percent before collapsing back to 45.93 percent in 1987. The sudden crash in 1986 was attributed to the oil glut and a consumer shift away from oil. The crash resulted in "severe economic hardships" for the member countries.
The OPEC production group's plan to mop up oversupply by introducing output cuts failed due to three reasons: Fellow OPEC members cheated on their own cuts; global thirst for oil had dried up after price spikes in the 1970s pushed consumers to buy efficient cars; and new supplies, particularly from non-OPEC Mexico, Norway, and Alaska threatened to squash gains from any cuts.
The OPEC found its footing in the 1990s, with a steady rise from 1988 at 47.91 percent to 1993, when the rate of exports was at 57.86 percent. According to the website, "timely OPEC action" kept the member countries from being affected by the West Asian hostilities in 1990-1991. The organisation sought "fairness, balance, and realism" in the dealings of oil supply.
Even though this decade also saw a decline from 1993 to 1998, "a solid recovery" was possible. The website says, "A solid recovery followed in a more integrated oil market, which was adjusting to the post-Soviet world, greater regionalism, globalisation, the communications revolution, and other high-tech trends. Breakthroughs in producer-consumer dialogue matched continued advances in OPEC/non-OPEC relations."
However, OPEC also saw the exit of one member nation, while another suspended its membership. Ecuador and Gabon ended their memberships in 1992 and 1995 respectively, however, both countries have currently rejoined the cartel as members.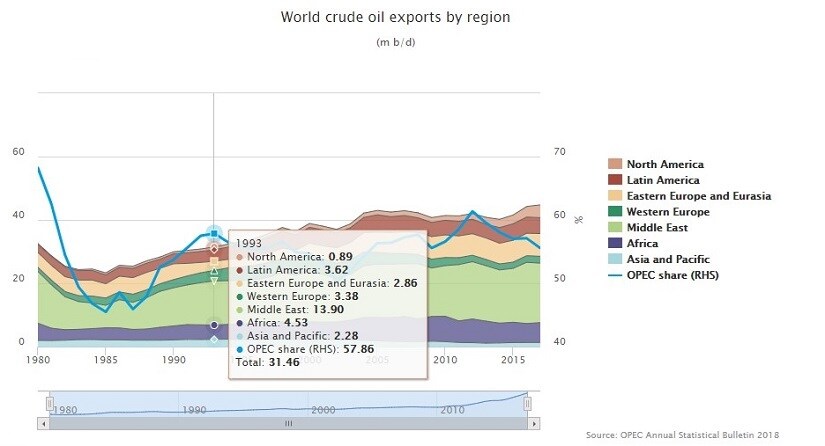 The OPEC's downward trajectory began again in 1999 and continued into the 2000s, when the rate of exports touched 50.22 percent in 2002. The early years of the decade saw strength and stability in crude prices through "innovative oil price band mechanism". 2004 saw the start of a cautious rise to 54.23 percent on the back of a combination market forces and speculation, among other factors.
The official website says, "Oil was used increasingly as an asset class. Prices soared to record levels in mid-2008, before collapsing in the emerging global financial turmoil and economic recession. OPEC became prominent in supporting the oil sector, as part of global efforts to address the economic crisis.
"OPEC's second and third summits in Caracas and Riyadh in 2000 and 2007 established stable energy markets, sustainable development and the environment as three guiding themes, and it adopted a comprehensive long-term strategy in 2005."
Even though the organisation saw its highest rise since the 1980s after 2010, increasing political and social unrest like the American occupation of Iran affected supply and demand of crude oil in the first half of the decade. However, according to reports, the market remained largely balanced. Even with various adverse factors, OPEC saw a rise in the rate of exports in 2012, when it went from 56.57 percent in 2010, to 61.36 percent.
However, "a combination of speculation and oversupply" caused the prices to fall in 2014. Currently, the latest rate stands at 55.55 percent in 2017.
According to reports, Qatar's withdrawal could lead to a downtrend in the oil markets. Azernews quoted Sabit Baghirov, ex-head of Azerbaijan's State Oil Company (SOCAR) as saying, "As you know, oil prices are very volatile and political factors play a role in this. I do not believe that Qatar's withdrawal from the OPEC will lead to a domino effect and that OPEC countries are ready for this trend. But it can serve as a certain impetus in this direction, since Qatar is quite an influential country in the energy market."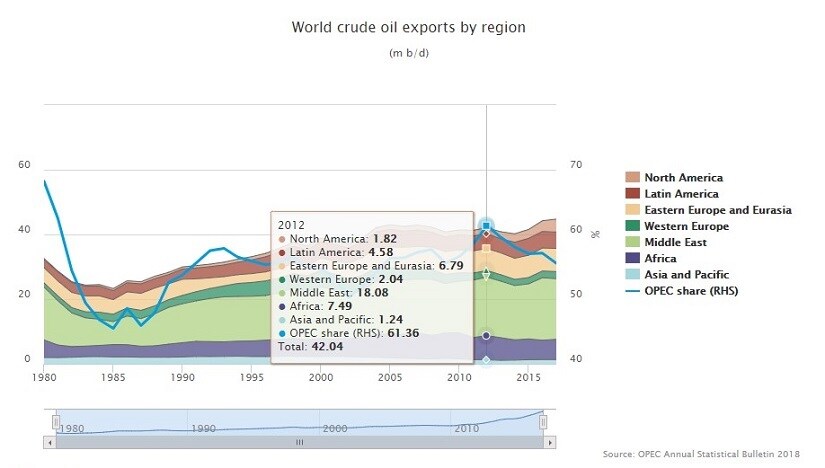 With inputs from agencies
Firstpost is now on WhatsApp. For the latest analysis, commentary and news updates, sign up for our WhatsApp services. Just go to Firstpost.com/Whatsapp and hit the Subscribe button.
Updated Date: Dec 03, 2018 17:06:53 IST