Qamar Bajwa is new Pakistan army chief, but it will take more to control the military
The appointment of Qamar Bajwa as Pakistan army chief is not a measure strong enough to change Pakistan's ugly habit letting military dictate policies.
General Qamar Javed Bajwa on Tuesday took charge of a post which most people agree is the most powerful post in Pakistan. Bajwa took charge of the world's sixth-largest army (by troop numbers) from Pakistan's outgoing Chief of Army Staff (COAS) General Raheel Sharif.
General Qamar Bajwa takes charge as the next Army Chief of Pakistan (source: PTV) pic.twitter.com/P0aduNKxNy

— ANI (@ANI_news) November 29, 2016
To say that the military in Pakistan has played an active role in its civilian politics would be a massive understatement. The military has been in charge of the country for more than half of Pakistan's 70-or-so-year history since Independence.
An article titled 'Pakistan: An Army With a Country' published by American global intelligence company Stratfor, described it perfectly when it said: "The saying goes that most countries have an army, but Pakistan's army has a country."
When Pakistan was formed in 1947, its founder and first governor-general Muhammad Ali Jinnah devoted the country's scarce resources to strengthening the country's military and defence because of the violence and tension over Kashmir with India. This focus on the military naturally led to the neglect of polity in Pakistan, "leaving a void for the generals to fill", according to the Stratfor article.
And this military control over politics in Pakistan has had disastrous effects, the most significant one being the ugly ties between the army and terrorists. This link was perhaps best exposed by Cyril Almeida, a journalist for the Pakistani newspaper Dawn, who wrote an article describing how the civilian government had warned the military leadership against interfering if law enforcement agencies acted against terrorists for their crimes.
A 2015 BBC report had said that "Pakistani-based Jihadist groups with a history of fighting Indian forces in the disputed territory of Kashmir are being left alone. So too are the Afghan Taliban and the Afghan-facing Haqqani Network which stands accused of mounting recent attacks in Kabul."
But the appointment of Bajwa as army chief in Pakistan is being seen by the Pakistani media as an attempt to shift the power back to the civilian government.
And there are, of course, some positive signs. General Raheel Sharif became the first army chief in Pakistan in more than 20 years to step down at the end of his term without getting an extension.
According to Pakistani media and experts, Bajwa's "pro-democracy credentials" and his low-profile influenced Sharif to appoint him to the powerful post of army chief superseding four top generals. With his elevation as army chief, General Bajwa superseded Lieutenant-General Syed Wajid Hussain (chairman of Heavy Industries Taxila), Lieutenant-General Najibullah Khan (DG Joint Staff Headquarters), Lieutenant-General Ishfaq Nadeem Ahmed (Corps Commander Multan) and Lieutenant-General Javed Iqbal Ramday (Corps Commander Bahawalpur).
Moreover, Bajwa's military colleagues say he is not attention-seeking and remains well-connected with his troops.
Even General Bikram Singh, former chief of the Indian Army who served with Bajwa in the Congo as part of a United Nations peacekeeping force, praised Bajwa's conduct as a soldier during their time in Africa."In the international environment, his performance was professional, outstanding," Singh said.
But is the appointment of a new army chief a measure strong enough to change Pakistan's ugly habit of sponsoring terrorism and letting military dictate policies to the government?
Bikram Singh himself answered this question after praising Bajwa. When reporters asked Singh if he expected Bajwa to alter Pakistan's military policy, he said: "I do not see any change."
And Singh has very good reason to be sceptical. An article in The News International noted that "to pump the tyres of a general for his humility and self-confidence might be the greatest exercise in irony that is possible."
The article said that after the appointment of Raheel Sharif as the army chief, even the international media had noted that Nawaz Sharif had chosen him because he had no politican ambitions, the same reason for him choosing Bajwa. But despite that initial impression of Raheel Sharif, he still did interfere in political affairs more than he should have. And his ties with Nawaz Sharif also soured towards the end of his term.
Therefore, while Bajwa does have his merits, it is important to note that military involvement in politics depends on the entire institution, not just an individual.
After all, let's not forget that Nawaz Sharif had also appointed General Pervez Musharraf as COAS in 1998, after which Musharraf overthrew him in the 1999 Pakistani coup d'état.
"General Bajwa is well-versed with the complexities, nature of operations and terrain along the LoC. He has also handled Kashmir extensively during his career. But it's actually too premature to say anything. Both Generals Pervez Musharraf and Kayani proved different from what their initial assessments were," The Times of India quoted an Indian Army officer as saying.
The Stratfor article also noted that since Nawaz Sharif was planning to use the Kashmir conflict for the 2018 elections in Pakistan, the military involvement will probably not be reduced. "Nawaz Sharif recognises that no matter whom he chooses as his chief of army staff, the collective will of the army as an institution will overpower that of the prime minister," the article said.
Then, there is also the matter of how willing the Pakistani civilian government itself is to fight against terrorism and work for better ties with India. After all, if Bajwa does stay away from politics, the responsibility of the government will increase.
It's not encouraging to note, then, that Pakistan's defence minister Khawaja Asif — who had earlier threatened to unleash nuclear weapons against India — said that Bajwa's appointment will not have any effect on Pakistan's military policy. "The focus will remain on country's eastern border and the armed forces backed by the nation will meet all challenges," he had said.
With inputs from agencies
India
Incidents such as the February attack and Friday's twin encounters highlight that militancy has now spread all across Kashmir and more youngsters are picking up guns and joining new militant groups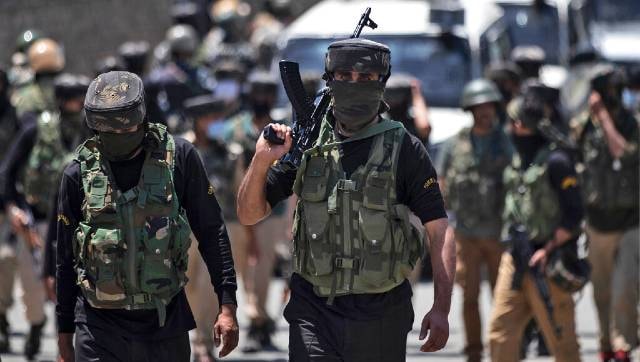 India
While security forces were engaged in an operation in the Hadipora area of Shopian district, a second gunfight broke out at Semthan in the Bijbehara area of Anantnag district
India
Immediately after the news of both incidents became public, people from many faiths contributed to the victims. Many perhaps felt shame and anger in the way these innocents had been targetted because of their religion