Putin warns NATO against closer ties with Ukraine and Georgia
By Andrew Osborn MOSCOW (Reuters) - Russian President Vladimir Putin on Thursday warned NATO against cultivating closer ties with Ukraine and Georgia, saying such a policy was irresponsible and would have unspecified consequences for the alliance. The issue has been a source of anger for Russia -- which shares a border with both countries and does not want to see them join what it regards as a hostile military bloc -- since 2008 when NATO leaders promised Ukraine and Georgia they would one day join the alliance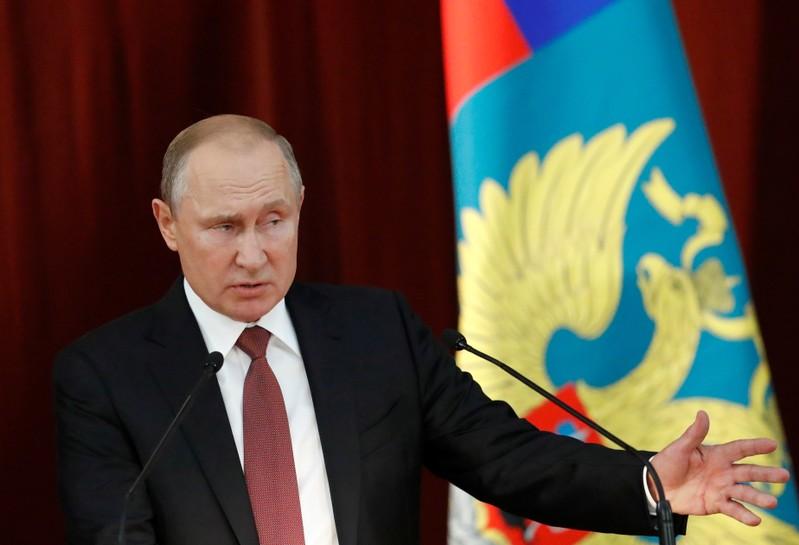 By Andrew Osborn
MOSCOW (Reuters) - Russian President Vladimir Putin on Thursday warned NATO against cultivating closer ties with Ukraine and Georgia, saying such a policy was irresponsible and would have unspecified consequences for the alliance.
The issue has been a source of anger for Russia -- which shares a border with both countries and does not want to see them join what it regards as a hostile military bloc -- since 2008 when NATO leaders promised Ukraine and Georgia they would one day join the alliance.
Putin, speaking to Russian diplomats from around the world assembled in Moscow, said on Thursday there was a need to restore trust in Europe and spoke out against what he said was NATO's attempts to deploy new bases and military infrastructure near Russia's borders.
"We will respond appropriately to such aggressive steps, which pose a direct threat to Russia," said Putin.
"Our colleagues, who are trying to aggravate the situation, seeking to include, among others, Ukraine and Georgia in the orbit of the alliance, should think about the possible consequences of such an irresponsible policy."
The Russian leader said he had discussed the matter with U.S. President Donald Trump at a summit in Helsinki on Monday.
Trump has called for NATO members to spend more on defence, but has queried whether Montenegro, the alliance's newest member, should be part of the bloc at all calling its people "aggressive."
Russian forces entered two breakaway Georgian regions in 2008 and annexed Ukraine's Crimea in 2014 after which a pro-Russian separatist uprising erupted in eastern Ukraine.
Swathes of both countries remain garrisoned by Russian troops, something Moscow says is in keeping with local people's wishes, but which the West and the governments of the two countries call an illegal occupation.
NATO leaders discussed ties with Ukraine and Georgia - both former Soviet republics once ruled from Moscow -- at their summit in Brussels earlier this month.
Prominent politicians in both countries are keen to join the Western military alliance, but have seen their chances of joining hampered by Russian territorial incursions.
Under NATO rules, countries with territorial conflicts cannot join NATO.
(Editing by Richard Balmforth)
This story has not been edited by Firstpost staff and is generated by auto-feed.
Find latest and upcoming tech gadgets online on Tech2 Gadgets. Get technology news, gadgets reviews & ratings. Popular gadgets including laptop, tablet and mobile specifications, features, prices, comparison.
Business
By Jessica Resnick-Ault NEW YORK (Reuters) - Oil prices strengthened on Wednesday, as OPEC and its allies were seen complying with a pact to cut oil supply in September, even as concerns loomed that recovery in fuel demand will be stalled by soaring global coronavirus cases. Early in the day crude was boosted by a bullish stock market. Even as equities whipsawed on pandemic worries, oil stayed higher, buoyed by expectations that OPEC could staunch a supply glut
Business
By Tina Bellon and C Nivedita (Reuters) - Tesla Inc will further cut the price of its Model S "Long Range" sedan in the United States to $69,420, the electric carmaker's chief executive, Elon Musk, announced in a tweet https://bit.ly/2H0JCP0 on Wednesday. The anticipated drop marks the second time this week Tesla has cut the price for the high-end sedan, following a 4% cut of the Model S's price in the United States on Tuesday to $71,990.
World
By Jeff Mason DES MOINES, Iowa (Reuters) - Under siege over his handling of the novel coronavirus pandemic, President Donald Trump on Wednesday cited what he said was his son's mild bout of the virus as a reason why American schools should reopen as soon as possible. Trump made the comment about his son, Barron, as the president swept into Iowa on a mission to shore up support in battleground states that he won in 2016 but is in danger of losing to Democrat Joe Biden barely three weeks before the election. First lady Melania Trump announced in a statement earlier in the day that the virus that struck both her and her husband had also infected their 14-year-old son